BARCLAY OKARI Promoting reusable SANITARY TOWELS
It is a sad state of affairs that in this day and age millions of girls in Kenya and several parts of Africa skip school during menstruation. Barclay Paul Okari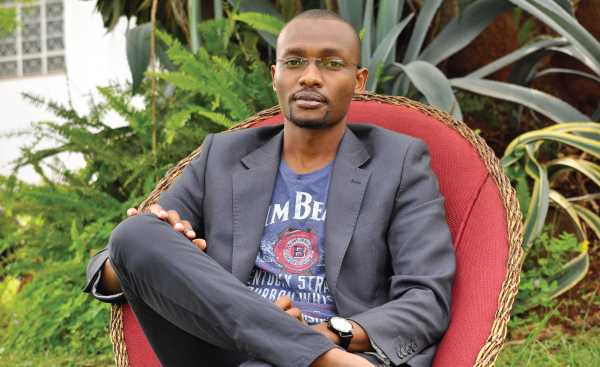 It is a sad state of affairs that in this day and age millions of girls in Kenya and several parts of Africa skip school during menstruation. Barclay Paul Okari has gone through thick and thin trying to invent and manufacture an affordable and re-usable towel to help these girls. His experience can be described in three words – 'never say die.' He takes ESTHER AKELLO through the difficult journey he has walked to create a venture that has won him accolades at home and the world over. 
Social entrepreneur Barclay Okari was sure right from the beginning that employment was not for him. He went through four job interviews before leaving university and was honest enough in one interview to tell the interviewer that he actually didn't want the job.
"A job would have complicated my life. I had just started my social enterprise company, Impact Africa Industries, and felt employment would eat into the time I needed to make my business work," says Barclay, who at the young age of six, encountered the cruelty of ethnic hatred when their home in Kilgoris in Narok County was torched during the 1997 elections violence.
His father owned a supermarket in the town while his mother was a teacher. Fearing for their children's lives, they sent Barclay and his sister to live with a relative in Kisii. After witnessing the violence in Kilgoris, young Barclay thought his parents may never make it to Kisii alive and so he needed to learn how to survive on his own. Making money and supporting himself became a goal. He went as far as stealing small items from his father's wholesale goods store in Kisii, which he sold to make some pocket money.
His interest in business was so strong that by the age of 13 he kept a journal of potential business ventures, a habit he carried to his adulthood. He even worked as a cashier at a relative's grains business but at the expense of his school grades. Not happy with his school performance, his parents sent him to boarding school. He later joined Friend's School Kamusinga for his high school studies.
While in form two, he attended a science convention where students showcased their innovations and from there an entrepreneurial bug bit him. Inspired by stories of people making money on platforms such as Google and YouTube, Barclay was motivated to start a digital platform where students could network and discuss their inventions. He needed Ksh150,000 and his parents agreed to give him the money after he sold the idea to them. But once the site was registered and all the money spent in innovation work, he needed more money for marketing and when it was not forthcoming, he quietly shelved the idea. He dodged all questions from his parents about the venture.
After completing high school in 2009, it was time to start another venture – Market Place. This was a digital platform where people could buy and sell wares, but that too didn't work and so he closed it down. Disappointed and feeling he may never have a successful business, his next thought was of writing a book on how to avoid failure –he hopes to launch the book sometime this year.
In 2010, he joined Strathmore University to pursue business studies but even this proved a non-starter. Together with his university friends, they had started organising the Kenya Youth Economic Forum and when his friends lost interest, he was left alone to pursue it. He quit after four months when he found the university's schedule too tight yet he wanted to pursue other interests while studying.
After a few months, he decided to join the University of Nairobi to pursue a degree in finance having shelved his entrepreneurial desires. A visit to Mai Mahiu on a community project with a university friend brought out another part of him – community service. He volunteered as a teacher in a school in Narok County whenever he found time. His experience as a teacher in Narok totally changed his thinking and re-awakened his entrepreneurial desire.
"I noticed that girls kept missing school and on enquiring, learnt they stayed home during their menstruation for lack of sanitary towels. Their parents were so poor they could not afford to buy sanitary pads for them. The absenteeism was so bad, sometimes half of the girls in the school would be missing. Discovering that something like menstruation could keep girls at home was a new experience for me. I rallied friends to help me raise funds to buy the girls pads," says the entrepreneur who holds a bachelor of commerce in finance from the University of Nairobi.
Their success was short-lived as the pads ran out after three months. It dawned on Barclay that a permanent solution was needed. He did some research and found that the pads in the market were too expensive and there was not much variety. The idea of re-usable pads seemed feasible but he needed a start-up capital of  Ksh 300,000, which he didn't have. He approached his parents for financial support but this time, they turned him down.
Undeterred, he commissioned a jua-kali artisan to make a rudimentary version of the machine needed to manufacture the pads. It cost Kshs 15,000, which he was to pay from future profits. He moved in with a friend and used rent money provided by his parents to rent workshop space in Thika town. Meanwhile, he convinced a friend to sell his laptop and with the earnings, bought materials. Using ideas he had picked from YouTube, he started making the sanitary towels. With no income from the business, it became unsustainable and it was time to make another desperate move – relocate to Kitale close to his parents' home.
He rented workshop space in Kitale town and though completely broke, he was determined to keep the business going. The struggle was so much that at times he questioned his resolve. He depended on free labour provided by women he had promised jobs when business picked up, and also used a family friend's truck to help him transport materials from Nairobi. Things were so bad that he couldn't even afford proper packaging for the ready products. Sometimes he wrapped them in newspapers.
Even after his parents learnt of his struggles, they still held back financial support as they wanted him to first finish his university studies. But a mother's love knows no bounds. In 2010, his mother surprised him with a cash injection to the business of Kshs 80,000. Buoyed by this, he prepared a business plan and approached several banks for a six million loan but they all turned him down.
Unwilling to give up, he scoured the internet for alternative sources of funding and came across the Anzisha Prize grant funded by the African Leadership Academy and MasterCard foundation. He put in his application in 2012 and was lucky to get Ksh 200,000, a far cry from the six million the business needed. Feeling dejected and alone, and needing some moral support, he joined Nairobi Global Shapers – an impact oriented business community affiliated to the World Economic Forum. It was through networks he formed at this group that brought in an investor who was willing to take a risk on him. Relying purely on the enthusiasm he saw in Barclay, he wrote out a cheque even before looking at the business plan. And this helped turn round his floundering business.
Impact Africa Industries flagship brand, Safi Pads, is a kit containing six re-usable pads and two adjustable underpants and retails for Ksh 500. A girl can use the kit for one year and schools can pay for it in affordable installments. The company employs 41 people and now has several brands with a market reach in many countries including Rwanda, Uganda and Nigeria.
So impactful is the company that Barclay made a debut entry into 2014/2015 Forbes list of "30 Under 30 Most Promising Young Entrepreneurs in Africa." Last year, he was among the speakers at the Global Entrepreneurship Summit in Morocco. This is  an international business summit organised by the American government, the same forum that will be hosted in Kenya this month and one of the reasons US president Barrack Obama will be visiting Kenya.