DR GLADYS MWITI TOUCHING LIVES THROUGH COUNSELLING AND PSYCHOTHERAPY
  Dr Gladys Mwiti is a clinical psychologist and trauma specialist. Her contribution to the field of psychology in Kenya and beyond is a story worth telling. She spoke to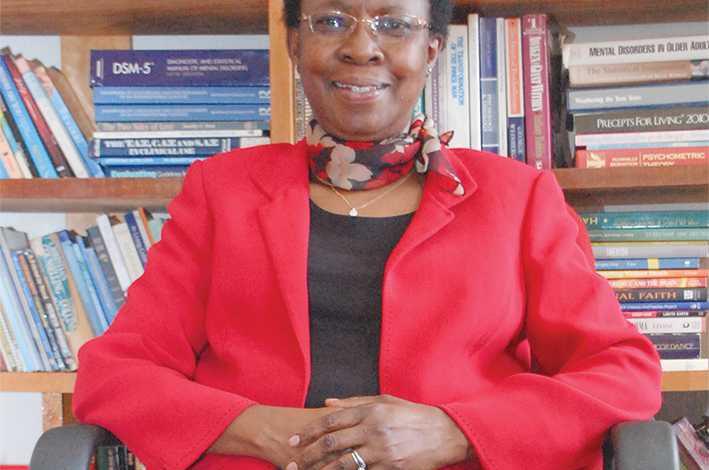 Dr Gladys Mwiti is a clinical psychologist and trauma specialist. Her contribution to the field of psychology in Kenya and beyond is a story worth telling. She spoke to ESTHER KIRAGU on her role in shaping the psychology industry in Kenya and passion for families.
As one who has had a long and illustrious career in psychology, Dr Gladys Mwiti has not only touched lives from all walks of life, but also had unforgettable moments.
One such moment was during the 1994 Rwandan genocide where, together with her Oasis Africa team of psychologists, she counselled trauma survivors, thereby playing a crucial role in the reorientation of Rwanda.
She was also instrumental in organizing counselling services for the survivors of the August 1998 US Embassy bombing in Kenya, the Westgate terrorist attack, among many other crises.
"I guess many times you don't realise you have a gift or desire to develop that gift until you sort of fumble around it. In my case it was not until I enrolled at USIU for BA psychology that I realised I had always been exposed to counselling and trauma situations and did my best in those circumstances without formal training," Dr Mwiti retraces her career.
One of the many traits she says she picked from her mother was a genuine care and concern for others, experiences that led her into a field that demands a lot in caring for others.
For instance, after high school, she served as volunteer in Garbatulla in a food relief program organized by the National Council of Churches of Kenya (NCCK) and the Methodist Church.
At the time, the Borana were involved in the Shifta war of 1963 to 1967 that was triggered by Somali insurgents who claimed that part of Kenya belonged to Somalia. There was death, famine and suffering in the region and young Gladys offered to serve the community as a volunteer.
"The conditions were harrowing. People walked for miles to get to the camp for food. Most were sick and weak children, many orphans suffering from kwashiorkor and marasmus. It was devastating! In addition, the region was mosquito-infested and I ended up suffering from malaria," she explains of her encounter with the distressing situation.
Although she dreamt of becoming a medical doctor, the bout of malaria affected her performance when she later on sat her A level exams at Alliance Girls. She missed the entry grades to medical school.
However, she joined Kenyatta University for training in education plunging her into a science-teaching career.
"I taught in various high schools, beginning various clubs such as the Christian Union and Girl Guides wherever I went. As I interacted with the students, I realised that many were affected by issues from their homes, making my Deputy Principal's office a counselling room. For the 13 years I taught, counselling became a crucial part of my job even though I did not have any formal training as counselor," she explains.
While working as a deputy Principal at St Teresa's Girls Secondary School in Nairobi, Dr Mwiti realised she was running out of counselling tools to assist students. This prompted her to pursue a degree in psychology at USIU.
"The Teacher Service Commission had offered me a full scholarship to study an advanced degree in chemistry in the UK. However, to the dismay of many, I turned it down in order to pursue psychology. With the support of my husband, I took up a two-year unpaid leave, a big leap of faith," she explains.
The period was financially strenuous, as her children were also in school. All the same, she remained focused and emerged top of her BA psychology class in 1986 as well as the best graduating student in USIU that year. This earned her a partial scholarship for an MA degree in counseling psychology, an opportunity she grabbed with both hands.
Establishing Oasis Africa…
Equipped with the requisite knowledge and skills, in 1990 Dr Mwiti founded Oasis Africa, a professional counselling and behavioural mental healthcare organisation that provides services to individuals and organisations in Kenya, Africa and beyond.
To her amazement, it seemed schools and parents were waiting for her to offer counselling services, as there were very few psychologists in the country at the time.
"Referred from schools, many parents brought their children to me. However, as the children came, I knew that often, my real clients were parents because the young ones usually respond to issues at home," she says, adding that, at that time, majority of her clients were women.
Much later, a few men also began seeking counselling. Today, more men call and book for services, something she really appreciates. They too are beginning to realise the prudence of seeking for help when they need it.
Dr Mwiti admits that initially, psychotherapy services were a luxury for many. She ended up offering a lot of free service for those who could not pay. With time, more individuals started appreciating that professional services need to be paid for.
Today, some medical insurance companies also appreciate the need for holistic care and so are paying for members.
The trauma counselling services Oasis Africa offered to survivors of the 1994 Rwanda genocide remain one of the organisation's most outstanding achievements. It started when the United Nations airlifted their staff from Rwanda to Nairobi and sought Dr. Gladys Mwiti to counsel them. As she attended to the UN staff, she felt burdened about the plight of Rwandans and was moved to act.
After consultations with various individuals and organisations, Dr Mwiti put together a counselling manual in English, which was also translated to Kinyarwanda before leading an Oasis Africa team to Rwanda to train lay leaders on how to deal with trauma and how they could help their people.
Days after the 1998 Nairobi US Embassy terror attack, she and her Oasis Africa team were at it again, leading a coalition of counseling centers with 180 counselors and supervisors in providing trauma psychosocial support for the bomblast survivors in collaboration with other partners.
A constant student of life, she says these two attacks triggered her to further pursue a PhD in clinical psychology in USA to better her skills.
Does it get tiring? Dr Mwiti admits that as someone who often comes face to face with trauma, it is easy to be overwhelmed. Even so, she says her Christian faith is crucial in her career. She has learnt to pray, do her part and leave the rest to God.
A researcher, Dr Mwiti has authored many books in matters of psychology and family. She is chair of the Kenya Psychology Association, a position where she has played a huge role in standardising the profession.
Besides receiving several international leadership awards, in November 2016, she was recognized for completing two four-year terms serving as an elected member
of the Board of Directors for the International Society for Traumatic Stress Studies, a global association of psychologists and psychiatrists involved in research, practice and academia in the area of psychological trauma.
She is also USIU Adjunct Lecturer for the clinical psychology doctoral class as well as a supervisor of USIU clinical psychology students on Internship attachment
at Oasis Africa. Several of her PhD clinical psychology students have already graduated and others are following suit.
Life outside Counselling and Psychotherapy…
Dr Gladys Mwiti has been married for 43 years to Dr. Gershon. K. Mwiti – team leader, mentor and leadership consultant. "It has been a fulfilling joyful marriage," she says with thankfulness.
The couple offers marriage counselling to many couples on request. They have four adult children. Dr Mwiti admits that in her parenting experience, she learnt early that none of her children are the same. As a result, the challenge was how to employ different parenting styles with each of them.
Dr Mwiti enjoys engaging in community service, conference speaking as well as serving in church. She is a huge advocate of self-care – the need for a proper diet, exercising and unwinding from time to time in order to re-energise.
She thanks her family for being a great support system, in addition to a group of 10 women whom she has walked with for over 18 years. They meet monthly to pray, support and have fun together.
In her spare time, she loves cooking, gardening and listening to music. She however admits that self-care is an ongoing challenge that is never easy to master!
Passionate about families, she has taken time to look into issues affecting children in different categories – young children, adolescents and young adults.
Her passion has seen her recently author a book on parenting – Parenting with Purpose & African Wisdom – to affirm parents who are doing it right as well as offer tips.
The book was launched by CS Education, Dr. Fred Matiang'i, a proponent of responsible parenting.
She says, "My experience from listening to many parents seeking answers to parenting led me to write this book. The book is as an encouragement to the many parents who are doing it right but are constantly second-guessing themselves, or feeling intimidated by others parents do not seem to take parenting seriously."
The book is infused with case studies of Kenyans, African proverbs as well as biblical proverbs which bring out deep spiritual values such as prayer, role modelling, mentoring and life coaching.
[email protected]
Published January 2017