Elon Musk's newborn's name 'XÆ A-12' has the internet in a frenzy
Celebrities are known to give their children strange names and Elon Musk and his partner Grimes are the latest with their baby boy's name X Æ A-12. And no, that's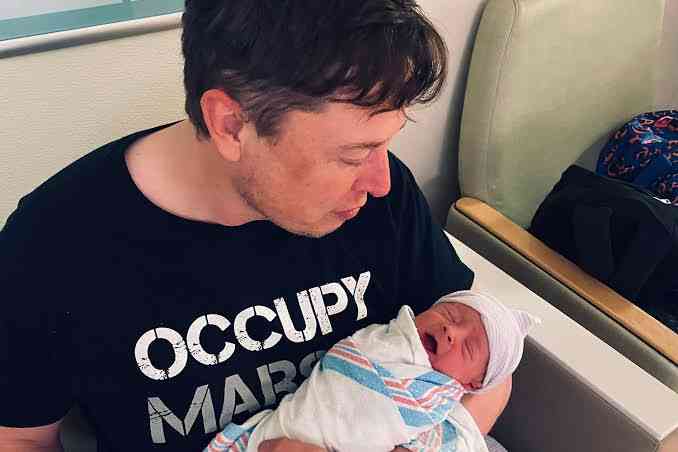 Celebrities are known to give their children strange names and Elon Musk and his partner Grimes are the latest with their baby boy's name X Æ A-12. And no, that's not a typing error.
Naturally the lack of actual words is what has the internet in a frenzy as people are unsure about how to pronounce the symbols due to their cryptic or rather robotic nature, given Musk's disposition in the tech world.
The Tesla co-founder and SpaceX CEO revealved the name on Twitter on Tuesday 5th May, a day after his partner Grimes delivered their bundle of joy. Since then, hundreds of memes have been produced as people try to figure out how to pronounce it.
However, Grimes, a singer whose work involves a lot ot biblical references, has out to clarify the meaning behind their strange choice of name.
A day after she gave birth to her son, the singer took to Twitter to break down their baby boy's unique name for curious fans worldwide.
"X" stands for the "unknowable variable," "Æ" is her "elven spelling" of artificial intelligence and/or love, and "A-12″is her and Musk's favorite aircraft.
•X, the unknown variable ⚔️
•Æ, my elven spelling of Ai (love &/or Artificial intelligence)
•A-12 = precursor to SR-17 (our favorite aircraft). No weapons, no defenses, just speed. Great in battle, but non-violent 🤍
+
(A=Archangel, my favorite song)
(⚔️🐁 metal rat)
— ꧁ ༒ Gℜiꪔ⃕es ༒꧂ (@Grimezsz) May 6, 2020
Nonetheless, netizens are still at a loss about how to pronounce the baby's name and the use of a rat symbol and swords at the end but trust them to keep poking fun.
Here are some of their reactions.
thank you for explaining i did not understand anything ❤️
— Seth Everman (@SethEverman) May 6, 2020
oh dear we were all praying this was a joke
— porochista khakpour (@PKhakpour) May 6, 2020
This is how Elon Musk came up his son's name – "X Æ A-12" pic.twitter.com/BVV7R2AIyF
— Sagar (@sagarcasm) May 6, 2020
Explain it to me quickly: did Elon Musk and Grimes really name their baby X Æ A-12? https://t.co/H7tFzJp9XD
— The Guardian (@guardian) May 6, 2020
This is Grimes' (real name Claire Boucher) first child and Musk's sixth son. 48-year old Elon has 5 other sons from previous relationships.