Eric Asuma: Transforming African stock markets through fintech
Eric Asuma is the CEO Hisa app which he runs alongside other enterprises.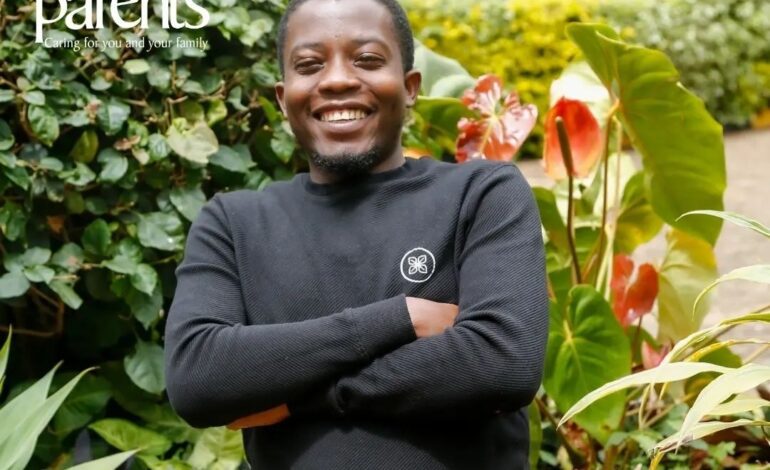 Thirty-three-year-old Eric Asuma harbours a dream of revolutionizing the stock exchange market to make it simple for anyone to save and invest through the platform. This dream is what pushed him to develop the Hisa app, the first of its kind in the country. Asuma is the CEO of the company which he runs alongside other enterprises. He sat down with CECILIA ASHIOYA and shared his journey to starting the venture and his ambitions for the company.
Eric Asuma credits his entrepreneurial mindset to his entrepreneurial family. From a young age, Asuma was helping his parents run their small businesses back home and this, he believes, is what set him on a path to becoming an entrepreneur despite his childhood ambition of becoming a lawyer.
His journey to founding the Hisa app, a mobile application that allows anyone to invest in fractional shares with minimal amounts both in Kenya and the US, started some years back when he was working at the Nairobi Stock Exchange. While there, he noticed that it was difficult for him to buy shares and that the process was tedious and complicated. He thus decided to do something about it and the idea for Hisa was born.
While he had a picture of what he wanted to build, he still needed to put up proper structures, build a team, and study the industry. It was only in 2020 that he put his plan into action and started building the app. Initially, he was running Hisa alone but as time went by he built a team and actively started to look for partners. Currently, Asuma runs the company with Eric Jackson with whom he also co-founded the Kenyan Wallstreet, a digital media platform that focuses on financial literacy and news. Jackson handles the engineering bit of things together with a team of software engineers spread out across Africa and India.
Once Hisa was ready, Asuma and his partners first officially launched it into the market in December 2021 as a private Beta that run for one year before publicly launching it in November 2022. Hisa also received the regulatory license for fractional investing in Kenyan-US stocks in 2022 making it the first tech company in Africa to receive the license.
They also set out in pursuit of more partnerships. Their efforts paid off. Asuma prides himself on the tremendous growth of the venture and reveals having over 15,000 active investors and more than 200 million customer deposits within a period of one year. As of today, Hisa has a staff of about 16 employees working together to get into a few more markets across East Africa and West Africa, as their key expansion standpoints. By and large, Asuma reveals that he has not experienced a lot of challenges running Hisa. However, there are a few pain points.
"Our business is a highly growing venture and there are things that we need to get right, from customer success to customer care. Our internal team is working hard to make sure the customers' experience and services are top-notch and we want to make it tech-enabled in the early stages. We might face challenges here and there due to the small workforce but we hope to improve with time," he reveals.
Despite the few challenges, Hisa has hit some major milestones. For example, the company has been part of a number of programs from Europe-based incubators and accelerators that provide funding as well as mentorship. Moreover, Hisa has raised money from very reputable people. Asuma also celebrates the fact that fractional investing is becoming a reality for most Kenyans.
Hisa allows one to buy a fractional share which is a "slice" of stock that represents a partial share, for as little as $5. US-traded securities including fractional trading, are provided by a regulated partner hence protecting securities customers of its members up to $500,000 (including $250,000 for claims for cash)
"The fractional site bit of it makes it easier for anyone, even the common mwananchi, able to invest in the stock market and build wealth with a very minimal amount (as low as 200 shillings) and in the simplest way possible," he explains.
Even though Asuma is optimistic about Hisa's future, he also admits that it is difficult to predict the future of the venture. Nevertheless, he is confident that with the current strategy, Hisa will create enough value for their users, accommodate government bonds, introduce more investment opportunities beyond stock, power a number of organizations to properly invest in services, and possibly build the company to a level where it gets to the global institutional capital from the likes of International Monetary Fund (IMF).
To steer Hisa to the future he foresees, Asuma recognizes the importance of staying relevant to the industry. He physically attends industry tech events and is an active Twitter user where he follows what's happening in the business world. He also stays up-to-date with international business publications like Bloomberg.
In an era where cyber security issues have threatened online transactions, Asuma assures customers that Hisa has put measures in place to ensure that there is data privacy and that the company does not share customer data with a third party without the users' consent.
"We require users to use two-factor authentications when placing trades or transactions on the app. Additionally, our systems were tested by security experts before publicly going live as this is a key requirement from partners and regulators," he explains.
Away from his career, Asuma is a father of one and he takes his fatherhood role seriously. On a typical day, he drops off and picks up his daughter from school, plays with her for one hour, and has dedicated most of the weekends to movie time with her.
Hisa has come with a basket of lessons for Asuma including that there is nothing like overnight success and that growth is a process that needs effort and input. He also emphasizes the importance of having a team as this gives one an opportunity to delegate tasks.