Grooming: Don't forget to tone your skin
Toners got a bad name when the formulas relied heavily on alcohol, which has a habit of leaving skin feeling tight and very dry. Most women preferred to skip a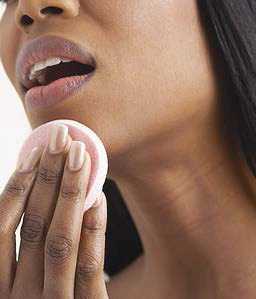 Toners got a bad name when the formulas relied heavily on alcohol, which has a habit of leaving skin feeling tight and very dry. Most women preferred to skip a toner, as it seemed to do more harm than good to their skins. Today, the cosmetic market has evolved significantly and most toners now offer real benefits to the skin. Here is how to make toners work for you:
Identify your needs. In general, toners fall under two categories: those made to remove stuff from under your skin including excess oil, dirt, make-up residue that your cleanser may have missed as well as dead skin cells. The second category includes those that leave behind helpful benefits like vitamins, minerals and hydrators to nourish the skin. Almost every skin benefits from using a toner. It is the easiest way to boost skin's overall radiance as it helps normalise the pH levels after the skin is disturbed during cleansing.
If you have normal to oily or acne-prone skin, choose a toner that helps get rid of excess oil. Look for the word 'astringent' on the label as this type has pore-clearing salicylic acid. It will help calm breakouts and prevent new ones. Use your toner soon after cleansing and rinsing with lukewarm water and slightly pat the skin with a towel or tissue to dry it. Pour some toner on cotton wool pads and sweep across the face and décolletage using upward movements and avoid pulling or dragging skin. Avoid the eye area.
If you have normal to dry skin, try a moisturising toner. This does not contain any alcohol. If you have normal skin, you might find that in hot, humid weather you won't need a toner in the morning – only in the evening. Look for a toner with soothing cucumber and vitamins A and E.
If you are looking for anti-aging benefits, the key is to find a toner that does it all: protects, hydrates and exfoliates. Look for one with antioxidants such as white tea to naturally protect your skin against environmental damage, which can cause premature aging of the skin. It will be an added benefit if you can get one with dehydration preventing ingredients and skin quenching ingredients such as white-birch extract.
Sometimes it's best to stick to one brand name for cleanser, toner and moisturiser to ensure ingredients blend well. If you have your favourite brand, stick to it but ensure you choose products that suit your skin type. If you are in doubt ask a beautician to help you select suitable products. It is best to use products that use as many natural extracts as possible, as these are unlikely to react badly with skin.
Once you identify the right toner ensure to apply it right. Though tissues work okay for swiping on toner, 100 per cent cotton pads are best because they are gentler on skin and won't come apart half way through your application. Definitely use cotton pads if you have sensitive skin. Lightly sweep the toner onto freshly cleansed skin twice daily before applying your moisturiser.
As with all skin care products, price is not a determinant of quality of toners. There are very many good skin care products available in the market with a reasonable price tag and the added benefit that they deliver on their promises. You are better off sticking with these products as you can always get your concerns addressed unlike imported cosmetics products, which do not have local representation and apart from being overpriced some may have expired.
Published in September 2013