Honeymoon in the Mara
Twenty-seven-year-old Stanley Gatharia and his wife Rachael Muthoni, 25, attended the same college but were just classmates for a long time until love brought them together. WANGARI MWANGI had a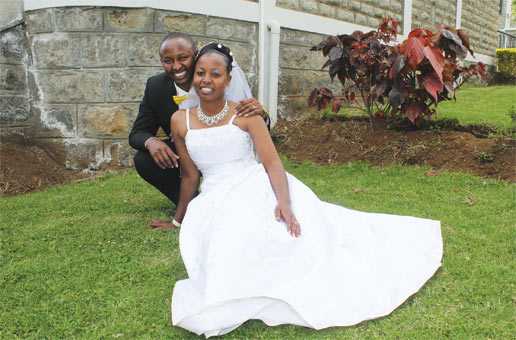 Twenty-seven-year-old Stanley Gatharia and his wife Rachael Muthoni, 25, attended the same college but were just classmates for a long time until love brought them together. WANGARI MWANGI had a chat with the couple. 
When Stanley Gatharia wrote an e-mail to me enquiring about some bridesmaids' clothes he had seen from one of the stories featured on this column early this year, I was glad to be of help. I linked him up with the seamstress and just when I thought that our communication was over, he requested to be featured in this column.
When we sat for this interview with Rachael and Stanley who had travelled from Nakuru, I learnt about their many commonalities. They share an accounting profession, work in a school environment, and completed their accounting course the same year.
Love thrives from a friendship…
Rachael and Stanley met in 2010 at the Achievers College in Nakuru where they were doing the same accounting course. Their interactions and conversations at the time were limited to their academic work. "He would call me up if he missed class and wanted to have the notes," Rachael explains. When she finished the section three accounting course, Rachael got a job in Nyahururu and didn't see Stanley for the next two years.
As fate would have it, Rachael and Stanley were to share the classroom once again when they both joined the same college in July 2012 for the section four of the accounting course. At the beginning, their relationship was just where they had left it – strictly as classmates who shared notes and ideas. But after a while, the tone of their chats changed to more personal conversations and before long they started going out together.
Stanley wanted more than a casual friendship with Rachael and when he made his intentions known, Rachael did not have any objections. Their routine became sharing school time together and hanging out with friends on weekends. They would engage in the sports they both enjoyed such as swimming and lawn tennis and other pastimes such as hanging out in coffee shops.
It was no surprise that Stanley intended proposed to Rachael by the swimming pool of the Bontana Hotel in Nakuru but he ended up proposing at the coffee shop   due to bad weather. This was on Stanley's birthday – October 5, 2013. The highlight of the day was a dinner hosted for them by Stanley's mother at her home.
Fulfilling traditions and the wedding…
Stanley visited Rachael's home three days after the engagement to introduce himself and also let her mother know of his wish to marry her daughter.  Traditional Kikuyu marriage negotiations started in March 2014 and a strong bond was formed between the two families. With blessings from their parents, Rachael and Stanley started making their wedding plans.
They formed a wedding committee made up of close friends, family members and people they worshipped with at their church. They also opened a joint bank account where they deposited their savings to meet the wedding expenses.
The couple held a beautiful yellow and purple-themed wedding on August 2, 2014 surrounded by family, friends and well-wishers at St Stephen Presbyterian Church of East Africa in Nakuru, followed by a reception at the same venue.
"We feel indebted to the committee for offering both financial and moral support and for ensuring our special day turned out to be such a joyous occasion," the couple says.
We wish them a successful marriage.
Published in November 2014.