IKIARA NGUTA Connecting patients with health care
Ikiara Nguta believes that dreams are supposed to change lives and not just for the dreamer, but for those around them as well. It is for this reason that she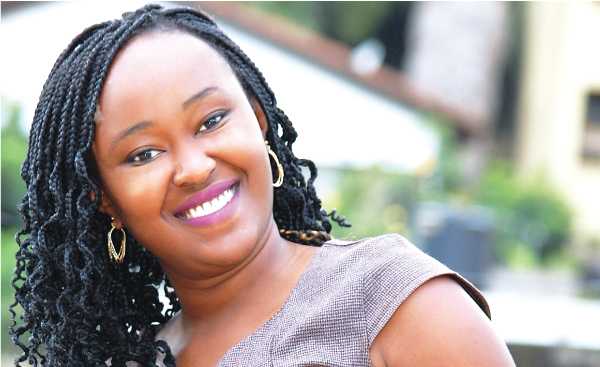 Ikiara Nguta believes that dreams are supposed to change lives and not just for the dreamer, but for those around them as well. It is for this reason that she started Health Advisor Kenya, a public relations and communications health company. She opened up to ESTHER AKELLO on her zeal and why impacting lives is important to her.
"For the longest time, I never used to take my life seriously," says Ikiara. An ironic statement coming from a young woman who displays a bold and rare mix of grit and unapologetic intellect when it comes to her vision for the machinery that is the Kenyan medical system. A pharmacist and health systems management graduate from the Kenya Medical Training College and Kenya Methodist University, Ikiara took many fearless risks to get to where she is today as CEO of her own health public relations and communication firm, Health Advisor Kenya.
"I grew up in a village in Meru County. My grandfather was a farmer and both my parents are teachers. We were not the richest in the village but I got privileged education compared to what others had in terms of the available schools because I went to a private primary school. For that, I am really grateful to my parents," she explains.
Despite being a bright student, when she joined high school, Ikiara performed dismally in her first and second years. However, life would come to her rescue in the form of an illness. "I suffered from warts on my feet which made my life insufferable. I had been in and out of hospital in pain with little change. Finally, I was referred to Chogoria District Hospital where I met the person who singlehandedly changed the direction of my life," she says adding that she was assigned to a young female doctor who took one look at her feet and lamented that her suffering had been needless.
With a tube of antiseptic worth Ksh 50 and a minor operation, Ikiara needed only two weeks to make a full recovery. Impressed by how someone could clear something that had disturbed her for years so easily, her curiosity was aroused. It then became clear to her that her life's calling was in the medical field. "I think part of the reason my performance in high school was poor was because I had not attached purpose to it. Before my hospital incident, I was just living for the day and nothing more," she says.
Motivated to change lives, she focussed on her studies. Unfortunately, her efforts were too little too late. Unable to make up for lost time, she failed to attain the grade she needed for government sponsorship for any degree in the medical field. Still, to the relief of her parents, she got a place at university with the option of studying something else. But that was not compensation enough for Ikiara.
Much to the surprise of her family, she opted to study at the lesser-glorified diploma level, undertaking pharmaceutical studies at the Kenya Medical Training College (KMTC). She thrived. On completion of her studies in 2008, she worked as an intern in a public hospital. An experience she described as 'depressing.'
"For a long time, Kenyan public hospitals have displayed lack of commitment in service enforcement and delivery," she expounds.
Feeling jaded, Ikiara left the public sector and opted for the private sector with the belief that she would have better results there. But six months into it, the reprieve she was looking for did not come. Frustrated and unchallenged, she resigned. It was during that period of great turmoil that she enrolled for a health systems management degree at the Kenya Methodist University.
She also found a job as a medical representative to market pharmaceutical drugs to hospitals and health institutions for not one but two global pharmaceutical brands. She worked with Innotech International in 2010 and later left to join Janssen-Cilag  (famous for the Johnson and Johnson brand) in 2012. Despite the benefits, a good salary and travelling opportunities, she was once more on the move in 2015.
"I had mulled over the idea to resign from April but I knew it was time to exit when one day in September, during an assignment, my boss asked me to join him for a presentation to some clients and I froze. I literally could not muster the strength to get up from my seat. In that moment, I looked at him and blurted that not only was I unable to see one more client, but that I was tendering my resignation. Several solutions were floated including senior positions that were coming up in less than two months but it was no-go. My motivation was no longer driven by money and in five years, I had done anything a medical representative would want to do in her career and I felt I needed another challenge," says the 28-year-old.
Actively seeking her next move, she decided to plunge into the world of entrepreneurship and registered a medical tourism firm. "During my health systems management studies, I was concerned with the mass exodus of patients to other countries – reportedly, an excess of up to 10,000 people leave Kenya each year seeking health care abroad. A friend and I partnered to start an agency to help people access these facilities," she explains, adding "But the more I interacted with these patients, the more I noticed there was a big deficit in health information, as some of the services they sought were easily available in the country. Additionally, while all the information they needed was available, the channels to get the information from health facilities, medical consultants, pharmaceutical companies and other organisations in an effective and affordable manner seemed to be a problem."
Finally, her chance to have a more direct impact in people's lives had come but the question was how? She decided to reach out to one of her mentors, serial entrepreneur Eric Kinoti (Young Achiever, February 2015) and sought his help.
"I had been reading about his struggles and achievements on social media and really believed that he, of all people, would share my vision. I sent him messages incessantly and a few months later he invited me for a meeting where I articulated my vision with evidence of the need for management of information and communication in the health sector. I also invited him to be my business partner because I believed in his entrepreneurial experience and he agreed. Together, we formed, Health Advisor Kenya which started as an online entity, HealthAdvisor.co.ke," she explains before adding the company's mandate is to find affordable, effective, measurable and sustainable channels to help pass any kind of health information to communities.
Additionally, patients can access information for free on its online platform on their nearest qualified medical consultant, their contacts, location and availability. The company has also partnered with a local media house to broadcast health talk shows in four different ethnic stations in the country. With in-roads being made in Uganda, Tanzania, Uganda, Rwanda and Somalia, the company hopes to start full operations in the near future. Currently, the organisation's clients include pharmaceutical companies, private hospitals and clinics, health NGO's and several companies that have products affiliated to health.
While Ikiara can now rest easy as the company has started making profits, she has a word for would-be entrepreneurs: Embrace struggle!
 "At some point I wanted to give up because there was no end in sight. Operation costs were crazy, and I had to do everything from being website manager to messenger to marketer. For someone who had been accustomed to a plush lifestyle, I had to cut back and retreat to the basics – the bare minimum – to survive. I am grateful for my mentor and business partner because he kept reminding me of my vision and encouraging me to hang in there. I am glad I did because as we speak, I can now afford to employ staff members," she says assuredly.
Ikiara concludes with a piece of advice: "If not for anything else, follow your passion for the sheer love of it. When you do what you love doing over and over again, you will eventually win."
Published in January 2016