JEFF KURIA On making it on the airwaves
                  Jeff Kuria, 31, Inooro Fm and Inooro TV presenter, is a household name among the Kikuyu community thanks to his great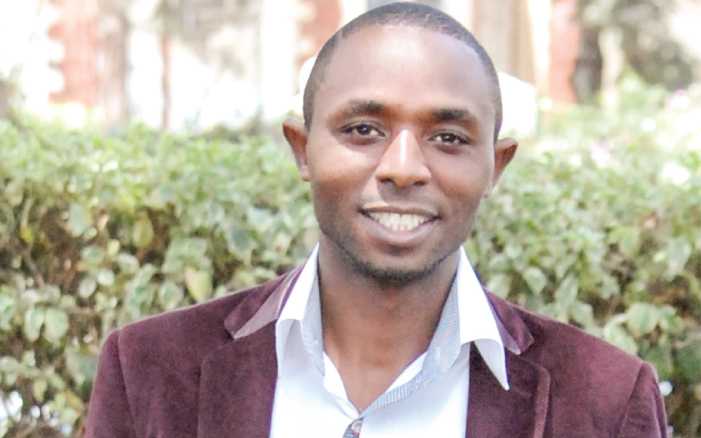 Jeff Kuria, 31, Inooro Fm and Inooro TV presenter, is a household name among the Kikuyu community thanks to his great and inspiring shows. While his arresting voice may have played a big role in earning him a following, it is his unique way of articulating issues that made him earn the respect of his fans. Jeff reveals the secret behind his success on the airwaves to HENRY KAHARA.
Since the liberalisation of airwaves in Kenya, the number of radio and TV stations has grown exponentially with many of them airing in vernacular.
With listeners spoilt for choice, presenters have no choice but to produce creative content that will make them stand out among their peers. It is here that Jeff Kuria has carved his niche, proving to be a cut above the rest.
Jeff works as a presenter at Inooro FM and Inooro TV stations, both of which are subsidiaries of Royal Media Services (RMS). He has mastered his art and today he is among the most listened to radio presenters within the Kikuyu community.
It is easy to see why Jeff is rated among the top in the industry for he is young, ambitious, and talented. His deep and self-assured voice and relevant content have his listeners glued to his two-hour show every afternoon.
"By noon, most people are tired and in order to attract and maintain their attention, I must develop content that is not only unique and relevant, but also interesting," Jeff says of his show – Kuihuria (filling) – that airs between 2pm to 4pm everyday.
It has taken Jeff two years and a lot of hard work to build his show. "I take my job very seriously because I know most of my audience are young people who are looking for solutions in life. I also research on what they need and whether they are satisfied with what I offer," Jeff reveals.
On becoming a household name…
Jeff explains that radio gives power to those who often feel powerless hence the need to have them in mind when preparing the show.
"I like radio because of its facelessness. This helps to cut through taboos. It's also results-oriented and feedback is real-time hence easy for one to read people's mood and react accordingly," he says.
He notes that media is supposed to be at the frontline in setting agenda for the society and he has tailored his show with this mind.
As a result, the show ratings are high hence attracting advertisers, which translates to more revenue for the company. Due to his massive listenership, the management has also given him a two-hour weekly programme on Inooro TV.
Jeff is particular about using his shows to address emerging issues in society and especially those that touch on the youth. As such, he was at the frontline campaigning against illicit brew, which had plagued Central region in 2015.
He says he took the step for he was aware that alcohol was destroying the youth in his community and what better platform to use than his show? He also made an effort of personally meeting those who were knee-deep in alcohol.
"You can't just tell a drunkard to stop drinking; you need to let him understand the effects of alcohol on his well-being and how it also affects those around him. Once he sees sense, he will stop imbibing on his own volition but he also needs help to stay sober. That's why I needed to meet with them and drum sense, in a gentle way of course, into their minds," he adds.
Jeff walks the talk as he has held the hands of reformed alcoholics even helping them start an investment group.
Labourious journey to the top…
"It wasn't a smooth journey to the top. I had to work my way through setbacks, disappointments and mistakes. My achievements are as a result of hard work, patience and persistence," he says.
After completing form four, Jeff's parents wanted him to be a lawyer while he wanted to be a journalist. His decision not to bow to his parent's pressure saw him move to Nairobi in search of an avenue to his dream.
He went to stay with a relative in Kangemi Estate so that he could be near Nairobi's central business district.
Here, he started visiting the Kenya National Theatre and watching young people act their heart out made him fall in love with acting. Slowly, he made connections with the directors of the plays and he would land acting roles in plays.
"I used to walk from Kangemi to the Kenya National Theatre as I couldn't afford bus fare," he recalls.
Seeing their son was bent on pursuing his dream course, his parents allowed him to follow his heart. Jeff therefore pursued a Diploma in mass communications specialising in film studies. Even then, he still continued acting at the Kenya National Theatre. Blessed with a good voice, it wouldn't be long before agencies approached him to do commercial voice-overs. However, a permanent job was long in coming.
"No one was willing to offer me a job as the agencies would promise to hire me only for them fail to honour their word," says Jeff.
But opportunity would come knocking in 2007 when he was asked to take his portfolio to Royal Media Services, which had just started Inooro FM radio station.
His would-be employers were impressed and he got a job to do classified advertisements for both Inooro FM and Radio Citizen FM. Armed with a good voice and passion, it wasn't long before he was promoted to the news desk as an anchor and later on given a midnight show.
"This was an opportunity of a lifetime and I didn't want to squander it. I had to make it by all means and so I gave it my best shot. The midnight show did so well that the management restructured the programmes and my show was given the afternoon slot," he says.
Raising others up…
Jeff's programmes target start-ups in the informal sector. "All of us can't fit in white collar jobs. In addition, if we all wait to be employed, then a large percent of the population would be without jobs.
Moreover, we need the informal sector so that the society can run smoothly. For example, where would we sit and sleep if we didn't have carpenters to make furniture or plumbers to fix our water pipes?
The informal sector thus plays a critical role and those in the sector need to be empowered and the show does that through offering practical advice to aspiring and commencing entrepreneurs," he notes.
Apart from empowering those in the informal sector through his show, Jeff is also deliberate on giving rising musicians a chance to showcase themselves. Needless to say, getting one's song to be given airtime and especially if you are a nondescript musician can be a daunting task.
He urges young people to be patient, persistent and consistent if they want to make it in life since nothing good comes easily. He further urges them to take risks, as this is the only sure way of getting a breakthrough in life.
Jeff admits that he made a lot of mistakes when he was starting out, experience he now uses to mentor young people.
"One of my biggest undoing was thinking that everything had to translate to money. In the process, I missed out on many opportunities. But now that I have come of age, I realise it's about service to others and that my life doesn't revolve around me," he states.
Jeff the entrepreneur…
Apart from being a presenter, Jeff is also an entrepreneur; he owns an entertainment company, Hafla entertainment, which offers event management, MC and DJ services, as well as audio and visual services.
"Entrepreneurial skills are God given and one just needs to have passion in his area of specialty to shine. Young people also need to tap on the endless opportunities available online and open their eyes and minds to new frontiers," he says.
Asked what spurred him to venture into the entertainment industry, he says he noted a gap in the industry where clients were not getting value for their money. He aimed to address this issue as well as provide a one-stop shop for entertainment needs.
"I will not be on radio my entire life. But before I leave, I want to leave a rich legacy. I want to build people, I want to touch lives and reach as many people as possible," says Jeff who is an ardent Arsenal fan.
"I am an avid reader and I am much inspired by Richard Branson's famous quote 'If somebody offers you an amazing opportunity but you are not sure you can do it, say yes – then learn how to do it later'," he finishes off.
Buy a copy of the October issue to read this and many more