JUDITH OKECH: Helping to alleviate suffering
There is nothing as beautiful as a person who goes out of their way to better the lives of others. Judith Okech, 62, is an embodiment of the saying 'not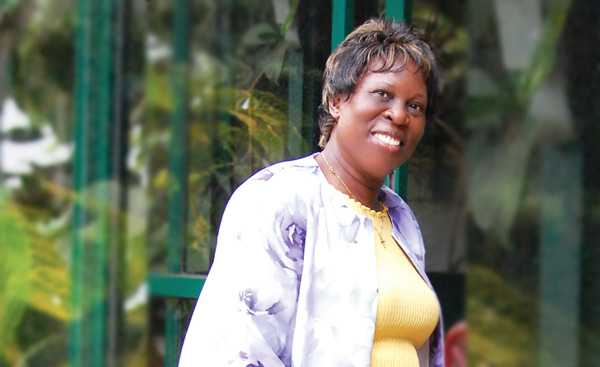 There is nothing as beautiful as a person who goes out of their way to better the lives of others. Judith Okech, 62, is an embodiment of the saying 'not for ourselves alone are we born.' With more than 30 years experience in both clinical nursing and disaster-relief management, Judith has been exposed to the devastating effects that poverty, war, lack of education and limited access to proper healthcare has on women and children. Judith resolved to do something about it. She shares with ESTHER KIRAGU about her family life and present delight in empowering women and girls.
Judith Okech has good memories of her childhood. Born and bred in Butere in a polygamous family, she became aware, as she grew up, why her father married a second wife. "Some villagers taunted my dad for having sired girls only and, therefore, got him a second wife with the hope that he would get boys. It worked, as my stepmother's first child was a boy. The two families co-existed well and dad, a postmaster, treated all equally," she explains.
Judith's father was the pillar of their home and unlike many others in the village he believed that girls too needed a good education. He enrolled Judith at the nearby Butere Primary School where she remained up to class four before transferring to a boarding school. This was her father's way of shielding her from early pregnancy, a misfortune that befell many young girls in their village.
Judith remained focused and did well in her final primary school examination and got admission to the prestigious Butere Girls High school. "Even in high school, dad remained very protective of me. Whenever schools closed, he would send me to stay with my elder sister in Nairobi as he was aware of the existence of night dances in the village and was keen to shield me from anything that would distract me from my studies," she says.
After successfully completing her high school, in 1970 Judith got admitted to the Kenya Medical Training College (KMTC) to pursue a course in nursing. She admits that initially she didn't want to study nursing. "I wanted to be an air hostess," she says amidst a chuckle and adds that her father talked her out of it.
As fate would have it, Judith's father fell sick and was admitted at Kakamega District Hospital in 1975. He was diagnosed with myeloma, a type of cancer that attacks the bone marrow. This was the same year that Judith got posted to Kakamega District Hospital and was able to give personal care to her ailing father before he passed on later that year. She remains grateful to have had such a wonderful father who guided her in the right career path.
Juggling family and career life… 
Judith met and married Arnold Okech, an agricultural officer based at The Kenya Agricultural Research Institute (KARI) in Kitale, in 1976. She transferred to Kitale District Hospital to be close to her husband. Her first experience at the new place of work was shocking.
"Not only were the conditions at the hospital appalling, but there was also a shortage of staff. The situation was overwhelming, but I learnt to work with the few staff and management towards improving service delivery at the hospital," she explains and adds that she gave her work everything she had for the eight years she remained at the hospital.
She began to raise a family while in Kitale and they were blessed with five children. Her husband left her to look after the children while he traveled to the US to further his education. On his return in 1983, he was transferred to KARI headquarters in Nairobi and the family relocated to the city. "By then all our five children were of school-going age. I was anxious at how we would survive in the city with my large family, which also included my mother, after the relatively low-cost living in Kitale," she recalls.
Judith began looking for a better employment opportunity to supplement her husband's income. So when a job offer with the United Nations High Commissioner for Refugees (UNHCR) came knocking in 1984, she grabbed it with both hands. This was despite the fact that it was based in Banissa constituency, along the Ethiopia border, just after Mandera. Her husband had misgivings about Judith taking up the job, the good pay that came with it notwithstanding. He was concerned about insecurity in the area she would be working from and that she was also going to be away from the family.
"After much praying and convincing from my mother, my husband gave me his blessings. It was now his time to take care of the children, a role he embraced wholeheartedly. I am glad he supported me, as my career would not have taken the direction it did. It is important to have similar values, be willing to support and make sacrifices for your partner because when one of you succeeds, you all succeed," she says in reference to marriage.
Her new job brought her face to face with the dire situation of refugees from different countries. This encounter transformed her outlook towards life after witnessing how violence and conflict adversely affected women and children. "I saw how refugees suffer limited access to basic needs and medical care and it pained me. That experience humbled me and became a turning point in my career," she says of her five-year stay in Banissa.
Her next job was with Médecins Sans Frontières (MSF), an international, independent, medical humanitarian organisation that delivers emergency aid to people affected by armed conflict, epidemics, natural disasters and exclusion from healthcare. She joined this organisation in 1989. She worked as a field coordinator in internally displaced persons (IDP) camps at Maela in Naivasha and also in Kisumu and Kericho. Judith yet again came face to face with human suffering experienced by those displaced during the 1992 tribal clashes in Kenya. She worked in these areas until all the IDPs were resettled and the camps closed down 1999.
Unfortunately Judith had to take a break from work to attend to her husband who had been diagnosed with a brain tumour. He had surgery in the UK, which was not successful and passed on in February 2002. "I recall feeling such a sense of vanity having worked so hard to provide a better life for my family and now I couldn't share it with my husband. To make matters worse, my mother died of shock when she learnt of my husband's demise. I was devastated," Judith recounts the sad turn of events.
Life felt so empty for Judith and in a bid to cope with her loss, she isolated herself. It took the intervention of some of her closest friends and her pastor, Ambrose Nyangao of Parklands Baptist Church, who prayed with her and offered support during the difficult period, to help her regain hope and learn to move on.
Judith secured another job towards the end of 2002 as a field coordinator at TEAR fund, a leading relief and development charity working in partnership with Christian agencies and churches worldwide to tackle the causes and effects of poverty. She was based in South Sudan.
"Working at TEAR fund was what I needed for that season. Being a Christian organisation, the management ensured the staff had enough Christian literature to enrich their lives and these grounded me in my faith. I was also able to educate my children, most of who were in college at the time. My stay in South Sudan was short as I retired three years later," she explains.
Putting experience into good use…
The 2007/2008-post election violence in Kenya found Judith in the USA, where she had joined four of her five children who were studying and working there. Seeing the media reports of the conflict in Kenya ignited the memories of the experiences she had working in different volatile environments.
"I wondered if Kenyans were aware what was at stake by turning to violence. I felt an urge to do something using my past experience. I wanted to use my skills and knowledge to help alleviate disparities that often trigger conflict from the grass root level. This was the genesis of Imbako Public Health which I launched in 2009," she says.
Imbako Public Health is a non-profit organisation registered both in Kenya and the USA whose mission is to allay disparities in healthcare, education and the environment faced by vulnerable populations particularly women and children. Judith balances her life in the activities of the organisation both in Kenya and the USA.
Through a partnership with Georgia State University in the USA, Imbako Public Health was registered as a nonprofit organisation in Kenya and the USA. The organisation has three arms: education, healthcare and environment.
Through its education pillar, girls from disadvantaged families in Kakamega, Siaya and Trans-Nzoia Counties, who have secured admission to college but can't afford fees, are sponsored. The organisation works closely with churches, schools and the administration within these localities to identify needy cases. To sustain the sponsorships, Georgia State University raises funds through an annual charity run. Today, 20 girls have benefited from this noble venture, six of whom have already graduated from local universities with degrees in various fields of study.
The organisation also has a centre in Sitatunga, Kitale, where a community Public Health Library has been established to promote literacy in the community. One of Judith's daughters, Dr Irene Okech, serves as the policy liaison officer at Imbako Public Health, to ensure that the policies in Imbako's countries of operation are adhered to. She also leads in the strategic development of policy initiatives in public health.
Women within the localities where Imbako Public Health operates benefit from health education talks and are also equipped with income generating skills such as soap making. They have also formed a merry-go-round scheme that enables them access financial services for small business ventures, in addition to providing a support system that helps forge unity within the community. Imbako Public Health represents other NGO's within Trans-Nzoia County in the Constituency Development Fund (CDF) forums.
Making a difference…
One of the many success stories that Judith is proud of is that of a beneficiary, Nancy Were. "Nancy was orphaned at the age of three. Her grandmother took her and her younger siblings in and brought them up. Nancy was fortunate to be sponsored by a relative throughout her secondary education. Although she did well in her Kenya Certificate of Secondary Education (KCSE), the relative couldn't afford to take her to college," Judith explains.
"By the time Nancy's case was brought to our attention in 2010, she had been at home in the village for two years and her life was retrogressing. Imbako Public Health sponsored her to university and she graduated in 2014. Nancy has secured a teaching job through which, she has been able to uplift the lives of her siblings and grandmother. She truly reflects the vision of the organisation, which is to reach women, teach children and in the process help heal the community. It is such people whose lives have been transformed that make us want to do more as an organisation," says Judith in conclusion.
Published in January 2015