Pillow talk: Issues best discussed during this moment
Pillow talk is very important and any relationship tends to rely on this whenever one the partner wants to table important but sensitive matters. It's the only moment in marriage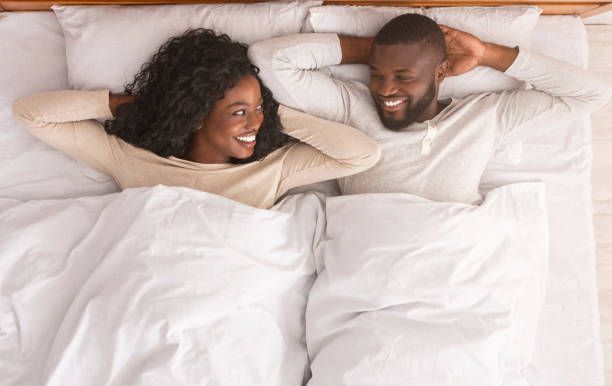 Pillow talk is very important and any relationship tends to rely on this whenever one the partner wants to table important but sensitive matters. It's the only moment in marriage or when in a relationship where you get to discuss things softly, swiftly and in a romantic way with your partner without raising concerns or objections.
If you find communicating with your partner a problem then you can consider pillow talk to be among the best moments to carry out a peaceful conversation.
Here are 6 topics you can consider discussing while on that pillow talk vibe.
Sex
Are your bedroom matters not in sync and you feel like the situation is affecting your relationship or marriage? Worry less, such topics can only be discussed well during pillow talks moments. Approach the issue gently as the atmosphere stipulates. Talk to your partner, and let them know what you don't like, what you like, and the different sex positions you wish to try. This is also the best time to mention whether you don't reach an orgasm with your partner.
How to express yourself to your partner when you don't feel heard
Arguments will not always go your way. Adopting other approaches might help in convincing your partner to see things from your perspective.
Children
Not everyone in a relationship is ready to have kids immediately after moving in or right after marriage. Some need more time to know whether they are ready, some want to pursue their careers first, some want to enjoy the reunion before the baby comes into picture while some want to be financially stable before children come in. Such a topic will be best discussed during your pillow talk. Take this time and the gentleness it presents to understand each others opinions when it comes to bearing kids and if possible set up realistic goals for you both.
Business
Are you tired of being a stay-at-home mom and you would like your partner's assistance to establish a business? Pillow talks time got you covered.  This is the best time to bring up the matter with your partner with the aim of as convincing him. During this time it is possible to have your way because the atmosphere renders your partner vulnerable.
Cheating
Do you think your partner could be cheating?  It would be great to bring up such an issue during your pillow talk time. There may be a variety of reasons that may push your partner into cheating. Therefore, try and discuss the underlying issues that may have led to him/her making that mistake so you can establish a longer lasting solution together.
Health
Many will argue that issues on health are not sensitive but in some instances they are and partners need to address health issues critically and effectively.  Such issues need a sober mind whenever you are bringing them up. Not every partner will be at ease when you wake up one morning and ambush them with information on life threatening diseases like cancer and HIV. However, with the serenity that comes during pillow talks such topics may sound like music. However it is important to make sure treatment of the disease and the way forwards is discussed during this time.
Moving to another house
Photo by Tierra Mallorca / Unsplash
Do you feel like it is about time you moved your family to a large space? Well, this is not a topic where you wake up one day and you bring it up with your partner. Rather, this topic requires some well put together thoughts and discussion as it involves consideration on finances too. Bring up such topic on your pillow talk time, no matter how tedious it might be. Explain why it's important to move out to a larger apartment especially because you are likely to afford it now. Note that you can only bring up this topic if you notice your partner's job is stable and moving won't strain other responsibilities.
The edition that celebrates mothers!
Radio Citizen presenter Jeridah Andayi graces our May cover with her three children as we celebrate mothers all month long! Even with her busy schedule and the many hats that she wears, her role as a mother is the one she cherishes most.
Pillow talks allow you an atmosphere that is conducive enough to discuss topics that would have otherwise spiraled of control under normal circumstances. It is also important to note that, you are likely to make decisions in your moment of weakness during the pillow talks that may require your keen reevaluation thereafter.