PROF KIHUMBU THAIRU Lifetime contribution to medical profession and society
Professor Kihumbu Thairu is one of Kenya's most outstanding scholars with an illustrious career in medicine that has spanned several decades and marked with both scholarly and personal achievements. The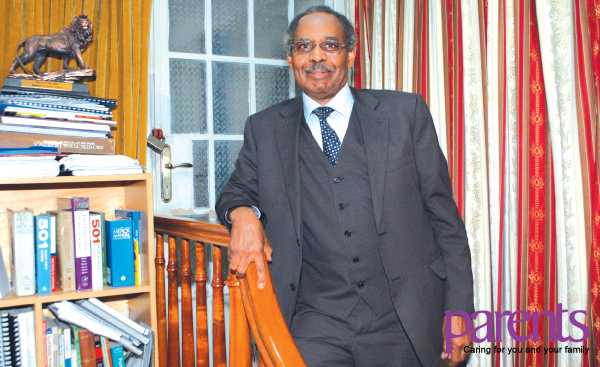 Professor Kihumbu Thairu is one of Kenya's most outstanding scholars with an illustrious career in medicine that has spanned several decades and marked with both scholarly and personal achievements. The 75-year-old professor took ESTHER KIRAGU through his life experiences and his outstanding contributions to the medical profession and society.
An afternoon with Professor Thairu feels like a Masters class on wisdom. If his jovial and knowledgeable nature warms you up to him quite easily, then his story telling prowess will definitely regal you.
His academic roots trace back to his days in Rukubi, Kikuyu Township, where as a young boy he constantly pleaded to be allowed to go school. His pleas were turned down several times by the school administration on the basis that he was too young, thanks to his slight frame.
Being a last born, he spent much time with his father herding livestock but his inquisitive nature meant that he would pester his father to tutor him basic English and arithmetic, the lessons other children were learning in school.
Being a fast learner, he quickly absorbed the concepts. Additionally, given he was equally adept with both hands, Thairu soon picked up drawing, a skill he possesses to this today.
By the time Prof Thairu was finally accepted to school, he had internalised the entire mathematical table and while he looked forward to sharpening his knowledge in school, to his dismay, he found the curriculum in the school to be a big joke.
"The subjects were so simple and yet the questions that the teachers asked regarding the content that they had taught us eluded some students due to poor memory," he explains adding that he learnt the art of concentration during his cattle herding escapades because one would get into trouble if the animals strayed to the neighbour's homesteads.
Two weeks after joining school, a distressed young Thairu sought to know the highest academic ranking in Kenya. When he learnt that it was being a professor, he swore to become one and this remained his goal throughout his education life.
After completing his high school education at Thika High School, he joined Makerere University College for his undergraduate and postgraduate studies in medicine.
The ambitious Thairu then proceeded to the University College London where he did his PhD in neurophysiology – the study of the functioning of the nervous system.
In 1976, after years of teaching at various institutions including the University College London and University of Nairobi, he was declared a professor as recommended by the Commonwealth Inter-University Council (London), at the age of 33.
Decolonising the African mind…
 One of Professor's solid memories during his growing up and schooling days was the blatant racism he experienced.
"Africans were often referred to as stupid and backwards. I would jot down every abusive thing said against Africans and use it as motivator to work hard and prove them wrong," he says and adds that succeeding and beating medical students from other races as a student at Makerere University College helped somewhat change his fellow students' and lecturers' attitudes towards Africans.
The racist comments later on formed content to his book titled The African Civilization to help liberate the African mind. The book was published in 1978.
Prof Thairu warns that as one advances in their education level, they need to be conscious and alert of what is being imparted in them as one often tends to underestimate how much they are being influenced by foreign ideologies, beliefs and dogmas, which has crippled Africans leaving them unable to develop solutions to their own problems.
His advice, "Even when pursuing higher levels of education, have an open mind and believe in yourself despite what everyone else says about you."
 It is with this in mind that he has been keen to influence education in Kenya. This led him to join hands with other like-minded scholars to establish the Kiambu Institute of Science and Technology to offer skills-based training to youths to enable them manufacture local products.
"It is sad that even after all these years, technologically speaking, there is very little that Kenya manufactures. What can we really call our own?" he asks somberly adding that up until now, in this era of technological boom and advancement, many graduates of science and technology-related courses have very few innovations.
He blames this on the fact that the Kenyan education system tends to focus on theoretical rather than technical ability.
As a result, Kenya relies heavily on imported machinery, and loses heavily in developing its own.
He, however, believes all is not lost as graduates in polytechnics and colleges can still be innovative as long as they are trained to enhance their skills practically.
Enormous contribution to the nation…
All in all, Prof Thairu has definitely played his part in national development. Being a professor in the field of medicine, his commitment saw him play a key role in the establishment and steering of the Kenya Medical Research Institute (KEMRI) to a medical research facility, and a center of excellence in the developing world.
In recognition of his contribution, he was elected as dean, Faculty of Medicine at the University of Nairobi, Chiromo Campus making him the youngest dean to be elected at the time. He was only 33 years old.
In his four-year tenure as dean, he was able to contribute a lot to the education sector in Kenya.  For instance, he joined the Ministry of Education as a key member of the Human Biology Curriculum Panel for three years where he helped develop the biology curriculum studied in secondary schools, which is still taught to date.
He went on to be in charge of the development of new curricula of international standards for pharmacy, dentistry and nursing courses.
Further, Prof Thairu collaborated with the Ministry of Health and helped develop 16 courses including paramedical courses such as food inspection, meat inspection and radiography, as well as medical special courses like anesthesiology, community health, orthopaedic surgery, and psychiatry and sports physiology among others.
"Sadly, 28 years since my tenure ended, there has been only one additional course – neurosurgery – in the faculty," he says.
Perhaps a depiction of a man born before his time, he popularised the idea of decentralising health services in the 80s with the aim of ensuring that the health system catered for the rural areas as well instead of having most of the health personnel concentrated in huge hospitals both in government and private institutions in Nairobi.
Many opposed the idea at the time but now, decades later, devolution of healthcare system at the County level is an ongoing undertaking despite the challenges.
But it has not been a walk in the park for Prof Thairu. "At one time, I was elected by the University senate as a representative in the University council and as deputy vice chancellor by secret ballot in the 1983/84 academic year but political appointment by the government of the day was introduced at around the same time and I ended up missing the appointment," he says adding that he is saddened when good leaders miss out on opportunities in the name of the government ensuring there is an ethnical balance of leaders in parastatals.
A true servant leader, he served as chairman of the then Commission for Higher Education (CHE) now Commission for University Education (CUE) for six years, where he helped streamline the Commission's operations and reduce the time taken for the Commission to approve programmes or accredit institutions of higher education without lowering standards.
"At the time, it took about six years to accredit a university, today it takes about two-and-a-half years," says the man who went on to become a founder member of the Presbyterian University of East Africa (PUEA) and its vice-chancellor for three-and-half-years.
Thairu the family man…
Prof Thairu is the younger brother of the late Nelson Muguku of the famous Muguku Farm that revolutionised poultry farming in Kenya.
He says he and his late brother, who passed on in 2010, had grand plans to establish technical training colleges across the country to equip the youth with skills to manufacture broadly and hence compete with developed nations.
However, Prof Thairu is carrying on with the dream, as he was instrumental in founding Maasai Mara University established in 2010.
He is married to Dr Wanja Thairu, whom he met during his campus days at Makerere University. Their home has a beautiful display of all sorts of books, as they both love reading.
They have also authored several books. Dr Thairu uses her personal experiences to present a provocative non-conformist approach to various issues like population, ethnic conflicts, and problems of personal identity, etiquette, behaviour, ambition, religion and racism. She works as head of ICT and knowledge management at Moi University, Eldoret.
The couple has a son, Dr Ngayu M Thairu, who seems to have followed in his father's footsteps in the field of medicine, as he is a surgeon.
As this interview comes to an end, Prof Thairu expresses his biggest regret being that Kenya has never graduated from the clutches of negative ethnicity.
"I recall during the early post-colonial era when Kenyans were united to defend and improve the living standards of the country and my hope is that somehow we can embrace that spirit once more for the sake of development," he poses a challenge to Kenyans.
Published in September 2016