THE LONE RANGER Being a single dad
As we commemorate Father's Day this month, we take a minute to remember father's who play the dual role of being both mother and father to their children. Wondering how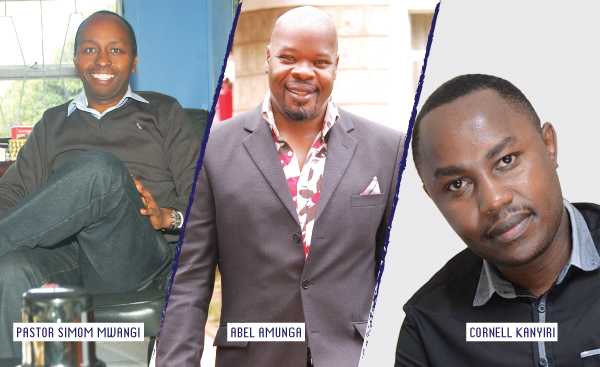 As we commemorate Father's Day this month, we take a minute to remember father's who play the dual role of being both mother and father to their children. Wondering how they cope? We caught up with three single dads and they shared on losing their wives, coping with the difficult situation and raising their children.
CORNELL KANYIRI
Age: 41
Children: 2
Cornell Kanyiri lost his wife, Lillian Muthoni, barely 10 years into their marriage. At the time of Lillian's death, the couple's two children were young; their eldest daughter, Samantha Kanyiri, was six years old while the young one, Jasmine Kanyiri, was three. "I have always been very close to my children, but this did not make things any easier because filling the gap my wife left has been a hard task. I also never thought my wife's death would have such a huge effect on my children since they were young at the time of her death, but it did," says Kanyiri.
Kanyiri was slightly prepared for his wife's death since he had helplessly watched her health deteriorate for about four months before her demise. Lillian suffered from kidney cancer, which was detected at a late stage.
"It was very painful to watch her suffer. Not even prayers from my pastor, family and friends would ease the pain she was in," notes the East African University lecturer.
Lillian's death left her kids with questions on the whereabouts of their mother, what death was and whether their mother will ever come back again. To the kids, death was a new term they needed to understand. On his part, Kanyiri notes that his wife's death was a big blow in his life as she was a true helper to him and the two shared a great union.
Cornell Kanyiri with daughters (L) Jasmine (M) Samantha
"We ran a business together – Newsline Media Productions – based in Nakuru County, but her death meant that I had to do the job myself on top of looking after the children," he says and adds that he sought counselling to cope with the loss.
The sudden change saw his business go down since he was often unable to beat deadlines and clients pulled out as a result, which translated into huge losses. His efforts to empower his employees to take up additional roles didn't bear much fruit. Presently, he is happy that he has a job as a lecturer at the East African University where he is also pursuing his Masters degree.
"I used to live with my daughters in Nakuru but currently my
PASTOR SIMON MWANGI
Age 54
Children: 5
Five years ago, Pastor Simon Mwangi, the associate pastor at the Parklands Baptist Church Westlands, became a widower after losing his wife of over 20 years, Joy Wairimu Mwangi, to cancer. He nostalgically recalls the good life he shared with the mother of his children.
"It is hard to forget someone who gave you so much to remember. Death ends life but not a relationship," notes Pastor Simon. His wife's death led him to establish a foundation, Joy Mwangi Foundation, in honour of his late wife. The purpose of the foundation is twofold: fighting cancer and empowering needy children through education.
Although he is a pastor and has been encouraging widowers, widows and orphans, he admits that it has been hard learning to live without his wife. He concedes that the phrase 'til death do us part' falls short when one loses a partner.
"A marriage and the bond between a husband and a wife makes two people into one. That means even after losing a partner, we are still left with a special love
The Mwangi's: From left, Eve, Rebecca, Precious, Wanjiru and Adam
that burns inside that never dies," he says adding that he only managed to come to terms with the death of his wife three years after her demise.
The experience changed his life's philosophy as he realised that time is short hence the need to make each minute count. As a result, he readjusted every aspect of his life and put much of his focus on raising his children and in the ministry.
"Being a minister of over 7,000 congregants is energy sucking so you find sometimes you are completely worn out and it is easy to forget about your family and your personal life but I have learnt to lean on God in everything. I am also grateful that my family members, friends and congregation have stood with me," says Pastor Simon.
Now as a father and mother to his five children, Pastor Simon maintains a close relationship with his children by ensuring he is home in time for dinner and even sometimes for a movie night. "We also have a day out like on Friday and Sunday evenings where we enjoy a meal outside home.  But this is not to say it has been easy. One time I nearly took my daughter to hospital thinking she was sick but it was her body dealing with puberty and I didn't know," he notes.
As his children grow older, he has opened up to them and even involves them in decision-making.  He says, "They know all about my assets and bank accounts among other things, which makes it easy to explain to them the decisions I make regarding life beyond teaching them how to manage finances and other things."
Does he ever feel lonely? "Sometimes I feel the need to have somebody close whom I can pour my heart to, somebody who can understand, pray and even encourage me. But all in all the joy of the Lord has been my strength," he says quoting Psalms 23 – his favourite scripture.
Although he plans to remarry someday, Pastor Simon is very cautious about the decision. He admits marrying a second time is different from the first and one has to be careful to get a partner who will love and accept his children and share in his vision and dreams. In addition, he notes, shepherding is a labourious job calls for a partner who is equal to the task.
Regarding the pressure and expectations from friends, family and the society at large about remarrying, he says, "A few days before my wife passed away, she urged me to take care of our children until they stand on their own. Those words have always served as a constant reminder that I have a duty to first bring up my children in the best way possible before thinking of remarrying. Now that I have accomplished most of the goals I had set, I am ready to start a new life with the person who God will give me."
*Photography / Family album
ABEL AMUNGA
Age: 53
Children: 1
As any parent will attest, raising a child is a labour of love. Even so, no parent ever thinks that they will have to sail the unpredictable waters of parenting by themselves but as circumstances would have it, that is exactly where 53-year-old Abel Amunga found himself in 1993 when the mother of his then seven-year-old daughter, Ruth Matete, passed away.
"Ruth's mum and I grew up together in Kakamega and later became an item when I was in college and she was in high school. It was then that she became pregnant, forcing her to drop out of school. She also got married to someone else. At the time, I was studying in Nairobi while she was in Kakamega but she was not optimistic about our relationship," says Amunga who adds that despite her newfound status, he cut down his accounting studies in half in favour of engaging in a part time job in industrial area so as to be able to send her child support.
In 1993 Amunga tied the knot with his then girlfriend. After Ruth's mum demise, the couple made the mutual decision to take Ruth in permanently. "We never anticipated that Ruth's mum, a victim of domestic violence, would pass away but because it happened, I had to take care of my daughter. It was then I discovered that Ruth had never stepped into a classroom as previously, her primary life activity was that of helping her mum look after her step-siblings," reveals Abel who enrolled her in standard one immediately.
For a while, the family unit of three flourished. Then trouble began. "My wife and Ruth were close for the first three years. However, years of trying to get our own child took its toll on her and she started lashing out at Ruth," says Amunga.
Unable to choose between his daughter and his wife, he decided to bide his time hoping the situation would blow over. Blow over it did, but not in the manner he assumed.
"One day after attending a church service, I came back to an empty house. My wife had packed her things and some of our household stuff and taken off. There and then, Ruth and I knelt down and prayed. I resolved that from then on, it would be just the two of us," confesses the now long-term bachelor.
While it goes without saying that being a single parent means filling in large shoes, Amunga advises that one needs a strategy.
"It can be difficult for men to step into women's shoes. Women seem to be more adept
Ruth Matete
at manoeuvering between both worlds seamlessly while still being attentive to their children. I purposed to always come home early so as to spend time with Ruth. I did not have a live-in nanny so I identified a lady, my neighbour, who had daughters and requested her to help Ruth transition smoothly into womanhood. To date she refers to the couple as mom and dad," he explains.
Amunga also attributes the success of his relationship with his 30-year-old daughter to friendship. "Structure is important for children and every time Ruth strayed, I definitely laid down the law, especially during her teenage years. Friendship however has been the glue that has bound us together. Friends talk, share about anything and everything and enjoy each other's company. That is how our relationship is," he says.
So, has the thought of remarrying ever crossed his mind? Several times, he confesses, though most notable relationships have not amounted to much. "There are two ladies that I have come close to settling down with but at the end of the day, I was always caught in the middle having to choose between them and my daughter; a raw deal in my opinion. Now that Ruth has her own life, I am not averse to the idea of dating and settling down and who knows, even have another child!" he says adding that friends and family have always pressured him to do so.
"There was a time I suffered from internal pressure because I thought I was getting too old to settle down but I got over it. Then my dad took over and friends also started making jokes about my status hinting something has to change. Now that Ruth is all grown up and flown from the coop, she is the one pressuring me to get someone!" he quips.
Despite all the challenges he faced, Amunga, who considers himself an unofficial single dad's ambassador (he shares his experiences extensively with other single dads), says he has no apologies to make for putting his child first.
"Though there are times I struggled, never once did I regret or attempt to give up on my daughter," he says.
As we conclude this interview, Amunga's advice to single dads is:
Create time for your children and build a routine.
  Distance your children from romantic relationships that will raise questions or make them uncomfortable.
When introducing them to a special someone, be sure of their role in your life. This will help curb people drifting in and out of your kids' lives.
*Ruth's photo by Kuyoh photography
*Stylist Letoya Johnstone
Story by Henry Kahara, Esther Kiragu, and Esther Akello