Up close and candid with Angela Ndambuki
If you are a performer and you want to wage a war or simply have your rights well represented and articulated, then singer, actress and intellectual property rights lawyer and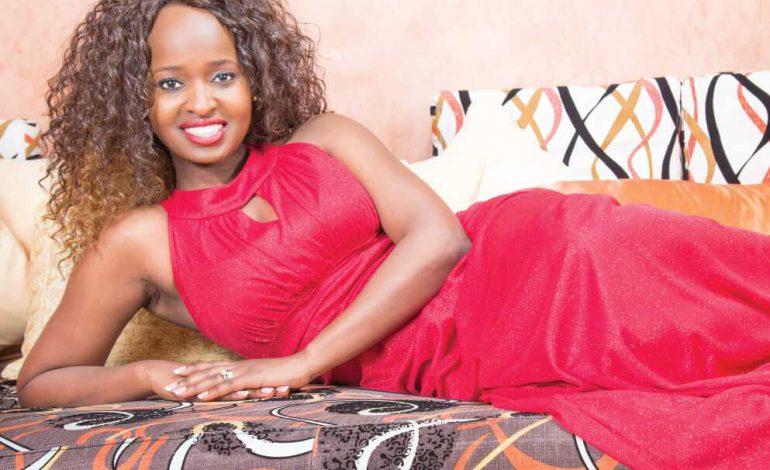 If you are a performer and you want to wage a war or simply have your rights well represented and articulated, then singer, actress and intellectual property rights lawyer and CEO of Performers Rights Society of Kenya (PRISK) Angela Ndambuki has your back covered.
In a country that is still struggling to recognise performance arts as a legitimate career, Angela has guided the organisation for the past seven years from a nondescript body with zero funds to a body that can demand over Ksh100 million annually in payments for artistes, actors and dancers from content service providers and broadcasters.
And that is just with its slightly over 2,000 members. The body is angling for a minimum of 10,000 members in the next few years.
"When I came in as the CEO of PRISK, copyright law in Kenya was insufficient in terms of protecting performers rights. Performers could not demand payment from anyone who used their work because the rule at the time was that once a singer recorded a song, it no longer belonged to them but the producer. Many were languishing in poverty with no form of recourse," explains Angela, adding that she learnt of the PRISK vacancy serendipitously.
"I had gone to the Music Copyright Society of Kenya (MCSK) to register as a composer when the immediate former CEO, Maurice Okoth, and I started talking about how performers were poorly represented, legally speaking. At the time, MCSK dealt with music producers and composers only and performers did not really have a voice that represented them. Maurice intimated that a body was being mooted to deal with the same and that I should apply," says Angela.
She did and as they rightfully say, the rest is history. While the energetic and full of life 37-year-old admits that she may have taken divergent ways to find her niche and eventually her calling, she always trusted that her passions in advocacy and the arts would one day find a perfect balance.
"While in university, I grappled with the decision as to whether to pursue environmental, human rights or intellectual property rights law. Intellectual property rights law eventually won but then I ended up working as a human rights lawyer with the Kenya Human Rights Commission and as a women's rights lawyer with the Great Commission Church International," says Angela.
Ever shy to toot her own horn, she modestly glosses over the fact that it was also around that time in campus that she became a household name as one-third of the all girl singing group Tattuu that dropped hits like Teso and Jua la Nyesha.
"I started singing when I was young and when I took it seriously in campus with Debbie Asila and Angela Mwandanda as Tattuu, a lot of people questioned the move because unfortunately, most Kenyans didn't think music was a career to reckon with. Thankfully, my parents were supportive," she chuckles.
Dealing with challenges…
Born in Mombasa and raised in Nairobi as the last born of six siblings, Angela credits her free spirit to her parents as she nostalgically explains, "My parents never tried to cage us or steer us in one particular direction other than to simply follow our hearts and be independent."
While PRISK has come a long way, according to Angela, raising the body off the ground has truly been a labour of love. "The first two years were hard. We had nothing and I did everything. I was the tea girl, messenger, general manager, lawyer; you name it. The board members also paid their fair share of dues. Daniel Ndambuki (comedian Churchill) was the one who paid the rent for our offices at the time," she reveals.
So hard were times that not only did Angela have to pay for some services out of pocket, but her husband, Roy Mutungi, whom she credits as her number one support system, also chipped in.
He explains, "My motivation to help Angela stemmed from the fact that she can be very determined when she puts her mind to something. We are big believers in taking risks and trying new things although we knew there was also the possibility the organisation could fail to pick. Angela however remained positive and focussed on the end goal, which was giving artistes a voice."
Angela adds, "Roy always insists that PRISK has to have well running, independent and transparent systems in place and being a software engineer, he designed some for the organisation at a time when we could barely afford service providers. In fact a system he designed for PRISK was so impressive that a Norwegian donor, who had also funded the project, wants to use it as model to role out in other countries."
The turnaround for PRISK came in 2013 when Angela almost broke down in the middle of a presentation to some donors.
"The donors asked me why PRISK was asking for money to build databases yet the organisation was not paying its staff. I had never collected a salary prior to that. They also advised on a need to create a leeway fund that could help us run projects.
That for me was an eye opener and after that, with some funding from them, we were able to start running projects and hire more staff. Since then we have never looked back and are now self-sustaining thanks to the collection of royalties on behalf our members. It is also the establishment of systems that have enabled us to be able to extend services such as medical insurance for our members," she explains.
A progressive move especially since many artistes despite being household names such as the late Benson Wanjau aka Mzee Ojwang' of the Vitimbi fame have died as paupers. So lucrative has the entertainment industry grown that last year, the music industry almost ground to a halt as artistes and content service providers locked horns in a bruising battle over payment of royalties to artistes.
PRISK also found itself on the receiving end of the battle after a court in Malindi ruled that artistes could not collect funds from content service providers just months after PRISK had negotiated with telecommunication service provider Safaricom, the proprietor of Skiza Tunes, for bigger financial cuts for artistes.
"A lot of struggle has gone into securing the rights of performers so the decision that they were not going to enjoy the fruits of their labour to their full extent came as a shock to us.
Thankfully, the money had already been released and one artiste even told us that prior to the agreement, they were only able to get only Ksh150,000 from music content service providing companies as opposed to Kshs750,000 they received from collective management organisations such as PRISK post the new agreement. We hope as people continue to appreciate artistes' work, we can offer even more services such as social security to artistes.
The Kenyan music industry can sustain its players; we just need systems in place. It seems slow but we will get there for sure," Angela says emphatically.
But even with the organisation's good intent, criticism against the Kenyan entertainment industry and especially the music industry still persists. Many argue that the Kenyan music industry is wanting in both sound and content compared to Tanzanian, Nigerian and South African music industries. So how does the industry compare a decade ago when Angela herself was a performing artiste?
"There is a good crop of artistes coming up right now such as Elani, Dela and Sauti Sol. A lot of the current artistes are keen to make good music but the biggest challenge remains the distribution channels. In Kenya, a lot of musicians still do everything. They're the singer, composer, arranger, manager and distributor and that can be very daunting.
As an organisation, we partner with other players such as the Kenya Copyright Board (KECOBO) to get the message out there on ways artistes both members and non-members can benefit from the industry and we are even making efforts towards infiltrating the counties more," says Angela.
Balancing work, play and family…
Despite her busy schedule and a giddy confession that music is among her greatest loves, Angela, a wife and an adoring mother of two, says nothing beats her love for her family.
"My daughters, 10-year-old Tili and four-year-old Keli, have helped ground me. They are amazing girls who are full of life. Tili is a remarkable and protective big sister, while Keli, though shy at first, is actually very chirpy around people.
My husband Roy has also been instrumental in my success and I am the woman I am today because of him. They say iron sharpens iron and where he is concerned, that is the truth. He is so forthcoming with ideas and challenges me not just in my personal quests but with PRISK as well," offers Angela.
Their desire for excellence, which they say has drawn them together, saw the couple and their children move en masse to Scotland in 2015 when Angela enrolled for her Masters of laws in intellectual property law at the University of Edinburgh.
"I had been talking about pursuing my Masters degree for a long time so finally Roy dared me to get started saying if I found the course I wanted, he and the family would move with me wherever that was and that is how we ended up living in Scotland for two years," explains Angela.
Chuckling, Roy adds, "While I was serious when I told her that, I thought I had a small window period to prepare for the move but alas! She found a course sooner than I expected. We ended taking up our savings in order to make the move.
It was never an option to separate the family. The move couldn't have been better for us. Speaking as a father, I realised that I needed to spend more time with the girls especially Tili as she is now on the threshold of womanhood and will need advise on how to deal with so many issues especially boys.
I'm really keen on us not only being father and daughter, but friends and confidants
as well. I realised no amount of money could equal quality time with the family."
Although married for six years, the couple has actually been together for 12 years. They reveal that taking stock of their relationship has helped them realise the things that truly matter.
Angela admits that she was short tempered while Roy says he has learnt not to be hurtful with words especially where women are concerned.
"When we started courting, we were young and since both of us are very driven, I will venture to say that we may have been more selfish," says Roy adding, "Eventually, we had a sober discussion to assess what we wanted in a relationship, consulted some of our peers for advice and realised we were squabbling over little things."
The couple admits they have no real system or formula when it comes to their marriage but agree that communication has been key in keeping them afloat. "It took us awhile to figure out that we needed to speak to each other and not at each other. Being a lawyer, you'd think I would have gotten the communication and negotiation aspect of marriage down to a T but lawyer-speak does not work in marriage!" chuckles Angela.
So, is the rumour that she is rekindling her old love – making music with her former girl group members Tattu – true? According to Angela, 2017 seems to be the year.
"Debbie is abroad but after a lot of persuasion, Shinde finally agreed and we are back in studio recording! I love music and I miss singing so badly so we are coming back!" she says in conclusion.