VANE AMINGA Making education a reality for Samburu girls
An old adage whose origins are the Bible declares, "from the one who has been entrusted with much, much more will be asked." This statement is not only seared in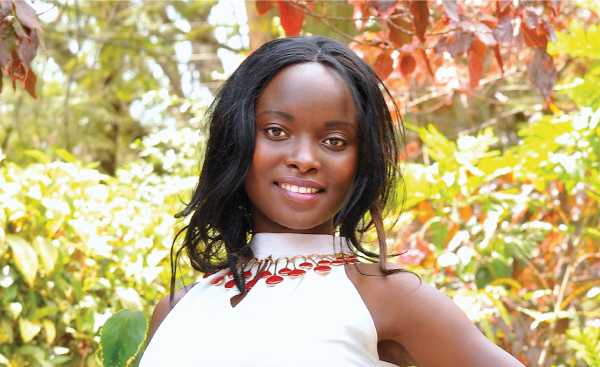 An old adage whose origins are the Bible declares, "from the one who has been entrusted with much, much more will be asked." This statement is not only seared in the heart of 25-year-old Vane Aminga, but is also a code she lives by. A girls' right activist, the mechanical engineer walks ESTHER AKELLO through the painful circumstances that inspired her to fight for the right to education for the girl child, and more so those that come from marginalised communities.
Often times, the public is jolted into reality when they hear the heartbreaking stories of young girls whose education has been nipped in the bud through early marriages especially among the pastoralist and nomadic communities of Kenya.
Few get directly involved. However, for Vane Aminga, when news reached her that a close friend in high school, who had fought against all odds to get an education may have been married off just a year before she sat for her national exams, the trauma set in and she vowed that no girl would ever fall through the cracks of retrogressive cultural practises if she could help it.
"We were the pioneer class of Starehe Girls Centre, so we were few and if one of us went missing, it was easy to know. Once the time lapse between the stipulated reporting time and my friend's absence became uncomfortable, we asked the teachers if they had news about what had happened to her. Hailing from the nomadic community of Samburu, they told us to prepare for the very possibility that she may have been married off," says a wistful Vane.
Vane never really found out what happened to her friend, but not for lack of trying. Agonised, especially by several conversations between her and her friend about how she considered herself lucky to have escaped the clutches of early marriage, Vane made a decision many would consider unrealistic.
She decided that she was going to look for her. Her only available resource at the time was the Internet. Through social media, she contacted several pages on Facebook run by members of the Samburu community.
Through the discussion boards, she initiated conversations about the circumstances and issues surrounding early marriages and made networks with several other individuals and organisations working to eradicate the same in the community.
To understand why a then 17-year-old Vane Aminga would react so strongly to a situation that faces thousands of girls in Africa, one would have to look at her young history.
Born and raised in Kisii all her life, Vane was the first-born girl in a family that consisted mostly of girls. It was not easy, both financially and emotionally. Being a girl, she says, she was not considered the most 'ideal' first-born child since in traditional African culture, a male child is most preferred.
Many times, there were whispers from friends, neighbours and relatives that she would never amount to much. A premise that Vane says was very painful but instead of crippling her, it strengthened her resolve.
As a student, despite lacking school fees, she poured herself into her studies and not only passed, but garnered a sponsorship in the pioneer class of Starehe Girls' Centre, a refuge for girls with outstanding potential but encumbered by difficult circumstances threatening their education.
"I literally felt invisible among members of my community and knew the only way out of the cycle of poverty and ignorance was education," emphasises the activist.
Her brilliant streak did not just end at the centre. "In August 2015, I graduated with upper second class honours Bachelors degree in mechanical engineering from the University of Nairobi. My dream is to become a pilot but since the course is very expensive, I took a detour and started with engineering instead. When I think about it, I realise that my passion in these fields are as a result of trying to prove that what a man can do, a woman can do and probably even better," reveals the 25-year-old.
In 2010, Vane made her first trip to Samburu County with the hope of finding her long lost friend. It was a trip of sorts and in her own words, she admits, "I had no idea how big the county was and the fact that the community was nomadic did not help much. My move to find my friend had been naïve."
However, while there, Vane observed that a lot of children and especially girls were loitering. When she asked why they were not in school, the response was, to say the least, alarming.
"The girls were waiting to be married off and even knew the morans they had been attached to. Meanwhile, their brothers attended school and while they did desire to go to school, it was not because they wanted to learn, it was because primary schools had a free lunch programme," she says.
After returning to Nairobi, she spoke to her roommate and convinced her that they had to help the girls in Samburu. That was how Fly Sister Fly was birthed.
Vane and some of the beneficiaries of the Fly Sister Fly programme
She and her roommate returned to Samburu for a better fact-finding mission in 2011. "The results were heartbreaking. Girls were out of school because they could not afford pens, pencils and exercise books worth as little as Ksh15, or a mathematical set worth Ksh 250," she says.
That same year, in collaboration with other organisations, Vane and more friends returned to Samburu. "We realised that some of their needs did not need a lot of money and even campus students could afford them. We came back with stationery, exercise books and sanitary towels, and even pledged to take up the boarding fees for some students, which cost Ksh 2500 per term, so that they could remain in school," she explains.
While the organisation depended on the contributions of well-wishers, Vane knew she needed something more. Instead of waiting for invites, she started sending requests to attend conferences on education and matters affecting marginalised communities. Through these forums, she was able to meet Ashoka regional director, Peris Wakesho, who is also her mentor.
"Ashoka is an organisation that nurtures social entrepreneurs and once I shared my story in one of the many forums I attended, they got on board with Fly Sister Fly and helped us to register as an NGO and even gave us office space. Through our collaboration, we have not only managed to find sponsors for the girls in our programme, but also establish a library in Girgir Primary School in Samburu East which we grow through book drives," says Vane.
While the organisation started with eight volunteer members, the number has grown to 15 and some are from within the community, an aspect that comes in handy during field visits when they require the services of an interpreter.
But that is just one among the many challenges they face. Vane remembers once when a group of morans wielding spears stopped their entourage threatening bodily harm if they turned out to be activists. They had to lie so as to save their lives. Additionally, in a community where girls are not valued, advocacy for the same seems ironical to the members of the community.
"Normally, it is the men who prevent their daughters from attending school. However, there are times when the women themselves do not want their daughters to be empowered. For those who want their daughters to attend school, the fear of overstepping the men's authority is real. In Samburu culture, a woman cannot speak in front of a baraza. She is not even allowed to sit on a chair during community gatherings. We had a very emotional incident once where an elderly woman wept bitterly during one of our advocacy sessions because she said she had held her tongue for 70 years, yet she was privy to the suffering that the women in her community were going through. She did not want the same for her granddaughter. It makes one think how different her life would have been if she had been afforded opportunities when she was younger," says Vane thoughtfully.
Others have also accused her of using the community's challenges as a money-minting scheme, challenging her to concentrate her efforts on members of her own ethnic community.
It is for this reason that Vane has accepted partnerships from several other individuals and organisations like the Samburu Girls Foundation run by Josephine Kulea.
"Most of the money is from our pockets. Additionally, in cases where we have sponsors, we send the money to the parents to pay the school fees themselves. All they have to do is give us deposit slips which we then share with their sponsor," says Vane who also reveals that the programme is currently collaborating with the 2014-2015 Miss Tourism Marsabit County, Qabale Duba.
Since its inception, 60 girls have passed through the Fly Sister Fly organisation, which also mentors girls. This year, the organisation is sponsoring four girls in primary school and facilitating another 10 in high school.
And while the idea was to provide tools with which to help girls complete their primary school education, Vane says most parents fall back on her when the students proceed to secondary school hence the need for sponsors.
To appreciate just how much impact the programme has had, one need not look at the numbers, but the paradigm shift in the mentality of the community.
"When parents call me, they no longer refer to their daughters by their names; instead, they use the terms engineer, doctor, teacher because they have realised that these girls have the potential to become so. While in Starehe, we learnt that one need not be in their comfort zone to help. Instead, go where the need is and do what you can. That is how you influence an entire generation," concludes Vane.