WRITER DAVID MAILLU On taking the road less travelled
At 77 years, David Maillu stands tall as the most published authors in Africa. His literary works stand out because his choice of language and writing structure deliberately sidesteps the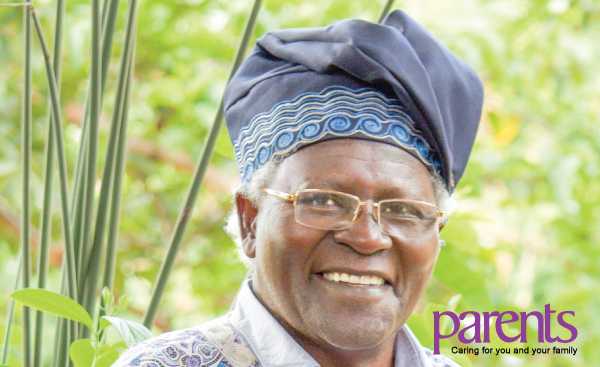 At 77 years, David Maillu stands tall as the most published authors in Africa. His literary works stand out because his choice of language and writing structure deliberately sidesteps the formality of literature as prescribed by the West. In celebration of the author's success, ESTHER KIRAGU had a chat with him about his writing career and going against the grain in writing, politics and life.
David Maillu's living room in Nairobi's Lang'ata estate is lined with bookshelves and piles of newspapers, ultimately betraying the septuagenarian's love for reading. And his skill at painting is attested by the beautiful displays of paintings proudly hanging on the wall. Indeed, his is a love for arts and culture.
So, can he recall when this love came to the fore? David says he was always a storyteller and possibly that is why writing comes natural for him. While in class five, he translated an English storybook – The Prince With Golden Hair – into Kikamba, his mother tongue. "I recall asking my mzungu teacher if an African could be a writer. In reply, he simply said that the only African writer published then was Amos Tutuola – a Nigerian writer who wrote his novel in 1946 and was first published in1952," Maillu recalls.
A self-taught writer, Maillu discovered his gift in writing without attending any formal writing class. His writing is authentic, as he is neither influenced by any works of other authors nor by the conventional rules of writing as is often taught in formal institutions. "My formal education ended at Kenya African Preliminary Education (KAPE) level, which is equivalent to the current Kenya Certificate of Primary Education (KCPE)," he says unashamedly.
Young Maillu started going to church when he was 10 years old and was later baptised David, a name he chose depicting the biblical character David. He joined school where he learnt how to recite the Bible. After four years of primary education, he sat the national colonial education examination – Common Entrance Examination, which he passed and joined intermediate school. It was here that he sat for KAPE.
In need of practical skills, Maillu then joined a technical school for a period of three years to study painting and decorating. "It was then that I enrolled for a correspondence course with the British Tutorial College for my high school education," he says.
Going against the grain…
He has often been accused of putting too much sexual emphasis in his works some of which were published in the 70s when the society was very conservative and sex considered a taboo subject. His book, After 4:30, published in 1973 portrays one of the characters – Emily Katango – as a typist who is poorly paid and a self-confessed prostitute sentenced to the misery of prostitution by men who seek her services. Needless to say, this depiction of Emily in the story caused uproar from many women and gender activists in Kenya.
In his defence, Maillu says, "After 4:30 was a philosophical way of trying to sensitise the issue of morality especially at a time when many young women were relocating from the village to urban towns for employment opportunities and some fell prey to exploitation by unscrupulous men." He believes his literary works have all sorts of characters – upright, immoral, sexists, prostitutes and even corrupt – which is a true representation of the society. Although some of his publications were condemned for their sexual explicitness, Maillu, who borrows heavily from African traditions, says sex was not a taboo subject in African traditions as it was dealt with within community circles such as women groups. Ironically, despite his humorous and sexually explicit mini novel being dabbed as pornographic, it was widely read perhaps ascertaining to the pretense depicted by society where sex is talked about in hushed tones yet people are curious about it behind the scenes.
As one of the most published authors in Africa, Maillu has made strides to reach a wide audience through writing in a variety of languages – English, Kikamba and Swahili. "I was already writing using local languages long before the debate about writing in indigenous languages came to the fore. While working with the Voice of Kenya (VOK) now Kenya Broadcasting Corporation (KBC), I composed and recited Kikamba poems on the national broadcaster. I later published my Kikamba poems in an anthology, Ki Kyambonie? (What has Happened to Me?) in 1972. Occasionally, I would run into Ngugi wa Thiongo at the Kenya National Theatre since he was teaching at the University of Nairobi and he wanted to know how people were responding to my works written in indigenous languages," he explains and adds that he played a role in influencing Ngugi wa Thiong'o to write in Kikuyu.
To the surprise of many, Maillu earned a Doctor of Letters degree in 1998 in African Literature and Political Philosophy from St Clements University of South Australia, which he clarifies is not an honorary degree but one earned through rigorous academic research and writing.
A diverse writer, Maillu is a prolific author of children's books with over 40 publications in his name, many of which are recommended in the supplementary reading list in Kenyan schools.
Maillu the political maverick…
One cannot talk about Maillu without mentioning the politician in him. Over the years, his writings have caused him to brush shoulders the wrong way with various government regimes. "The novel My Dear Bottle was a critique of the tribal affiliations that marred Kenyatta's government and this touched the state's raw nerve. As a result, there were consequences and I lost my publishing house to auctioneers in a bid to frustrate my writing," he says and adds that his book Behind The Presidential Motorcade brings to the forefront the relentless and destructive beating that he has received from past regimes.
On why he has not replicated his knowledge through teaching all these years he says, "Part of the frustration from the state was blacklisting me from lecturing due to the political agitation I had caused with some of my writings, thus it was difficult to get a lecturing job in the country. But all the same, I believe through my writing I have had an even bigger avenue to teach to a wider audience, much more than lecturing in a classroom set up could offer me."
Maillu commands the respect of other literary scholars including University of Nairobi's Dr Tom Odhiambo whose PhD thesis was on Maillu and Prof Evan Mwangi whose Masters thesis was on Maillu's book, The Broken Drum.
A politician in his own right, Maillu missed a political nomination by a whisker in 1992 by retired president Moi. In 1997 and 2002, he unsuccessfully vied for the Kaiti Constituency parliamentary seat. The 2007 elections saw him announce the launch of his political party – Communal Democracy Party of Kenya (CDK) – and becoming its presidential candidate. As a politician, he acknowledges that Kenyans are tribally charged, but hopes that people can elect leaders who rise way above their tribes to national integration.
A man of many hats…
Passionate about African traditions and religion, Maillu has also published various non-fiction writing including KA Holy Book Neter (The African Bible), African Indigenous Political Ideology and Our Kind of Polygamy. His passion to promote African languages led him to start a publishing house, the African Comb Books Limited, in 2015 to enable writers writing in vernacular language get published. He encourages such writers to send their manuscripts for consideration.
He is also very keen to promote a reading culture in Kenya and currently is in the process of building a reading movement through a walk to be held countrywide in September this year. "Kenyans hardly read but where are the books? Who is publishing books in local languages to help people, especially those from the countryside that don't advance in formal schooling, to have some education through reading?" he asks and says this is the reason why radio remains popular in rural set ups.
He is also a family man having been married to Hannelore Maillu, a German, for 45 years now. The two met in 1969 when a colleague at VOK introduced him to Hannelore. "She had come to Kenya through a sponsorship by a German organisation, Service Overseas, and had been invited by the Christian Council of Kenya to work as an administrator. I knew instantly that I would marry her one day and I told her as much. Of course, she thought I was just being too forward, but two years later, we were married," says the man who had a vivid dream as a young adult that he would marry a white woman someday. Together they have one daughter
Kavuli Maillu, an interior design architect. He also has another daughter, Mwende Maillu, from a previous relationship. Having been married in the 70s when interracial marriages were few, Maillu and Hannelore raised eyebrows among many.
"People would question how African I was having married a foreigner, while others asked if there were no women in my local community worth marrying. Gladly, we did not face much opposition from our families as they were both understanding," he says.
As we conclude this interview, I ask Maillu if he is ready to put down his pen. His answer? "The creative bug doesn't disappear with age. I have a problem putting a stop to the flow of my creative ideas and currently have over 130 unpublished books in my archives that have to see the light of day. I am not about to sit on my laurels."
If you wish to get in touch with David email him: [email protected] [email protected]
Published in July 2016