5 Rules to follow when in an open relationship
For a healthy open relationship to be established, you and your significant other need to hold discussions on a lot of things to ensure your relationship becomes stronger and lasts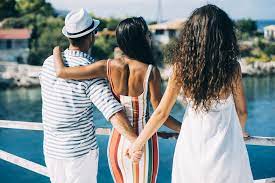 For a healthy open relationship to be established, you and your significant other need to hold discussions on a lot of things to ensure your relationship becomes stronger and lasts longer. A general guideline could help point you in the right direction.
Curious? Read these 5 rules you and your partner can follow when in an open relationship.
Be honest
Honesty is of utmost importance in any relationship including open ones. For you and your partner to be comfortable in the arrangement, you have to be honest about your needs. Your significant other should know other details about you. For example let them know what you're doing and with who to avoid arguments.
For an open relationship to work, you need to prioritize honesty to ensure happiness in the relationship and also longevity.
Image courtesy: iStock
Set sexual boundaries
If you and your significant other decide to make your relationship open, negotiate your sexual boundaries from the onset. This conversation helps both of you understand what is allowed and what is not. It also allows you to express what you are comfortable with and you can't tolerate.
Once you set sexual boundaries, make every effort not to cross them.
READ ALSO: 7 tips on making long-distance relationships work
Define your emotional boundaries
Unlike sexual boundaries, emotional boundaries are more difficult to set and define. However, this is not an excuse to have none. Talk about what you can both manage as it may be hard to separate physical and emotional intimacy. This will go a long way in minimizing jealousy.
Image courtesy: iStock
Practice safe sex
If you and your partner decide to venture into an open relationship, don't forget to practice safe sex. Talk to your partner about how you both can have safe sex.
This prevents you from contracting and spreading STIs among the people you're involved with. Having discussions centred around sexuality and what protection to use will eliminate worries between all the partners involved.
6 Health benefits of sex
While sex may not be a panacea for what ails you, it's no doubt a powerful part of any self-care routine.
Schedule check-ins with your significant other
Regular check-ins with your partner are essential. Knowing what your partner is up to eliminates any chances of assumptions. Check-ins assist you and your partner to have a safe space where you can express and process your emotions.
During check-ins, re-evaluate the guidelines and change anything that makes you feel uncomfortable.
Bottom line…
In an open relationship, don't copy what other couples are doing as this might not work for you. Instead, make your own rules and stick to them. Also, before making the relationship open, be sure that that is what you both want. Finally, be open about everything from the start as trust will make your relationship more steadfast when you decide to transition to an open relationship.
Parents magazine presents an exciting April issue!
Philanthropist Ndung'u Nyoro and his wife Njeri grace the cover as he speaks on his journey into online fundraising and setting up the Watoto Wasome initiative, as Njeri shares her crucial role in this dynamic.