ABEL "FREDDIE" MUTUA Exceptionally gifted entertainer
 Abel Mutua is affable, gifted and charming. He has enchanted his fans for close to a decade now and is not stopping anytime soon. Abel is just as funny in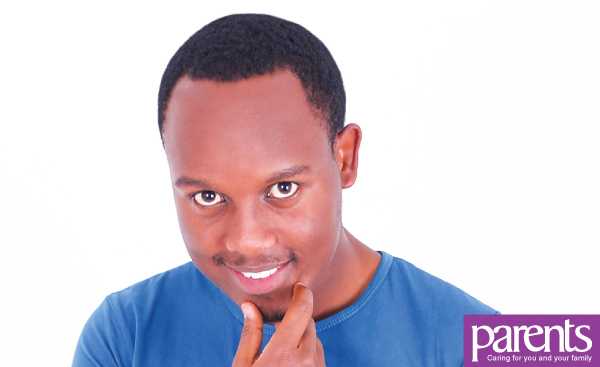 Abel Mutua is affable, gifted and charming. He has enchanted his fans for close to a decade now and is not stopping anytime soon. Abel is just as funny in life as he is on screen. In this interview with ESTHER AKELLO, the actor, comedian and award-winning script writer sheds light on his acting career, mentorship and family.
If there was ever any doubt that with actor Abel Mutua what you see is what you get, then his interactions with his fans quickly dispel that. Abel is what many people would describe as 'chilled out', meaning he is laid back and easy to be around. As the interview at a local coffee house progresses, some people stop and stare not too sure whether to approach and say hi. For those who do, he engages with them with the same high energy that punctuates his shows and the characters he plays and without warning, he flips the script, turning the spotlight on them, laughing at their jokes, asking them about their day and their families. Abel listens keenly with the patience of a seasoned parent and a smile that would put toothpaste adverts to shame.
Being discovered…
Such is the power of the 29-year-old entertainer whose repertoire dates as far back as 2007 when he was cast in the high school TV drama, Tahidi High, after the show's assistant producer saw him and his best friend Philip Karanja perform during a drama festival. Abel was then a second-year student at the Kenya Institute of Mass Communication. The character he took on, Freddie – a cheeky yet hilarious student with a knack for trouble – quickly made him a household name.
A year later, he graduated and the show's producers hired him to work as cast and crew for the show. Months into it, the show's writer left and Abel had an epiphany. "I approached the producer and told her to let me write for the show. She reluctantly agreed and asked for a script," says Abel.
He confesses that his first script was awful but in her benevolence, the show's producer agreed the audience would have the final say about it and proceeded to produce the episode. "I had no idea just how bad it was until feedback from the viewers came in. It's probably one of the show's worst episodes if not the worst," he adds laughing.
However, he appreciates he was not pulled off the writing team and soon, his effort and trust from producers paid off. By 2009, Tahidi High had the highest ratings compared to other TV drama series. Right around that time, another programme, Mother-in-law, had also caught the attention of Kenyans.
The series, specifically created at the request of Royal Media Services chairman SK Macharia, centered on a meddlesome mother-in-law who incessantly interfered with the lives of her children. As Abel explains, following the request, a lot of writers shied away from working on the programme. Four seasons into its production, the show's main writer left. The producers turned to Abel.
"Since we had a history working together in Tahidi High, I was requested if I could write for Mother-in-law. It was not my cup of tea but I decided to try my hand at developing the supporting characters as opposed to the main character. Soon enough, they took a life of their own," he says.
Abel, it seems, had the Midas touch because once more, the show hit gold: It topped the charts in local ratings and scooped awards in the best show categories in the Chaguo La Teeniez Awards from 2009 to 2011.
Cutting ties…
One day in August 2012, Abel woke up on the floor of his bathroom. He had passed out for close to 30 minutes. "I had just taken a break from work and the next thing I knew I was waking up from the floor. No one was in the house at the time, just me and the house help and even she didn't know I had collapsed," explains the father of one.
Gingerly, he drove himself to hospital where he was diagnosed with extreme fatigue and ordered to take immediate bed rest. That same month, he resigned as a writer for both shows. "I had never taken a real break since I started working on the shows. It's then I realised there's no point in dying because the show must always go on," he says adding that it was a hard decision considering he had no back-up plan whatsoever.
Three weeks after his resignation, he received a call from Dennis Itumbi, the Director of Digital Communication, Office of the President, then part of president Uhuru Kenyatta's campaign team. The team was establishing a corporate social responsibility wing and they wanted Abel to be the ambassador. Abel jumped on the opportunity. When President Kenyatta ascended to power in 2013, Abel became the government's youth ambassador for the Uwezo fund, a role he played until 2014.
Right about the same time, together with his best friend, Philip Karanja, they started their own production company, Phil It Productions. In collaboration with Protel Studios, the duo has churned out a couple of local heavy hitters. "I thank God for Protel Studios' founder Sarah Migwi.
No one wanted to be associated with us when we started out but she reached out to us and trusted in our ability as content providers. We came up with concepts and she would sell them to broadcasters," says a grateful Abel.
Arguably their most popular show, The Real Housewives of Kawangware enjoys a massive fan base if mentions by Hollywood star Lupita Nyong'o and Sports, Culture and Arts Cabinet Secretary Hassan Wario are anything to go by. Together with Fred Omondi, he is the brains behind Hapa Kule News, which won the Best TV Comedy Show in the 2015 Kalasha awards, knocking out heavyweights such as the Churchill Show. He has also been the face of various campaigns and ads with mobile technology firm Airtel and Transparency International.
Family ties…
While Abel is a gifted comedian, there is nothing comical about his love for people and strong family ties. He reveals that his father left the family when he was eight years and his mother single-handedly raised him and his brother until he was 13. In 1999, his mother re-married.
"My stepfather and I share a very close bond. He came into my life when I needed direction to transitioning into a man and in many ways influenced the man I am today. I also gained new siblings and we are all so annoyingly close," he says emotionally, adding his definition of a family is, "When you have a connection with people who give you structure and stability, regardless of blood. Sometimes it is more than biology."
Unfortunately, his mother passed away in 2009 after suffering from high blood pressure. His six-year-old daughter Stephanie Mumbua is named after her. She was just 48 years old, something that haunts Abel to date. "I feel like she was too young to die from such a condition. Her death opened my eyes to lifestyle diseases and I am keen on keeping my lifestyle in check and while I don't always go to the gym, I do what I can. Where I can, I walk instead of driving and I try to eat as healthy as I can, although that can be such a chore sometimes," he jokes.
Abel also has an incredible passion for the boy child. Coming from his experience of watching not just his mother, but also the mothers of some of his friends raise them single-handedly while growing up in Eastlands, he tries to empower boys and young men from disenfranchised communities as much as he can.
"I often go back to the estate where I was raised because I have to check up on families of my friends left behind. Most of my childhood friends engaged in crime or substance abuse, which sadly led to their demise. The cycle is repeating itself as some of the children they left behind are turning to pick pocketing and harassing women in the streets as a means to survive. I realised what they lacked most was a mentor to guide them," he says wistfully.
Fortunately, in 2014, an initiative dubbed Chomoa Talanta (Display your talent) -geared towards empowering disenfranchised youth through their talents – approached him to join the initiative. Abel went at it full throttle holding auditions in Makongeni, Shauri Moyo and Mathare among other estates. Some of those who auditioned went on to become full cast members in some of his shows and even enjoy massive recognition when they walk down the streets.
Additionally, through the initiative, programmes such as garbage collection and car washes have come up. Every once in a while, Abel and other mentors hold workshops to help instill life skills to members of the group. The idea, he says, is to hold the hand of one person and hopefully, they will hold the hand of the next one, ultimately creating a ripple effect which would impact the whole community.
As far as his own personal family is concerned, he dotes on his wife Judy Nyawira who is also a producer. The pair met while in college and had their daughter Stephanie in 2008. They tied the knot in November 2015.
"Despite the eight years we have been together and a daughter in tow, I was still too scared to take the next step. It took me a while to realise nothing was going to change. It's guys who complicate it. It's just a ring," he says profoundly in conclusion.
Published in February 2016