Chance meeting that melted a heart.
"I needed to have a date with her." This is how Reuben Kamuri describes his feelings when he saw Juliana for the first time. His cousin, Evelyn Wanjiku, was meeting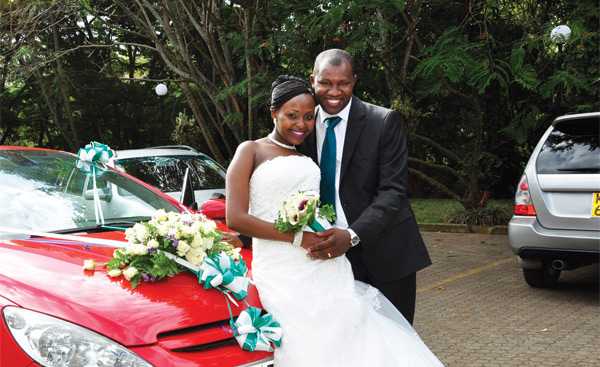 "I needed to have a date with her." This is how Reuben Kamuri describes his feelings when he saw Juliana for the first time. His cousin, Evelyn Wanjiku, was meeting Juliana for coffee and he decided to stop by. He ended up staying for the entire time and eventually taking Juliana home. Coincidentally, they shared the same neighbourhood.
Within two weeks, Reuben had established a routine of picking and dropping Juliana from work. Juliana did indeed suspect Reuben had an ulterior motive and her suspicions were confirmed when he asked her out on a date only to suggest they start a relationship. Having ended a serious relationship just six months before, she declined.
The pair continued to go out as friends until that November when Juliana needed to make an out of town trip.
"I was to attend a friend's funeral in Gatundu and Reuben offered to take me. Unfortunately, his car was involved in an accident," says Juliana. But he still showed up the next morning in a hired car to take her to the funeral, complete with advance booking arrangements for a place to stay.
It was gestures like these that slowly melted her heart, yet she still hesitated to enter into a relationship with Reuben. A month after the funeral Juliana was due to travel to Nyeri to visit her parents and Reuben offered to go with her. They traveled together but she introduced him as a friend.
"All this time I had been praying to God to chase him away as I was not ready for a relationship, but there he was, always showing up," says Juliana. Little did she know that Reuben was determined to win her over.
Reuben recalls the day Juliana changed her mind. "We had planned to go out for a picnic not far from where my parents lived and so we stopped by. I introduced Juliana to them and we all had a very good time together," recalls Reuben. He was thrilled when Juliana decided to give the relationship a try after meeting his parents. Ten months later, in October 2013, they got engaged, albeit with a few kinks in the works.
"We had planned for an out of town trip and I was finally going to propose to Juliana. Just to make sure things went smoothly, I enlisted the help of some of the hotel staff where we were booked," says Reuben. But on reaching the hotel, he found out that the staff member he had made arrangements with had changed jobs that very morning!
Reuben lied to Juliana that the hotel was overbooked and moved her to another one to re-group. This time the hotel team was on board but Juliana would prove to be difficult. "Reuben kept moving us around, insisting I take a tour of the hotel. Then out of the blue he gets a running stomach. I was steadily getting irritated," remembers Juliana.
Unknown to her, Reuben was hurriedly trying to get his act together. Eventually, he suggested a late night dinner at the pool. Not too thrilled at the idea, Juliana went along anyway. Just when she thought it could not get any worse, the hotel staff started setting candles, flowers and champagne bottles on their table.
It was while they were snacking as they waited for dinner that Reuben removed the box from the bowl and got down on one knee. "I was truly surprised. I finally realised what the fuss was all about. Of course, I said yes," recounts Juliana.
On October 18, 2014, exactly a year to their anniversary, the lovebirds exchanged vows on a rainy Saturday at the Kenya Judiciary Training Institute in Muthaiga in front of over 600 guests.
"Although we had budgeted for 600 guests at Kshs 750,000 shillings the attendance was definitely more than that. Despite that, I would not have it any other way. It was the wedding of my dreams," Juliana reminisces.