Using personal experience to help couples build strong marriages.
Victor Yamo, a veterinary surgeon, was devastated by the death of his pregnant wife after just ten months of marriage. Three years later, cupid struck again. But two years after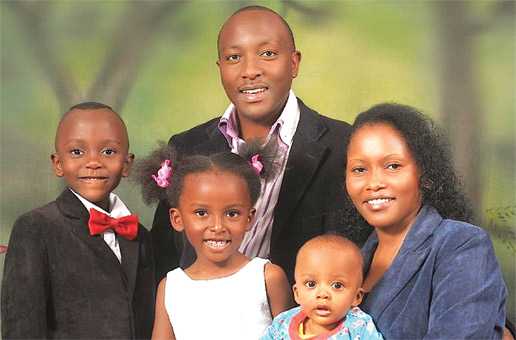 Victor Yamo, a veterinary surgeon, was devastated by the death of his pregnant wife after just ten months of marriage. Three years later, cupid struck again. But two years after saying 'I do' to Lois Yamo, their marriage hang on the balance. Victor and Lois narrate to ESTHER AKELLO how they saved their marriage and went on to become facilitators of a marriage programme at Mavuno Church's Family Department.
"I dated my first wife for seven years before we got married in 1995. As for my second wife, by our second date, in 1998, a proposal was as good as made."
This is how 46-year-old veterinarian cum marketer Dr. Victor Yamo summarises the dynamics of how he dated, proposed and finally got married twice. Despite making this statement airily, it is not hard to miss the tinge of nostalgia in his voice because his first marriage ended abruptly and tragically just ten months after the two wed.
"I met my first wife, Dorah, at the University of Nairobi Veterinary School when we were first year students in 1987. We tied the knot in January 1995 believing that we would live happily ever after just like in fairy tales," says Victor.
However, this was not to be as on one rainy morning in November while heading to work, the two were involved in a grisly road accident along Langata road. They were both rushed to The Mater Hospital, where Dorah, who was seven months pregnant, succumbed to her injuries and died together with the unborn baby. Victor remained in hospital for nine days with a fractured skull.
Victor describes the ensuing period after that as the most trying time of his life. As the driver of the car, he blamed himself for his wife's and unborn baby's deaths. Worse still, having been widowed at the tender age of 28, his family, friends and church could not relate with his new status, leaving him to deal with the grief by himself.
"I questioned God asking why a loving God would allow such events to happen to me and why He had to take both my wife and unborn son," says Victor.
Despite his loss, Victor knew he would love and have a family again, it was simply a question of when. But even then, it took him two years to get back into the dating scene and when he did, no one could measure up to Dorah's shadow. That was until he met Lois.
The beginning…
In January 1998, while visiting one of his friends, his friend's sister in-law, Lois happened to pass by. As the day grew progressively late, his friend suggested that he drop her home as they lived in the same neighbourhood.
Meanwhile, as far as Lois was concerned Victor was simply one of her sister's friends and nothing more. So when he dropped her home and even asked for her number, she did not read anything into it. Victor, on the other hand, was taken by Lois's cool demeanor and called her the following week to ask her out for tea.
Unimpressed, Lois declined. "I had always been taught there is no such thing as free lunch," she says.
But the tables quickly turned on her when that same evening it started to rain just before she could leave the office. "I knew for sure I would get soaked. Since he had a car and we lived in the same neighbourhood, I called him in the guise that I had changed my mind about the tea," explains Lois.
Victor seized the opportunity and the two met. Lois, surprisingly impressed by Victor's outlook on life, decided that the two were destined to be great friends but with absolutely no chance of romance. Victor on the other hand was now even more enthralled by Lois and by the second date forewarned her that he would probably marry her.
Despite knowing that Lois had a boyfriend, Victor upped his game, sending her flowers on Valentine's Day. Within a month, their friendship blossomed to the extent where Victor would pick and drop Lois and her housemate to and from work and occasionally make dinner for them at his place, something that landed him in trouble but got him what he always wanted: Lois, all to himself.
"My roommate and I were hosting Victor for lunch on one weekend when my boyfriend suddenly showed up. The two chatted briefly then Victor announced he was leaving. While escorting him I asked why he was leaving so suddenly and discovered that my boyfriend had threatened to beat him up if he did not leave me alone. That was the last straw. I dumped my boyfriend immediately," adds Lois.
Victor continued his spirited pursuit of Lois, who, seemingly, remained unmoved. She had her list of her ideal man and Victor fell short.
"He had most of the qualities I wanted but his loud personality was just too much for me. Intermarriages were also not rampant. I was not sure how we were going to make it work," Lois sheds light on the intricacies of the relationship.
Infact, Lois was so sure that the relationship was doomed. That was until in November the same year when Victor left for training in the Netherlands for a month.
"During that period, he would call me every evening and I realised that I missed him a lot. After much thought, I sent him a fax saying I was ready to enter into a relationship with him," admits Lois.
By mid 1999, family members started wondering aloud whether the two were planning to settle down. While in Ethiopia on another work related trip, Victor purchased an engagement ring and considering Lois' reserved nature, he resisted the urge to make a flashy proposal. As he was dropping Lois at her house after an evening out, he fished out the ring and proposed to her. The two later married in November 1999 at St Paul's ACK Church in Nairobi West.
The turbulence…
Two years later, the couple was blessed with their first child. However, their marriage started showing some strain.
"I suddenly found Victor's personality too much to bear. I also realised that while I used to head home straight from work to cook and relax with our child, he was busy socialising especially with his female friends and colleagues. I did not suspect him of cheating, however I also did not appreciate the attention he was lavishing on them and them on him," says Lois.
Lois expressed her discomfort with Victor's behaviour especially after she found out that one of his female colleagues was an old flame. In a bid to quell the storm, the couple tried to seek counsel from their church friends but made minimal headway. Subsequently, Lois suggested that they seek help from professional counselors but Victor would hear none of it.
Lois soon figured what was good for the goose was also good for the gander and started going out with her friends and family. Things came to a head when while going to a popular mall to watch a movie with her sister, she met Victor with the old flame.
"I greeted them coolly and proceeded to enter the mall. However, I realised that my sister had remained behind and was seething with anger at the sight of the two of them. As I went back to get her, I knew that was the last nail on the coffin. I was moving out of our matrimonial home," says Lois.
Realising that Lois might do something drastic, Victor rushed home to do some damage control. Refusing to be placated, Lois packed her things, took the baby and moved to her sister's house. After two weeks of giving Victor the silent treatment, Lois agreed with Victor that they should allow her father, a pastor, to help them resolve the matter.
The resolution…
A week after the three met, Lois and Victor resolved that they would make their marriage work. The two immediately started spending more time together by incorporating each other into their schedules. Whenever Victor travelled out of town on official duties, he made provisions to allow Lois and Zawadi to join him over the weekends to minimise the time they spent apart. So serious is Victor's commitment to his family that to date, he has resigned from two high-ranking jobs when he realised they were costing him time with his family. They also encourage each to retain their individuality through new hobbies, skills and upgrading their education levels.
To further strengthen their relationship Lois and Victor started investing heavily in intimacy. The couple also started assisting other couples going through rough patches in their marriages at their local churches, Mavuno and its mother church, Nairobi Chapel. This is how they have ended up as facilitators in Ndoa, which means marriage in Swahili.
"Ndoa is a ten week programme under the Family ministry of Mavuno church. Its purpose is to equip relational skills to establish sound values for marriage. The experience is delivered through weekly class meetings facilitated by married couples," says Victor, who has headed the programme's strategic team for the last three ears.
To date, under Victor's leadership, around 500 couples have gone through the classes. The programme is also offered in Kampala and hopes to expand to Kigali and USA in 2015.
Lois and Victor celebrated their fifteenth weddinganniversary in November this year. They now have three children between the ages of 10 to16 years.
Published in January 2015.