Covid-19 infection rate in Kenya has reduced in the past one week – Dr Amoth
In the past one week, Kenya has recorded a lower Covid-19 infection rate, the Ministry of Health Director-General Dr Patrick Amoth said on Monday. But to flatten the curve, Kenya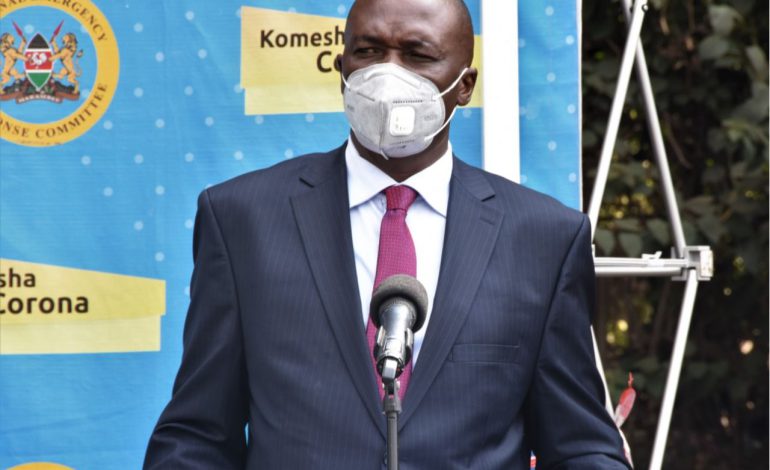 In the past one week, Kenya has recorded a lower Covid-19 infection rate, the Ministry of Health Director-General Dr Patrick Amoth said on Monday.
But to flatten the curve, Kenya needs to reduce the infection rate by one per cent and maintain that for at least two weeks.
"For the past one week or so, you have noticed a decreasing positivity rate which as of today stands at six per cent. That tells you we are making progress but we have not hit the magical five per cent which we need to hit and sustain for two weeks before we can say we are flattening the curve," Dr Amoth said at a press conference on Monday.
Dr Amoth further noted that the next three to four weeks will be critical in determining whether Kenya will lift the remaining Covid-19 restrictions.
Ruto, Joho and Sonko mourn death of former Likoni MP Masoud Mwahima
Kenyan politicians have sent their condolences following the death of formerLikoni MP Masoud Mwahima. Mr Mwahima died on Monday night from asthma complications. The 78-year-old hadreceived treatment at St Thomas Hospital on Sunday. However, his condition deteriorated while at home in Vyemani …
"So the next three to four weeks will be critical to determine whether we have hit the magical five per cent and we sustain that positivity rate. After that, we can conclusively say we have flattened the curve and therefore we can be able to lift the remaining measures," Dr Amoth added.
In March, the Ministry of Health projected that Covid-19 infection rate will be at its highest between August and September. According to Dr Amoth, the statistics so far are in line with those projections, though it's too early to say.
"Our projections are in line with what we told you early in March-April that the pandemic will peak in late August, September. The empirical data you are seeing is pointing to that figure but it is too early to conclusively address this matter at now," the Ministry of Health DG pointed out.
Covid-19 testing has slowed down
Contrary to that, the Ministry of Health CAS Dr Rashid Aman on Tuesday said that in the past one week, the Covid-19 testing has slowed down due to a shortage in testing reagents.
Uhuru Kenyatta's Niece, Nana Gecaga's fight with alcohol addiction
Life had not been easy for President Uhuru's niece, Nana Gecaga. On an interviewwith MC Jessy, Nana Gecega came out to speak about how alcohol nearly took her life at a tender age of 21. She narrated how she crashed cars during thatstints and she was lucky to be walking with no major damage. Al…
"We have been testing fewer samples compared to previous weeks because of the supply chain and the reagents that we have. We are expecting a consignment of reagents and once that arrives we will go back to higher numbers of testing," Dr Aman said in the Monday press conference.
On Monday, the Ministry of Health announced that out of the 3,381 people tested, 193 had tested positive for Covid-19. Bringing the total number of confirmed Covid-19 cases in Kenya to 32,557.
Six more people succumbed to Covid-19 bringing the total number of deaths to 554. On Monday, 225 people recovered from Covid-19 raising the number of recoveries to 18, 895.