I first saw Raila Odinga Junior when he was 9 years-old – Raila
Former Prime Minister Raila Odinga on Monday revealed that he first saw his son Raila Odinga Junior when he was nine years old. Raila was not present because he was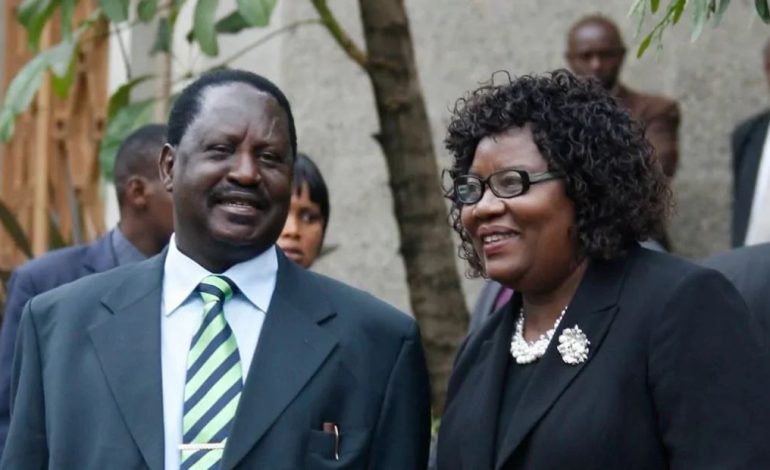 Former Prime Minister Raila Odinga on Monday revealed that he first saw his son Raila Odinga Junior when he was nine years old. Raila was not present because he was imprisoned at Manyani and Kamiti prisons.
Raila paid tribute to his wife Ida Odinga for the much she had to endure when he was in prison.
Wajir MP Fatuma Gedi (left) and Kirinyaga County Governor Anne Waiguru (right) pose with Ida Odinga (seated) at her 70th birthday party. [Source: Anne Waiguru/Twitter]
The challenges Ida endured when Raila was in prison
He lauded Ida for taking up the role of a single mother diligently when he was not around. Raila particularly emphasised on that one time she was chased away from Kenya High School and they had nowhere to go with the kids.
"Ida was chased away from the school where she was working – Kenya High School. So the kids (Fidel, Rosemary and Raila Odinga Junior) had nowhere to go. So this lady you see here has gone through a lot because of my 'sins'," Raila said during his wife's 70thbirthday party on Monday.
But despite his absence, Raila would still communicate with his wife through letters written on toilet papers, which were passed on to her by a friendly officer. Ida would send back a response through the same officer.
At one point when he was at Manyani Prison, Raila went on a hunger strike. This affected his health and a doctor was called to do a check-up. He was misdiagnosed and given the wrong medication.
"This now caused me a lot of problems. I could not sleep. I could hear the sound of trains coming from Nairobi to Mombasa and vice versa in my head," Raila narrated.
Raila was transferred to Kamiti Prison and the friendly officer informed Ida that his husband was unwell.
"Ida went and found a doctor who prescribed the medicine that could help me. She sent the medicine through the officer to me. She even wrote how I was to use the medicine," Raila explained.
Raila was unable to read Ida's message due to his severe headache. So he hid the letter under his bed and forgot about it. During the random cell searches, the prison officers found the letter.
"That is the letter that caused Ida a lot of trouble. They looked at the handwriting and insisted that the letter had come officially. So that is how the Nyayo came and picked Ida taking her to cells to question her how she smuggled the letter of which she did not reveal anything," Raila added.
Raila Odinga and Ida Odinga during their heydays. [Source: Nairobi Wire]
Ida informed Edith that Matiba was sick
However, the toilet paper letters came in handy when Kenneth Matiba fell sick in prison.
"Again I smuggled the message through the same askari to Ida, who told Edith that Matiba was sick. This was before he was taken to Nairobi hospital under the disguise of another name," Raila recalled.
Raila celebrated his wife of 47 years as a "witty and charming source of guidance, inspiration and strength for our family".
"From the first time I saw you my life changed immeasurably. We are grateful for your dynamic, adventurous spirit. May the Lord continue to bless your illustrious life!" Raila said in a Tweet.