DR. MARIE OJIAMBO: The Sickle Cell Warrior  
At 27, Marie Ojiambo has made her mark in the world. Her lists of accomplishments go on and on. She holds a pharmacy degree from the University of Nairobi and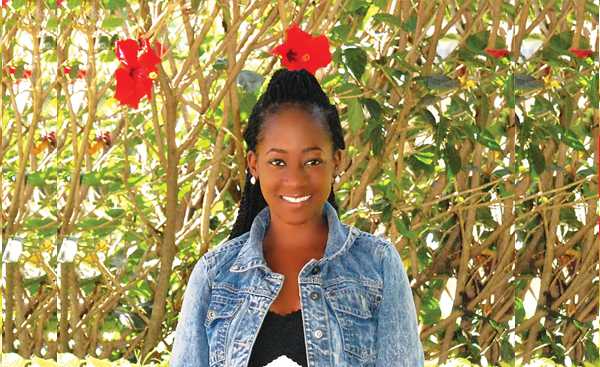 At 27, Marie Ojiambo has made her mark in the world. Her lists of accomplishments go on and on. She holds a pharmacy degree from the University of Nairobi and is currently a semester away from earning her Masters in Industrial Pharmacy at St. Johns University in Queens, New York. She was among the finalists of the 2013 Miss Africa USA pageant, has been interviewed by both local and international media and yes, runs her own foundation. She shares her journey of both acceptance and defiance of the sickle cell disease with ESTHER AKELLO.
My path and that of Dr. Marie Ojiambo crossed on one of January's many Mondays when my Revise Editor bundled into the editorial office saying we were going to miss out if we did not arrange for a sit down with Marie. According to her, Marie was a remarkable woman whose story needed to reach far and wide. Won over by her presentation, I rescheduled my diary. The very next Tuesday and despite being in the middle of arranging her travel to the United States of America which was just hours away, Marie made it to the office. Such is her determination to raise awareness towards sickle cell anaemia. She did not disappoint.
Marie describes herself as a warrior, which may be ironic given her small stature and soft-spoken demeanour. But that is before she tells of her story and those of others who have had to battle with chronic health problems associated with the blood disease.
"The pain that a sickle cell patient undergoes is so acute. It manifests itself in several ways such as headaches or chest pains. I get the pain in my limbs," says Marie.
Not one to engage in pity parties, it is easy to see where her spirit stems from. What she lacks in frame is readily made up for in intellect and grit and it does not hurt that she has a noteworthy pedigree to boot. She comes from a long line of pioneers, scholars and high achievers. Her mother is ambassador Dr. Josephine Ojiambo, former deputy permanent representative of Kenya to the UN. Her grandmother is a noted scholar, political giant and Kenya's first female assistant minister, Professor Julia Ojiambo. Her grandfather was Kenya's first cardiologist, Dr. Hillary Ojiambo.
Growing up in both Nairobi and Mombasa, all Marie knew was that she was a sickly child. "I'd miss school because I was admitted in hospital for extended periods but by then I didn't know I had sickle cell anaemia," reminisces Marie.
But all this would change while studying for her O-levels at Loreto Convent Msongari; a fellow schoolmate would die from the disease. "Having been cognisant that we shared the same symptoms, I decided it was time to dig deeper into what I was suffering from," she adds.
Eventually, her mother came clean telling her she had the disease. She also revealed that she and Marie's two younger sisters were carriers while her older brother, like her, had full-blown sickle cell anaemia. The revelation of what the condition entailed knocked the wind out of her and as she struggled to come to terms with it, Marie spiraled into denial and depression more so following the death of her schoolmate.
"I was afraid I would go into crisis (the medical term used to describe the sickly episodes that sicklers undergo) and die. I also cut out friends because I thought forming relationships was an exercise in futility," recounts Marie.
In 2004, after finishing her O-levels, she got a scholarship to pursue her A-levels. This was the turn-around she needed. Sickle cell anaemia is prevalent among black people and more so among people living in Western Kenya and the Coastal region. Her new school consisted predominantly of Asians who rarely get the disease and soon, Marie learnt that she did not need to explain her condition and focused on other aspects of her life eventually moving on to pursue her modeling career and studies in pharmacy at the University of Nairobi.
In 2012, soon after relocating to the USA to join her family following her mother's diplomatic appointment, Marie went into crisis and had to be hospitilised. Despite being in a first world country, she realised that even there, caregivers were apathetic to the needs of sicklers.
"Sickle cell patients need holistic care including diet, dealing with crises and disease management. In my case, I was given painkillers but no one bothered to inquire about nutritional, emotional or psychological support," says Marie.
Describing her hospitalisation as a period of prayer and reflection, Marie realised that sickle cell awareness needed a voice. It was then she learnt about the Miss Africa USA beauty pageant, a contest held in the USA that celebrates African women making a difference in their community. Marie quickly registered for the 2013 edition and chose sickle cell awareness as her cause.
She was voted for overwhelmingly as 'The People's Princess' in one of the pageant's categories after talking about her passion for sickle cell anaemia awareness. She went on to beat six other Kenyans to clinch Miss Kenya and emerged sixth out of a total of 26 contestants in the overall pageant.
After the pageant, determined not to let the strides she had made fizzle out, she launched her foundation, The Sickle Strong Foundation, and announced on her social media pages that she suffered from full blown sickle cell anaemia. The response was both varied and overwhelming.
"I gained and lost friends on the same token. A lot of people felt I had deceived them by omission for not telling them sooner and others saluted me for it," Marie reflects.
Among those who wrote to her when she declared her status was a nurse in Kisumu who volunteered to help with medical camps. Soon she got three other partners, one in Kenya and two others in America who volunteered to help with event organisation, fiscal management, networking and patient education training.
While it seemed like her awareness train was gaining steam, the backlash from organisations involved in sickle cell awareness poured in fast and thick. Many believed that she did not have what it took to effect change. To make matters worse, she did not have any sponsors and had to pick the foundations tab from her own pocket.
It soon became clear that to make marked change, she would have to bring in sponsors. A task Marie found daunting, especially after the bodies she approached for help rejected her first budget proposal.
"In 2013, I partnered with the Dennis Awich Sickle Cell Foundation in Kenya to hold an event dubbed Ongea (which means speak in Swahili), to encourage people to talk about the condition. After all the prospective sponsors rejected our proposal, I decided to quit," narrates Marie.
Luckily for her, what she lacked in financial sponsorship was made up for by advice from Michael Strano, the manager of her former modeling agency, Phat Africa. His advice? Marie had to walk her talk. Quitting was not an option.
Marie decided to postpone the event from December 2013 to July 2014 in order to restrategise. After several consultations with her aunt, Sanda Ojiambo, head of corporate responsibility at Safaricom Foundation and numerous budget cuts later, sponsors looked favourably at the new proposal and many came on board. The event was a success with many sickle cell warriors urging her to hold another event.
Marie then followed up the Ongea campaign with the Warrior Diaries, where she shared her struggles through audio on her foundation's website. This gave her a platform to encourage sicklers to fight the disease.
Top on her agenda is initiating her 'Adopt a Sickler' campaign to be launched first in Kenyatta National Hospital where for a donation of $30 dollars or approximately Kshs. 2700 per month, a sickle cell patient gets access to medicine and other basic disease management tools. Her proposal that the government open sickle cell centers like those enjoyed by people living with HIV&AIDS or patients of chronic diseases, and subsidies on cost of basic management tools, is under the Ethics Committee in the country. She is already sponsoring three children on her own.
"It costs close to Kshs.10,000 for blood work and prescriptions for crucial medicine in Kenya. A child's prescription is about Kshs. 250 for a monthly dose for crisis management while for an adult it's Kshs. 500. Couple that with other antibiotics, folic acid, vitamins and so on and the cost is highly inflated," Marie sheds light on the cost of managing sickle cell in Kenya.
In addition to holding another event in line with World Sickle Cell Awareness Day in September, Marie hopes to have an office in Kenya. According to her, the biggest challenge stems from the sickle cell community in that a lot of people living with the disease fear stigmatisation.
"People question your longevity, and assume you are weak and cannot handle some situations hence jeopardising your opportunities especially in certain fields. With management, one can lead a healthy life," intones Marie, who was part of her school's swimming and basketball team through her mum's encouragement.
"My mum always encouraged me to be strong and follow my heart's desires and look good while doing it too! After all how would I know how far I could reach if I did not try? I may have sickle cell anaemia, but sickle cell anaemia does not have me," concludes Marie.
More about sickle cell ANAEMIA…
Sickle cell anaemia is an inherited blood
disorder where red blood cells develop
a sickle like shape hence carrying less
oxygen. One can either be a carrier or
have the full-blown disease. Carriers of the
disease are less likely to contract malaria.
In Kenya, it is common among those living
in Western Kenya and the Coast. Sickle
cell anaemia requires comprehensive
treatment through a proper diet, hydration,
moderation in doing strenuous exercise,
rest, a drug therapy regime and regular
visits to a blood specialist. It can be cured
through a bone marrow or stem cell
transplant from a matching donor.
Published in February 2015