DRAMATIC PROPOSAL by the roadside
When businessman Peter Kibe and then girlfriend, Margaret, agreed to start courting, the future seemed bright and the road to matrimony, straight. However, a job opportunity outside the country beckoned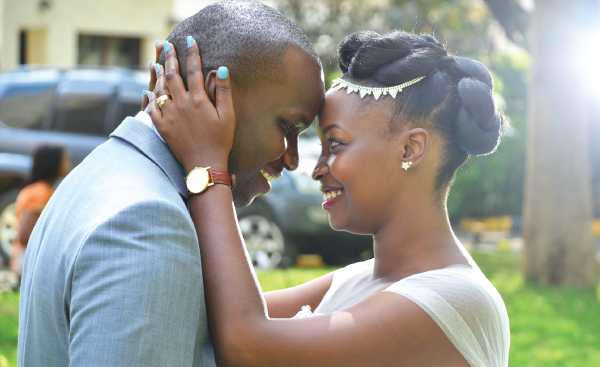 When businessman Peter Kibe and then girlfriend, Margaret, agreed to start courting, the future seemed bright and the road to matrimony, straight. However, a job opportunity outside the country beckoned and the couple had to go back to the drawing board and agree on which direction the relationship will head. How did they make it to the altar? They recount their journey of commitment and proposal along the highway to ESTHER AKELLO.
In October 2012, Margaret Kibe was 22 years old, single and searching. "I was tired of relationships that seemed to have no future in sight," explains the 26-year-old. So when her niece announced that she was throwing a birthday party, Margaret offered to be the MC hoping to catch someone's eye. She got more than an eye: she walked away with a potential husband.
"Her niece happened to be a family friend and had invited my brother and I to the party. I was impressed by Margaret's hosting skills and by the end of the evening, I knew I wanted to get to know her better. I roped my brother, who also happened to be her friend, into introducing me to her," explains Kibe, 27.
The context then, which also doubled up as the pretext, was that Kibe had just started a courier business and Margaret, who was also trying to run a pastry business in order to support herself through campus, could always count on him for advise, deliveries and anything else she needed.
"I saw right through the smokescreen," says Margaret. "I knew he would make a move almost immediately," she adds turning to Kibe, "You sent me a Facebook request a day later and as soon as I responded, you sent me a message asking for my number."
A few chats, calls and meetings later, Margaret utilised Kibe's offer to help by sending him on errands. Within a month, the two were discussing dating. "We purposed that our end game was marriage. We also prayed about it," says Kibe.
Within that time, Margaret graduated from university but finding a job in the hospitality industry posed a challenge and her pastry business wasn't enough to sustain her. When a cousin suggested she move to Dubai and try her luck there, she discussed it with Kibe and the two agreed that the move was called for.
"Letting her go at a time when our relationship was so young was hard but I had no proper authority to ask her to stay and my business had not picked up sufficiently to sustain us," Kibe explains with Margaret adding, "I also wanted the experience. We prayed about it and agreed that I would stay no longer than two years." Come February 2013, just a day before Valentine's Day, Margaret was gone.
Surviving a long distance relationship
To keep their commitment to one another strong, Margaret and Kibe vowed that except for distance, they would nurture their relationship with the same level of commitment they had while together. Key to this equation was communication and Skype (a video call app) came in handy.
"Not a single day would pass without us talking. We studied the Bible, prayed together and even had business meetings complete with minutes through Skype!" says Margaret. Kibe adds, "Letting our families and friends know that we were in this for the long haul helped keep us grounded. We never doubted each other's commitment."
Every once in a while, Margaret would come back home and it was during one of those trips that Kibe decided to propose. "In 2013, I took her to meet my parents and I knew she was expecting a proposal. I wanted to catch her off-guard so I didn't propose then. So the next time she came home, I picked her up at the airport and before I drove her home to Thika, I parked the car alongside the Eastern Bypass and got down on one knee," Kibe recollects.
A shocked Margaret said yes. "He just parked next to the Kahawa Barracks gate which left me a bit confused at first. Imagine my surprise when my friends started crawling out of the blues and I turn to Kibe and he is holding a placard written 'Will you marry me?'" she reminisces.
In June 2015, Margaret moved back home permanently and on September 12 that same year, the couple said 'I do' at the Parklands Baptist Church in Westlands in front of 900 guests. A reception followed at the church's grounds.
"Our budget was Ksh 450,000 and we had planned for 500 guests, but in the end, we had a faithful committee and got so many things for free or at subsidised rates from friends and family. We are grateful to them," they conclude.
Published in July 2016