Francis Machugu: The 'pads guy' helping to alleviate menstrual poverty
Open Francis Machugu's bag and you are likely to find a pack of sanitary towels. His friends often jokingly ask him if he is on his menses. While he definitely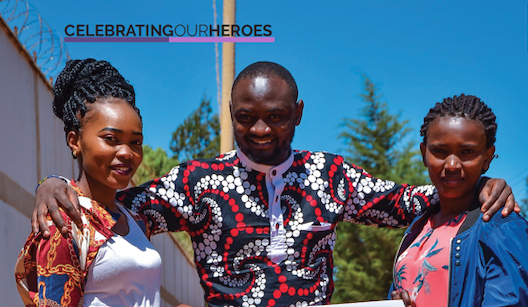 Open Francis Machugu's bag and you are likely to find a pack of sanitary towels. His friends often jokingly ask him if he is on his menses. While he definitely is not, a lot of women are, and they are suffering for it. He has thus thrust himself into the battle against period poverty by availing the much-needed commodity to needy women and girls as he narrates to AUDREY AWUOR.
'Period poverty' means being unable to access sanitary products and having a poor knowledge of menstruation often due to financial constraints. The fight against period poverty has been largely turned into a women's enclave. However, 24-year-old Francis Machugu invited himself into the struggle, and in his own small way, he is winning.
When it comes to menses, women have a special camaraderie. That is why a lady can walk up to another and borrow a pad, and she will be given. But what if women could walk to men and borrow sanitary towels, and men are courageous enough to carry them around and make them available when asked? It is going to take an overhaul of men's attitudes, but Francis has already started out. That is why he always has a pad in his bag to give to any woman he comes across who needs it.
"Why is a man carrying sanitary towels?" is a question Francis gets asked a lot, but "Why aren't we all carrying sanitary towels to assist those without?" is the question this founder of The Glamour Pads poses back. Francis, who is pursuing a Masters in procurement and supply chain, spends his days juggling school, business and donation of pads to schools, prisons and children's homes, which he does singlehandedly. His passion and commitment towards this cause is fuelled by firsthand accounts of period poverty.
1 million pads to end period poverty by Always and local NGO
One out of two girls in Kenya drops out of school due to lack of period products, a situation that has been made worse by the Covid-19 pandemic which has further aggravated poverty. Always Keeping Girls in School seeks to alleviate this situation.
"I grew up partly in Samburu, and being a marginalised community, I saw firsthand what lacking menstrual products can do to girls and women alike. It can alter their health, education and their whole future. What most people dismiss as a simple thing can affect ladies so badly," he narrates.
But it wasn't until he watched a documentary on menstrual hygiene in prisons aired by one of the leading media stations that he was moved to action.
"In the documentary, the women in prisons were said to be sharing used pads. Even the thought of it upsets me; it was hard to imagine that period poverty made these women to descend to such lows. I was unsettled for days," he offers.
It is then that he decided he had to do his part, and thus threw himself fervently into the pads distribution program that he dubbed The Glamour Pads derived from his hairdressing business, which he started when he was a second year student at Moi University. He has donated pads in a number of events and institutions with the most notable ones being Berur Children's Home, Wareng' High School and the most recent one being Eldoret GK Women's Prison on Valentine's Day.
On the eve of Valentine's Day, Eldoret town was painted red. While other people were up to their necks in roses, fine wine and chocolate, Machugu was carrying boxes upon boxes of sanitary towels to deliver to the prison.
"It was a spectacle to behold if the glaring stares I received were anything to go by. Everybody else was carrying flowers when I stepped out of the supermarket, and there I was with the sanitary towels," he notes.
He had managed to raise enough money to purchase 40 boxes of sanitary towels, containing over 1,000 sanitary towels in total. This was his idea of love – that at least for the next few weeks, the prisoner's fears for that time of the month would be allayed.
Boda boda riders culprits as Kenyan girls exchange sex for sanitary pads
Girls in Kenya are trading their bodies in order to get sanitary products. This is according to a recent research released by UNICEF in September 2018. The research shows 65 per cent of women in Kibera have had to have sex in orderto access sanitary products. The report further shows 22 per cent…
He does not have a particular demography for distributing pads to and he targets whoever does not have them. A man carrying pads so comfortably attracts questions from men and women alike. These questions, he feels, are unwarranted, as there should be no gender divide when it comes to sorting out an issue that has been a thorn in the flesh of so many people.
It is this skepticism that has made Francis resort to organising all the outreaches by himself, having tried to no avail to get other people on board.
"Initially, people were very mistrusting. There is always that undertone of "What is a man going to do with pads?" when I ask them to donate pads. They even think I am going to sell the pads and make money from them, which would be so dubious and unthinkable. So, I decided to conduct all the outreaches myself," he says.
After all, a man who wants to change the world does not keep looking over his shoulder to count who else is following. Besides, people are slow to volunteer and not everyone shares his passion in what he does.
"I would love so much for other people to join me because the extent of period poverty cannot be covered by one man however ambitious. But sometimes people expect me to cover all the transport costs to the institutions we are supposed to visit. The money used to cover these logistics could very well go into purchasing more menstrual products. So, when it comes to that, I would rather do these things alone," he remarks.
Every time he makes a donation, he experiences a mix of euphoria and hopelessness.
"I am usually happy because I have done my part, but as I go back home, I see many more women in the streets who still need my help, and it makes me feel so helpless. I once encountered a lady in the streets who told me she had to resort to using dirty mattresses when that time came. She had bad infections as a result of bad menstrual hygiene, and this is not something she brought on herself. Many like her do not have an option," he muses.
His interaction with women in the course of his program has made him develop such an immense respect for them, and womanhood. And he wishes other men would get enlightened as he is now, so they may be more considerate in their attitude towards women and menstruation.
Siaya school girls decry period poverty despite free government sanitary towels
The cost of purchasing sanitary pads for girls in Siaya county remains prohibitive for most parents who are struggling to even afford daily meals for the whole family.
"My salon serves both men and women, and after speaking to them, they are usually very responsive to buying sanitary towels. All the same, there is some derogatory talk associated with menstruation that still comes up among men. It is so prevalent that it is going to take a while to change," but he remains hopeful all the same.
He wishes our education system would incorporate extensive lessons on menstruation and menstrual health. He feels the curriculum as is makes but a cursory mention of this process that alters the lives of the people who experience it.
"There is so much that goes on behind the curtains, and I had to do my own research to find out what exactly women go through – the cramps, the premenstrual syndrome, the mood changes, the general discomfort and what not. If we are to open up platforms for both genders to take part in menstruation discourse, our curriculum is a good place to start. The more we have such open discussions, the better we will get at erasing stigma and stereotypes associated with menstruation," he says.
Even a cause as noble as this has attracted naysayers, but he remains steadfast in his resolve to make menstruation a less horrific experience for women.
"I still get those weird glances and stares when I go to purchase sanitary towels from the supermarket," he laughs, "and I wonder when they will ever end. Some people also feel I should perhaps focus my attention on a different service. I keep getting asked if I am sure the ladies need pads. Of course, they need them because this is a monthly process."
Much as there are people who in their lack of knowledge may trivialise what he does, there are more who give him a lot of backing.
"Many people want to help; they just do not know where to start. Much as I do not have financial backing from any specific body or organisation, when people see what I do via social media, they reach out and offer to buy sanitary towels," he says.
If he could, he would conduct the pads donation drives every single day. But since he cannot, he will keep doing the best he can in alleviating the effects of menstrual poverty.
This article was first published in the February Issue of Parents Magazine
READ OUR LATEST ISSUE HERE:
The edition that celebrates fathers!
Commentator extraordinaire, Hassan Mwana Wa Ali graces our cover with his wife and son in our June issue. He takes us through his 10-year journey in the media industry, marriage life and his heart's desire to mentor young people.