GALOGALO TWIYE Promoting girl-child education
                        In a culture where girl-child education is frowned upon, it is refreshing to find a man fighting for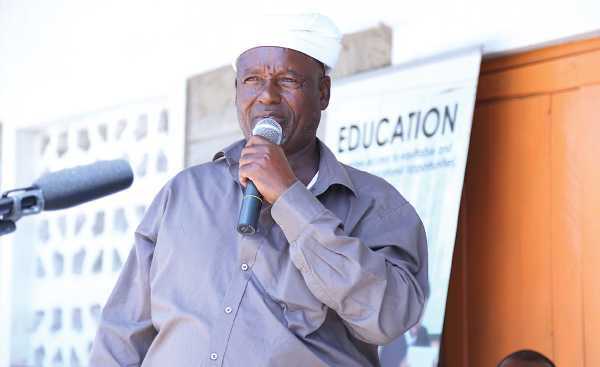 In a culture where girl-child education is frowned upon, it is refreshing to find a man fighting for girls' right to education. Galogalo Twiye is that man. Although his effort has attracted praise and criticism in equal measure, Galogalo is determined to ensure girls from North Horr constituency get education and get it in abundance. He narrates his story to HENRY KAHARA.
The journey to this story began sometime in February this year after a brief editorial planning meeting for this issue. The editor allocated me duty to follow a story of a Marsabit County man who has been on the frontline advocating for the girl-child education in his area. Given that I was pressed for time, I didn't take long before calling my contact person to enquire more about the man. After a short conversation, I was acquainted with the story in addition to striking a deal on how I would take a flight to Marsabit County to bring you this story.
The journey was scheduled two days after our short but informative conversation. On the D-day, the Safaricom Foundation team and I left Wilson Airport at around 7:20am. The plane touched down at the Marsabit Airstrip at around 9:30am. Here the terrain is harsh, nothing that I have ever come across in my life. The weather too is not friendly; it's in the morning but the heat is almost unbearable. This did not come as a shocker as we had already been prepared for it – no wonder none of us had worn a jacket while leaving Nairobi despite the morning chill.
But the residents here seem to have no problem with the heat. The residents of Marsabit are warm people. It's in their smile, their expectant gazes and how quick they are to offer help. Truly, they love visitors. It doesn't take long for our bodies to acclimatize to the new environment and without further ado we go directly to the business of the day.
Standing up for the girl child…
The interview is scheduled to take place at Helmer Memorial Girls Primary School where Safaricom Foundation had built a dormitory for the school and had thus come for the official opening. The school head teacher, Mr Joseph Godana, warmly received us. As the host, he introduced his team and among them is the man I have come to interview, Galogalo Twiye – a former councillor who has been promoting education for the girl child in North Horr constituency.
He tells me he is among the few residents who have gone through formal education in his area and this may explain why he is so determined for children in his community to get education. Couple that with his outspoken nature and you will understand why his people elected him to represent them as a councillor for 15 years.
"I joined school in 1964 at the age of 20. During our time, parents were reluctant to send their children to school since children were a source of labour. Parents had to be forced to at least take one child to school and it wasn't easy. It took a lot of negotiations before a parent accepted to release his child to school and once you joined school they would abandon you since, to them, you were of no benefit," he says adding that most parents preferred giving up their boys for schooling instead of girls, as girls were seen as a source of quick wealth.
They would be married off at a tender age and the parents would cash in on dowry – an oppressive culture, which has seen the community lag behind in girls' education. He recalls that there was only one girl in his school during his whole time in school.
Despite the challenges he went through to acquire education, Galogalo reminisces with obvious nostalgia how he and other students would feel important wearing school uniform while the rest of the community walked around in traditional clothing, as they had not embraced modern clothing.
His parent's decision to enlist him in school saw him join the list of North Horr pioneer academicians. After he completed his O levels, Galogalo didn't have to struggle to get a job as he got formal employment almost immediately. It is during the same time that he found his way in business and thereafter ventured into politics.
During his tenure as a councillor, that's between 1992 and 2007, he advocated for the girl-child education. "Having been educated, I knew the importance of education and it pained me to see our girls losing out on this survival kit. Moreover, women from other places were gradually taking leadership positions in the country but not in my area. Early marriage was the biggest barrier to our girls' access to education," says Galogalo.
Galogalo is a firm believer that if you educate a woman, you educate the whole community. He thus resolved to push for the education of the girl-child even if he would be a lone ranger. In some cases, he literally had to fight with some members of the community who refused to take their girls to school. At that time, his efforts didn't bear much fruit, as his people were not ready to let go of the oppressive culture against the girl-child. However, he had sown the seeds, which sprouted at the beginning of the new millennium (2000) when the girl-child education campaign started making a breakthrough in the area.
During the interview, Galogalo points at a class eight girl who he describes as very brilliant. Her parents had married her off while in class four and it took the chief's intervention to rescue her. "This girl is very bright and we are hopeful she will join a national school next year. She has always been in position one and in the previous exam, she scored 340 out of the possible 500," he says terming anything working against the girl-child as illegal and retrogressive.
Girls' only primary school…
Together with other like-minded people, Galogalo helped birth the idea of a girls' only primary school in the county, Helmer Memorial Girls Primary School, in memory of Hildegard Helmer, a German lay missionary. Helmer is remembered for preaching the education gospel in North Horr when she first arrived there in the mid-60s and made the place her home. The region's hostile weather condition and the community's immunity to education were not enough to deter her from her mission of giving the local children education.
When she arrived in North Horr, there were no schools but with the help of sponsors, she managed to put up a school thus enabling the locals to access education. Although she died 10 years ago,
Helmer's spirit is still alive in Marsabit since most people in the area went to school courtesy of her. Some of the people who benefitted from her efforts are the incumbent Marsabit Governor, Ukur Yatani and current North Horr Member of Parliament, Chachu Ganya.
"Helmer would buy books for us and provide all other basic needs. She would even help the young ones to bathe so that they get to school on time," recalls Galogalo adding, "After her death, as old boys, we decided to do something in her honour. We agreed to build a girls school since girls are disadvantaged in the area."
Currently, the school is home to 331 girls most of whom are boarders. The school has made it easy for more local girls to access education. Galogalo says that most of the girls have a story to tell. Although the school is still in need of more infrastructural facilities and donations, residents are happy that Safaricom Foundation has built a dormitory for them, which will accommodate 50 more girls.
Speaking during the opening of the dormitory, Safaricom Foundation chairman Joseph Ogutu said the foundation has a plan to help children who hail from nomadic communities to access education and concentrate on their studies, which would contribute towards Kenya's Vision 2030 and Sustainable Development Goals.
Charity begins at home…
Not one to preach water and drink wine, Galogalo had to lead by example and today he is enjoying the fruits of taking his children, despite their gender, to school. He proudly admits that all his five children are educated, adding he has an adopted girl who graduated from the University of Nairobi with a Bachelors degree in education in 2013.
"My last-born graduated from Kenyatta University last year with a degree in Community Development," says the seventy-year-old.
He points out that there are very few learned women in the area and hence the county lacks proper representation in both the county and national government. He, therefore, urges the community to fully support the girl-child education in order to cover the gap.
"We need our women to get education and be in decision-making tables both in the county and national government. There are still more girls in the rural areas who don't attend school and it is our responsibility as community and leaders to bring them to class," concludes Galogalo noting that naturally, women are good leaders since they not only bring development but they are also more caring compared to men.