Kenya's most promising young women
They are young, entrepreneurial, ambitious and damn good at what they do. These five young women are making waves in their niches and without doubt, they will be tomorrow's decision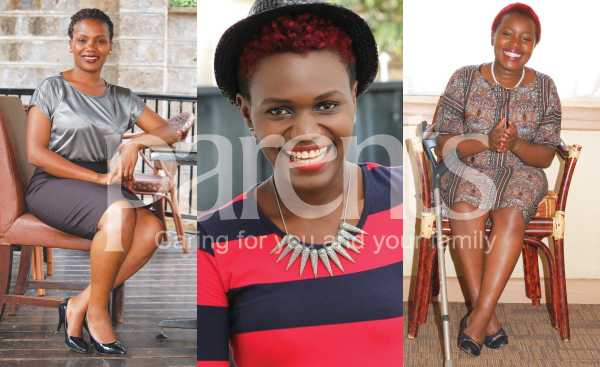 They are young, entrepreneurial, ambitious and damn good at what they do. These five young women are making waves in their niches and without doubt, they will be tomorrow's decision makers. You may not know their names now, but in the next few years, they could be on the Top 40 Women Under 40 list. Watch out for them…
Name: Hannah Wanja
Age: 24
Profession: Communication specialist
Watch out in: Leadership
Hannah Wanja may be disabled but her current record is enough proof of the mantra "disability is not inability."
Born and brought up in a slum, Hannah always knew what she wanted in life and had her eyes set on the ball.
"While growing up, I was very careful on the decisions I made. I saw boys of my age shot for robbery and girls getting pregnant and dropping out of school," she says adding that she knew what would detour her from her dreams and hence avoided them like plague.
Hannah was disabled at a very young age, meaning she had to work twice as hard to prove her ability especially in an era where disability was perceived as inability.
"I always try to be solution-oriented and I made up my mind at a tender age not to sit down and watch things happen but make them happen. I want to be part of the change people are looking for," says the former Joytown Primary School pupil.
It is this can-do attitude and desire to see things move that has seen her appointed in different leadership positions.
Currently, she is running her own consulting firm, Humming Bird Ventures, where she offers communication services.
She also sits at the United Nations Population Fund (UNFPA) youth advisory panel representing voices of young women on health and sexual reproductive issues. She is also a member of Network of Young Women with Disability.
"This is a group of over 100 women with disability. We visit students for mentorship. Last year alone, we managed to talk to 15,000 students countrywide. Drawing from personal struggles, I have come to realise that mentorship is very important," she says.
She adds that last year she won the Inspirational Women Award courtesy of the Ministry of Devolution and National Planning, and UNFPA.
Hannah advises young women not to underestimate their small deeds since greatness starts with small acts. She further puts it clear that she doesn't do what she does with a political agenda.
"Leadership is a burden placed in few individuals. It is people who acknowledge it and support you to go for it. If people see it worthy of me to serve them, I will do it," she says.
Previously, Hannah has served in Nairobi County Youth Board representing people living with disability. And since she one day wants to be in a position influencing policies affecting women and girls in the country, Hannah has gone back to school to pursue a Masters degree in gender and development studies.
Name: Ruth Ambogo
Age: 22
Profession: Second-year law student
Watch out in: Law
Growing up, Ruth Ambogo experienced financial challenges that often threatened her education.
She feels indebted to her high school principal at Loreto High School, Limuru, who allowed her to stay in school without paying school fees on condition that she would score at least an A minus in her Kenya Certificate of Secondary Education.
When the results were announced in 2012, Ruth had managed to score an A minus and got a full scholarship to study law at Strathmore University the following year.
Not one to rest on her laurels, Ruth decided to join Strathmore in 2012 to undertake an accounting course as she waited to join law school.
However, she was not able to raise Ksh 5,000 needed to register for the course and ended up becoming a beneficiary of Elimisha Stratizen, a student-to-student initiative that helps students from needy backgrounds raise school fees.
Touched by the initiative and its values, she wanted to be in a decision-making position so as to impact the lives of as many students from needy backgrounds as possible.
She vied and was successfully elected public relations representative at Strathmore Student Council in 2014. In the same year, she organised a fundraising cocktail to raise money for Elimisha Stratizen kitty. Ksh 300,000 was raised.
Ruth is also very passionate about transformational and value-based leadership and in 2014 was instrumental in awakening and rebranding the Kenya Youth Senate where she served as Deputy President for one term. She is also the Kenyan director of Young African Women in Leadership (YAWL).
In January 2016, Ruth founded Educate Empower Africa, an organisation that identifies young, visionary, bright students from needy backgrounds in Africa.
The organisation funds their education in addition to mentoring these students on leadership and empowering them with life skills to become better citizens in society.
In February, the organisation helped to enroll to high school a young bright boy from a needy background who had performed exceptionally well in the 2015 Kenya Certificate of Primary Education.
In addition, Ruth does public and motivational speaking, is a trainer and a judge at the Kenya National Debate Council and mentors high school students.
She believes the youth ought to be drivers of the change they want to see in their country. She is definitely leading by example.
Name: Nasra Ali Ibrahim
Age: 25
Profession: Nutritionist
Watch out in: Politics
A few years ago, Nasra Ali Mohammed was content balancing work as a nutritionist and looking after her family.
However, a conversation between her and her husband sometime in 2014 quickly took a turn for the unpredictable.
Nasra was commenting about the poor standards of living Mandera women were subjected to when her husband asked her to stop complaining and do something about it.
According to Nasra, culturally speaking, women in her community were there to be seen and not heard and the fact that her husband was encouraging her to do both, awakened something in her.
That same year, Nasra travelled back home to Mandera, arranged for a community meeting and announced her interest to represent the women in the highest legislative office, parliament.
It is a task Nasra does not take lightly and she is acutely aware of the odds against her: she is facing an incumbent, is young, not financially endowed and is yet to get clan backing – the highest pecking order that can make or break one's political aspirations.
Nasra is the underdog in the game so far but she believes that she is a success story of what it means to empower not just a Mandera woman, but women in general, especially in a society that denies women education, reproductive rights through female genital mutilation and poor access to health.
She believes her story, that a woman can be an agent of societal change given the right opportunities and environment, can be that of many other Mandera women and girls.
Her motivation is also derived from the Kenyan constitution, which enshrines the rights of women not just as homemakers but leaders in their own right.
In a community desperately trying to shake off a culture of silence and ignorance, that is not just enough; it is everything.
Name: Sharon Nyambura
Age: 13
Profession: Currently in class eight
Watch out in: Fashion Design
There is nothing as satisfying as discovering your talent. The feeling is even better when you discover it at a tender age.
Thirteen-year-old Sharon Nyambura, a fashion designer, is one such case having discovered her talent while in class three.
It all started in 2011 when she visited her grandmother who gifted her a doll. As thoughtful as the gift was, it didn't come with clothes prompting her playmates to make fun of her precious gift.
Throwing it away was not an option and she did the next best thing she could afford; make clothes for her doll to cover its "nakedness."
"I looked for my old clothes and started sewing a dress for my doll. My mum didn't give my actions much thought but when she looked at the final product, she was amazed," she says adding she would later make more other clothes for her doll.
Her mother, having discovered her daughter's prowess in design, encouraged and cheered her on. It wouldn't be long before people close to her took notice of her talent. Today, Sharon is no longer sewing for dolls but for people.
Sharon is currently in class eight and has already accomplished some of her life dreams – to make inroads into the fashion industry.
She recently designed and handed over a shirt to President Uhuru Kenyatta who was so impressed at the young girl's work that he promised to support her till she attains her goal.
"I want to be a renowned fashion designer and the President has promised to support my dreams," says a determined Sharon.
True to his word, the President has attached a fashion teacher to Sharon with the help of the Ministry of Industrialisation and Enterprise Development. She attends the fashion design classes on weekends. Since she is still in school, Sharon is intentional about prioritising between her studies and passion.
"I am concentrating on my studies for now since talent is in me and nobody can snatch it from me," she says.
In April, Sharon will head to London, UK, for a fashion and design exhibition, which she says will expose her to the industry.
Name: Liz Madowo
Age: 24
Profession: Business and maritime management
Watch out in: Fashion
Sporting short, spiky, maroon hair and the latest trends in apparels and accessories, Liz Madowo is a fashion rebel who shares her free spirit with the world through her blog – Fearlessly Fashionable.
 She established the blog in 2014 while she was a third-year business and maritime management student at Moi University in Eldoret.
Her motivation to become fearlessly fashionable was spurred after a three-month internship in maritime management. After getting a glimpse of what her career in the field was going to be like, she walked away in pursuit of her first love – fashion.
Liz started working with a local designer under the brand NUR and a wealth of fashion photographers in 2015, but quit after her boss left for Milan, Italy, at the beginning of 2016.
It was then that she decided to establish her own fashion brand instead of looking for another job in fashion.
Combining her fashion experience and her lessons in business management, she leapt into the world of entrepreneurship and opened an online shop, hosted within her blog.
With her penchant for fun yet sophisticated and edgy trends, Liz stocks novelty pieces, which she sources for herself and then retails at affordable rates.
Liz, also a stylist, says although Kenyans are yet to come of age in supporting local fashion entrepreneurs, the younger generation is keen about their style and grooming and even go as far as adopting international fashion trends with a touch of African vibe.
Her typical client is between the age of 23 to 35 years and most approach her when they want a specific look for an occasion, or just want to change their wardrobe after a while.
She hopes to follow in the footsteps of her predecessors such as Sharon Mundia and Annabel Onyango, both of whom are forces to reckon with in the fashion industry.
Published march 2016