Government reintroduce the mandatory wearing of masks in confined spaces
By Martin Ronoh Owing to an increase in the Covid 19 infections in the country, the government has reinstated the mandatory wearing of masks in enclosed areas. The Health Cabinet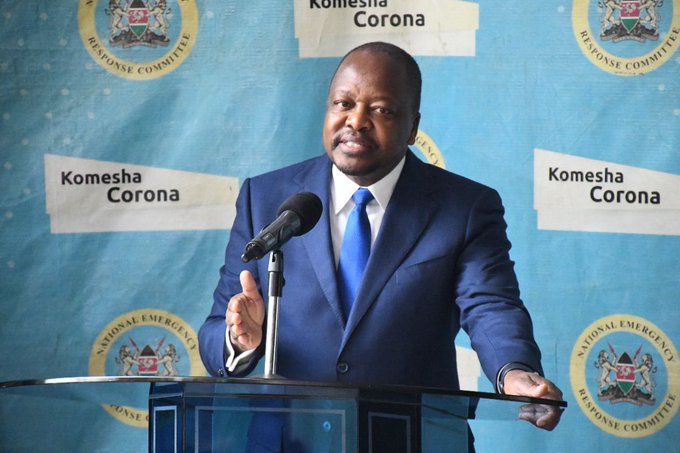 By Martin Ronoh
Owing to an increase in the Covid 19 infections in the country, the government has reinstated the mandatory wearing of masks in enclosed areas.
The Health Cabinet Secretary, Mutahi Kagwe, while briefing on the current status of the pandemic,  on Monday, June 20th, stated that members of the public will be obliged to wear face masks in confined spaces such as PSVs, airlines, workplaces, supermarkets, and places of worship.
"The mandatory wearing of face mask in open public spaces where one is not in close proximity with one another remains optional. However, one is required to wear a mask when in contact with other people in closed/ confined space," said the CS
MoH plans to vaccinate 2021 candidates ahead of university placement
As most of them will start joining various colleges from July 2022, we appeal to all their parents and guardians to encourage the young adults to be vaccinated before they join their next level of education
CS Kagwe has urged those who have not been vaccinated to do so. As of June 19th, 2022, a total of 18,589,484 vaccines had been administered across the country. Of these, 16,647,255 were doses administered to the adult population (18 years and above).
"Those who have not been vaccinated should do so immediately. Those who have been vaccinated and need a booster shot should do so immediately," the CS said.
He further announced that all unvaccinated tourists coming to Kenya at any port of entry will be required to have a negative PCR test result obtained no more than 72 hours before departure.
The directive comes as Kenya battles the sixth wave of Covid-19. According to the report from the Ministry of Health as of Monday, Kenya's Covid-19 positivity rate is at 12.6 percent after 252 people tested positive from a sample size of 1,993 people tested in the last 24 hours.
ALSO READ: Government scraps mandatory wearing of masks in public spaces
The Health Ministry relaxed Covid-19 containment efforts in March, citing lower infection rates in the prior months. They allowed the public to quit wearing masks in public areas.
The edition that celebrates fathers!
Commentator extraordinaire, Hassan Mwana Wa Ali graces our cover with his wife and son in our June issue. He takes us through his 10-year journey in the media industry, marriage life and his heart's desire to mentor young people.
Featured photo: Mutahi Kagwe(MoH)