Huduma Namba cards to replace national ID cards in December 2021
Come December 2021, the current National Identification Cards will be phased out and be replaced with Huduma Namba cards. Speaking at Machakos County on Wednesday, the Information, Communication and Technology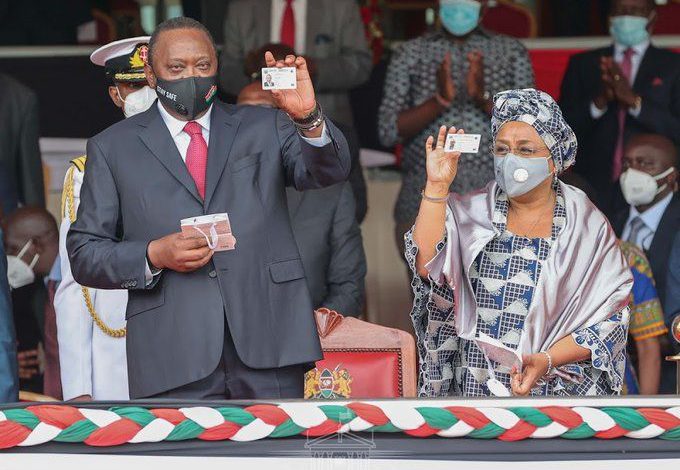 Come December 2021, the current National Identification Cards will be phased out and be replaced with Huduma Namba cards.
Speaking at Machakos County on Wednesday, the Information, Communication and Technology Cabinet Secretary Joe Mucheru said the government will start issuing the Huduma Namba cards on December 1, 2020.
Mucheru added that those who registered under the National Integrated Identity Management System (NIIMS) also known as Huduma Namba will be notified through an SMS on the pick-up location.
Study reveals mouthwash can kill coronavirus
A study in the UK has revealed that mouthwash can kill COVID-19 within 30 seconds of exposure in a laboratory.
"You will receive an SMS informing you where to collect your Huduma Namba card. You should do that within a month of receiving the SMS," the ICT boss stated.
Photo: Uzalendo news
Attorney General Paul Kihara issued President Uhuru Kenyatta and the first lady Margaret Kenyatta their Huduma Namba cards on October 20th, 2020. This was during the Mashujaa Day celebrations at Gusii Stadium in Kisii County.
Huduma Namba is a unique identifying number given to every Kenyan citizen and foreigner. It serves as a single source of identification for all people living in Kenya. All individual information is stored in a single electronic chip. Some of the information captured in the Huduma Namba includes details from the National Identity card, National Hospital Insurance Fund and the National Social Security Fund.
Featured Image: President Uhuru Kenyatta and the First Lady Margaret Kenyatta showcase their Huduma Namba cards on Mashujaa Day celebrations at Gusii Stadium. [Source: PSCU]
Parents Magazine ePaper
Read an ePaper copy of Parents Magazine. Caring for you and your family.