Police deny KHRC lawyers' access to Solai dam tragedy victims
Solai police officers have on Tuesday denied The Kenya Human Rights Commission (KHRC) lawyers' access to the Solai dam tragedy victims. The lawyers had gone there to update the victims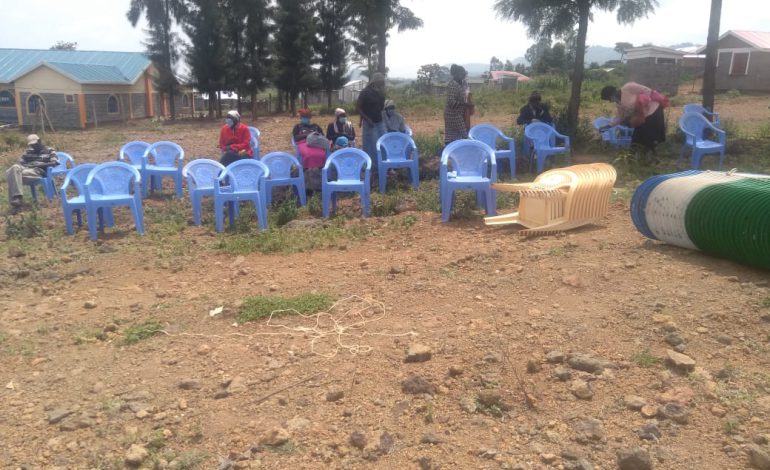 Solai police officers have on Tuesday denied The Kenya Human Rights Commission (KHRC) lawyers' access to the Solai dam tragedy victims.
The lawyers had gone there to update the victims on the progress of the Solai dam tragedy and compensation cases.
"The purpose of the meeting was to update the victims on criminal cases against Patel farm owners and two civil cases of compensation," KHRC tweeted.
Police disrupt KHRC lawyers meeting with Solai dam tragedy victims. [Source: KHRC/Twitter] 
Suspects were acquitted
On February 3, 2020, a Naivasha court acquitted nine suspects who were charged with causing the death of 48 people after the Solai dam tragedy two years ago. Naivasha Chief Magistrate Kennedy Bidali freed the suspects due to lack of "willingness and support from the DPP office in prosecuting the case".
However, on April 9, 2020, High Court Judge Richard Mwongo overturned Justice Bidali's ruling and ordered for the resumption of the trial under a different magistrate.  The owner of the farm Perry Mansukh Kansagara and his co-accused were charged with 48 counts of manslaughter and failure to prepare an environmental impact assessment report.
The farm's General Manager Vinoj Jaya Kumar and the Nakuru County Water Director Johnson Kamau Njuguna were also charged.
Other people who were charged in court were the Water Resources Authority and the National Environment Management Authority Officers.
An aerial shot of Energy village after Solai dam burst its banks. [Source: Hivisasa] 
Investigation bodies found Solai dam owner guilty
Several bodies embarked on investigating the incident which cost the lives of 48 people. The investigators found that the dam was constructed by unqualified staff which caused the dam to burst.
A senate committee led by Senator Mutula Kilonzo Jnr found out that the dam owner, Perry Mansukh redirected several river sources to his dam. This is what allegedly caused the dam's banks to burst, sweeping away Energy Village in Solai, Nakuru. The Senate committee recommended that Mr Mansukh compensates the Solai residents.
KHRC, on the other hand, concluded that the tragedy had been caused by "blatant lack of compliance by Patel Coffee Limited and negligence by officials of the National Environment Management Authority (NEMA) and Water Resources Management Authority (WARMA)".