President Kenyatta breaks silence on BBI judgment
President Uhuru Kenyatta has spoken for the first time since the court of appeal threw out the Constitutional Amendment Bill 2020, popularly known as BBI. Speaking on Monday evening at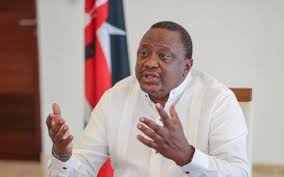 President Uhuru Kenyatta has spoken for the first time since the court of appeal threw out the Constitutional Amendment Bill 2020, popularly known as BBI.
Speaking on Monday evening at a meeting with media editors at statehouse, the president said that the courts were misguided in their ruling on Friday adding that the amendment was not meant to extend the terms of certain people in power.
"I hear some people say this BBI is meant to propel Raila Odinga. Raila Odinga declared his presidency with or without BBI and he is still on the ticket. BBI has nothing to do with his candidacy or Uhuru wanting to continue because there is no clause in the BBI saying that the incumbent president is going to continue for another 10 years,"
The president's comments came hours after Attorney General P. Kihara Kariuki also expressed his dissatisfaction with the entire decision of the court and called for a suspension of the implementation of the judgment, pending determination of his appeal.
The attorney general listed three grounds for his appeal; applicability of the basic structure doctrine, remit of a constitutional amendment by popular initiative and presidential immunity.
According to the government's principal legal advisor, the appellate judges missed the point, when they listed President Uhuru Kenyatta as the promoter of BBI-driven popular initiative drive to amend the constitution.
A seven-judge bench, on Friday, declared the BBI and processes unconstitutional and unlawful. While announcing the judgment, the judges argued that President Uhuru made a fatal legal mistake in attempting to change the Constitution through a popular initiative, as the sitting president.
This August, Parents Magazine presents yet another compelling issue!
On this issue, LSK chairperson Nelson Havi and his wife Felicine let us in to the home front and open up on life in the public eye among other stories that you don't want to miss.
Featured Image: Standard Media