Radio presenter Joyce Gituro opens up on what led to her marriage failing
With over two decades in the media space, starting with an acting gig on Tausi, Joyce Gituro has risen the ranks in radio. But away from the airwaves, Joyce (JG)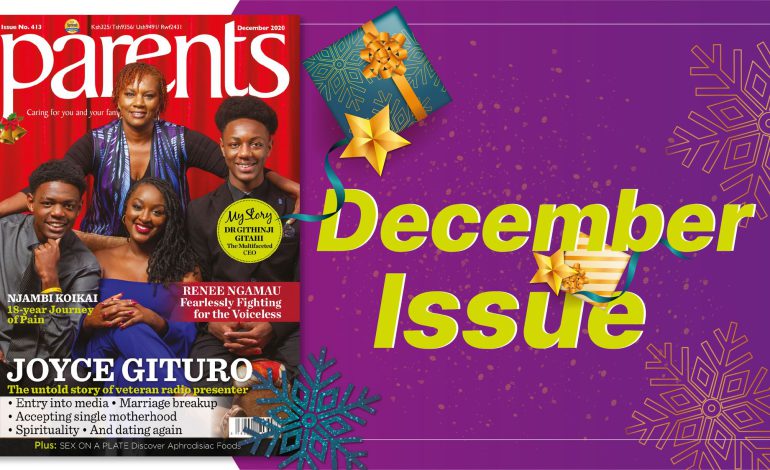 With over two decades in the media space, starting with an acting gig on Tausi, Joyce Gituro has risen the ranks in radio. But away from the airwaves, Joyce (JG) Gituro's life has had some defining moments and its fair share of ups and downs.
Our December cover model Joyce Gituro
In this December issue, veteran radio presenter Joyce Gituro graces the cover with her three children. The seasoned presenter gets up-close and candid on her failed marriage, single-parenthood and getting back to dating.
"Do a background check on the person you are dating. Are their value systems the same as yours?" She advises.
JOYCE GITURO: The untold story of veteran radio presenter
Subscribe and like our channel, as you share your thoughts in the comments section.Follow Parents Magazine on all our Social Media PlatformsFacebook: http://…
Click to watch the behind the scenes
We also catch up with doctor turned CEO Githinji Gitahi as he gives insightful career and life advice as you read about Kajuju Kiogora of Healthy Kajuju whose acne struggles birthed an organic food business.  
Dr Githinji Gitahi
Be inspired by Susan Cherono, a hero giving hope to the vulnerable in slums as you learn about two youngsters innovating in the face of COVID-19.  
Susan Cherono- Founder of Eseriani place
We also give you tips on relationships as a couple in ministry tells us what makes their 18-year marriage tick as you get to know why your phone could be doing more harm than good.  
Andrew and Cathy Mwangi- Married for 18 years
Also, get ideas for the ultimate Christmas décor and recipes to make this your most memorable Christmas yet!  
Parents magazine wishes you a merry Christmas and a prosperous new year.
Grab your copy today! A digital copy is available:
Parents Magazine ePaper
Read an ePaper copy of Parents Magazine. Caring for you and your family.