Savoury Sausage Stew
This savoury stew is easy to make and requires little preparation time, making it a great meal for when you need to whip up something delicious that is out of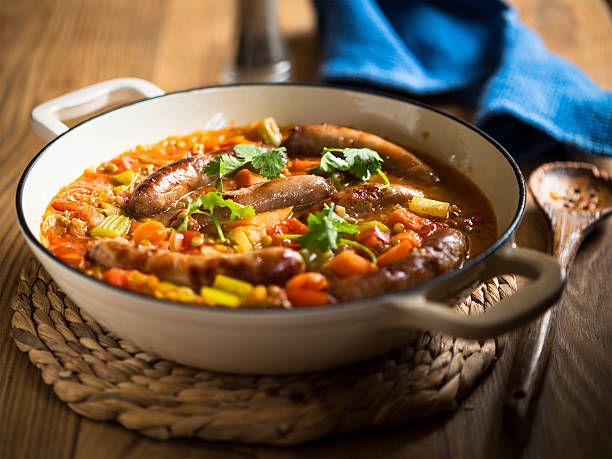 This savoury stew is easy to make and requires little preparation time, making it a great meal for when you need to whip up something delicious that is out of the box.
Ingredients
1 tablespoon cooking oil½ kg smoked sausages, cut into ½ inch pieces2 medium carrots, sliced into ¼ inch slices1 stick of celery, sliced into ½ inch pieces1 onion, chopped1/4 cup chopped fresh parsley4 diced tomatoes1/4 teaspoon salt1/8 teaspoon pepper2 cups coleslaw mix
Recipe: Red bean and mushroom burger
By Chef Daniel Mungai(Emma Daniel Creations)
Method
Step 1: In a medium-sized saucepan, heat the oil over medium heat. Into the pan, combine the sausages, carrots, celery and onion and cook over medium heat, stirring occasionally every eight to 12 minutes. Do this until all the vegetables are crispy tender.
Step 2: Add all the remaining ingredients, leaving a bit of parsley for garnishing, and continue cooking. Stir every two to three minutes until the mixture comes to a full boil then reduce the heat to low.
Step 3: Cook for 20 to 25 minutes, or until the vegetables are tender. Sprinkle the remaining parsley and serve with bread or rice for a wholesome meal.
Fluffy Vegan Pancake
Want a perfect start to the day? Then try this fluffy vegan pancake that takesadvantage of the numerous health benefits of soya milk. Ingredients * 125g self-raising flour * 2 tbsp caster sugar * 1 tsp baking powder * A pinch of salt * 150 ml of soya milk preferably Nuziwa * ¼ tsp vanilla…
Kitchen tip
Start with a clean kitchen: If possible, don't start cooking until your kitchen is relatively clean. If you start with a clean slate, you'll be more motivated to keep it clean.
Clean while you wait: If you find yourself with some free time in the kitchen, do a bit of cleaning: put away cooking utensils that you're done using or wipe down the counters.
Let the water out of the sink right away: It's so gross to stick your hands in cold, greasy water. If you let water out right after you wash dishes, it's way easier to wipe out the sink.
Have a compost/trash bowl: Instead of throwing your food scraps onto the counter, it's much more efficient to place them in a dedicated compost bowl.
Separate items: Instead of having things scattered in your kitchen, it's much better to have similar things all in one spot.
Kitchen safety
Promote hand washing in your home by providing a dedicated hand washing station for your family so as to minimise cross-contamination and to let your family members have clean hands before touching any food. Handwashing with soap prevents illnesses and spread of infectionsto others. Encourage your family members to wash their hands for at least 20 seconds under running water after soaping up well.
Photo courtesy