SEARCH FOR A HOUSE LEADS TO A LIFE PARTNER
                When Parents magazine staff writer Henry Kahara, 27, and Elizabeth Wangari, 24, first met, none of them knew the encounter would bring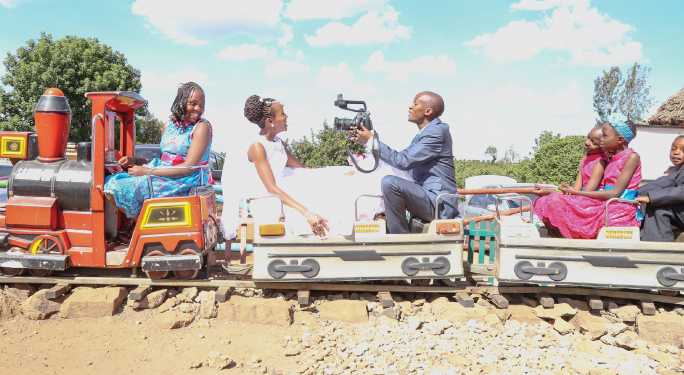 When Parents magazine staff writer Henry Kahara, 27, and Elizabeth Wangari, 24, first met, none of them knew the encounter would bring them together and for good. HENRY KAHARA gives us the inside story of how their relationship blossomed in spite of their busy schedules and their eventual colourful wedding.
When I met Elizabeth Wangari in 2013, I didn't know she would one day become my wife. I first met her while looking for a house in Mathare North estate. I had just lost a job and needed to relocate to a cheaper house.
On this day, Elizabeth, whom I fondly refer to as Lisa, was at the balcony of one of the flats reading The Power of a Praying Woman by Stormie Ormatian. If she was praying for a husband, then God answered her prayers. Being the only person in the vicinity, I enquired from her about the building.
She generously briefed me about the area and that was it. I left but my heart and mind wouldn't leave her. Her infectious smile would linger on my mind for months to come.
Although I didn't settle in that particular flat, I got a house nearby and would frequently pass by her flat hoping to catch sight of her. But I was unsuccessful as months passed without me setting eyes on her
But luck was with me when I met her one day at an Mpesa shop. We exchanged pleasantries and parted ways. I would blame myself many days thereafter for not asking for her contacts.
One evening while heading to church for fellowship, we bumped onto each other and I didn't hesitate to ask for her number. I also jokingly invited her for the evening service but she politely turned down the offer with a promise to attend some other time.
Thereafter, we started communicating and in the process we got to know each other better. Within no time, I had hopelessly fallen in love with her. Thank God the feeling was mutual.
I came to learn she was a hotelier at Safari Park Hotel. Her job was very demanding hence making it hard for us to meet. It didn't take long before I also got a job and our rendezvous became almost next to impossible, especially since our off days did not coincide.
However, we kept in touch through telephone conversations and met whenever our tight schedules allowed. By July 2015, the relationship had come of age and it was time to move it to the next level. I therefore proposed to her and she said yes.
I briefed my pastor on my plans to marry and he advised me on how to go about it. In December 2015,
I took Lisa home to meet my parents in Murang'a County. My mum was delighted about the move and she gave us her blessings.
In February 2016, I visited her parents with the intention of asking for their daughter's hand in marriage. Her mum was excited although she was hesitant to release her but I assured her Lisa was in safe hands, and indeed she is.
In May this year, my parents and I visited Lisa's home in Mang'u, Kiambu County, for a Kikuyu traditional ceremony – Kumenya Mucii (knowing the home).
On Madaraka Day, I went to her parents to fulfill dowry obligations. My parents, relatives and friends accompanied me.
It was during this ceremony that her parents blessed us and gave us the green light to start our wedding plans. And so on October 29, 2016, a journey that started three years ago culminated with the exchange of marriage vows at the Christian Church International, Igegania, followed by a reception at St Francis Girls, Mang'u.
Approximately 400 people attended the ceremony just as we had planned. Our wedding budget was Ksh250,000 and we were careful not to go beyond this figure. We pulled through with the help of friends and relatives who provided some of the services for free. Other service providers were well known to us and therefore extended discounts.
Buy a copy of the December issue to read this and many more