WANDIA GICHURU Revolutionising the Fashion Industry
In celebration of International Women's Day, ESTHER KIRAGU interviewed co-founder and managing director of Vivo Activewear, Wandia Gichuru. Vivo Activewear specialises in stylish, edgy and affordable women's attire. Wandia tells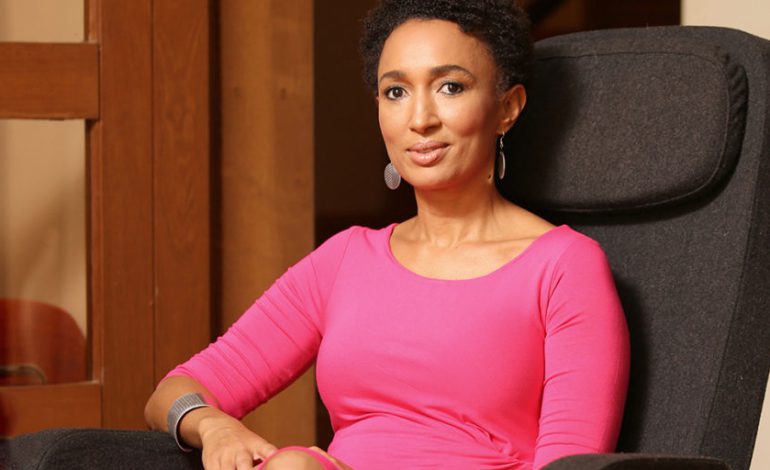 In celebration of International Women's Day, ESTHER KIRAGU interviewed co-founder and managing director of Vivo Activewear, Wandia Gichuru. Vivo Activewear specialises in stylish, edgy and affordable women's attire. Wandia tells of her journey of ditching an enviable career in the development world to build a successful fashion brand and also allows us a glimpse into her personal life.
It is often said that a woman with the right clothes can do just about anything because clothing impacts on one's outlook, demeanour and even personality. A while back, a lot of Kenyans did not believe that affordable and quality local clothing lines could become viable in Kenya. Today the story is different. "Made in Kenya" fashion brands such as Vivo Activewear have defied those beliefs.
I interviewed Wandia at Vivo's main offices and warehouse along Ngong' Road, Nairobi. As soon as I stepped into the office, I was met by a display of brightly coloured clothes, a perfect depiction of the brand's tagline – Life, Live it. Love it. A warm and jolly Wandia welcomes me to the warehouse and gives me the grand tour.
Our conversation veers from fashion, to motherhood, to her passion for fitness. She shows me video clips from her yoga classes, which she has been taking for the last six months. Clearly, she is keen about living a healthy lifestyle – emotionally, spiritually and physically. For a 48-year-old with two pre-teen daughters, I am impressed at her how fit she is and she looks fabulous too.
Born in Canada to a Canadian mother and a Kenyan father (deceased), Wandia is the only girl among her three siblings. She attained her primary and secondary education in Kenya before travelling to Canada to further her studies in economics at the University of Western Ontario. She then returned to Kenya and worked for the Kenya Wildlife Service and Citibank before heading to the University of Cape Town in South Africa to study for a Masters degree in business administration (MBA).
"At the time, Nelson Mandela had just been elected president of South Africa and there was a wave of enthusiasm and excitement in the country. My one year of study there turned out to be a wonderful experience as I got to tour different parts of South Africa and truly appreciate the beauty of the country." she says.
After completing her MBA in 1997, Wandia felt more inclined to work in the development field than the corporate world, and she returned to Kenya to join the World Bank. In 1999 she was hired as a governance adviser with the UK government's Department of International Development (DFID) where she worked for 10 years.
"Working for the UK government was very interesting as I was posted to different countries including the UK, US, Uganda and Sudan on policy-related roles. I gained invaluable experience and exposure, in addition to making friends from different cultures in different parts of the world. It was fun but eventually it became very tiring. Moving countries and continents with two kids was hectic. I missed home a lot and although I visited Kenya quite often, it always felt the time was too short. Eventually, I knew I wanted a change. I wanted to come back home," she says.
Her return to Kenya in 2009 after almost 12 years of being away was very exciting for her. Although she says she knew she did not want to be employed again, she wasn't really sure about her next move. "I had trained to be a life coach, an experience that was transformative for me but I did not know how to turn that into an viable income," she explains.
Founding and managing Vivo Activewear
In 2011, Wandia and her friend, Ann-Marie Burugu, were both taking dance classes in Nairobi and had a hard time finding affordable clothing to wear to a dance and fitness class. This became their 'aha' moment as they realised there was a gap in the market. They partnered to found Vivo Activewear, a women's clothing line inspired by their love for dance and fitness.
"When we began, we were importing mainly fitness and dance apparels as well as a small range of women's clothing from Thailand, China, South Africa and the UK. However, with time, we realised that the fitness and dance stock was not moving very quickly whereas our casual clothing line always sold out. We also noted we were missing out on potential clients as we could not offer a range of sizes because most of the imported clothes were small fits," she says. These served as vital lessons in business as they had to respond to market needs by importing less dance and fitness wear and increasing their offering of women's clothing.
As if the universe was aligning Wandia to the right path, she and her close friend Sally Karago (a leading Kenyan fashion designer) travelled to China together in 2013. During the trip, Sally urged Wandia to take a look at some of the fabrics that were on sale and consider the possibility of manufacturing clothes in Kenya.
"I decided to buy fabrics and send them to Kenya in a container. I had six weeks before the container arrived to figure out how I was going to manufacture clothes because I had no experience, location, tailors or equipment. But by the time the fabrics arrived, I had bought three machines, found two tailors and rented a little apartment. Today, I have about 14 people on the production side and Vivo produces approximately 50 per cent of all our stock,"
she says adding that having an in-house production division has addressed some challenges such as the high prices of imported clothes and the lack of control over sizes, quality, creativity and variation of products.
She admits, however, that the production process has not been easy and she has only managed to pull it together by hiring people who are more knowledgeable than her. She has also learned a lot on the go. Today, Vivo, which began with one retail outlet at The Junction on Nairobi's Ngong Road, has expanded to a chain of seven clothing stores operating in shopping malls in Nairobi and Mombasa. "This year we are trying to expand to other parts of the country," she says adding that she looks forward to a time when Vivo will manufacture 100% of their stock in Kenya and will become a regional and eventually an international brand.
Her word of advice to those with start-up ideas is: "Break it down into small bits and just start. It takes time to get to the ideal vision of what you want for your business but once you start, you will begin to really see what's possible and where you can go. The market will give you the information you need. There are lots of people with great ideas but they fall short on implementation. Also – when you begin, make sure you know your strengths and capitalise on them. Do not try to do everything. When I began Vivo, I was putting in insane hours and trying to do everything and it was not very productive. However, when I was eventually able to bring in a team with expertise who could help manage different areas, I was able to focus more on growing the brand."
On motherhood, parenting and friendships
Wandia is a mother to two daughters, 12-year-old Minke and 9-year-old Saskia. She is separated from the father of her children and says of him, "He is a good father and he loves his girls to bits."
She acknowledges that being self-employed gives her freedom to be more available for her daughters, not because she works less hours, but because she has the liberty to schedule her time better. She says her daughters are two very different individuals with unique personalities and therefore she treats them ways that best respond to their different characters. Wandia explains that she is more concerned about her daughters gaining life skills such as being team players, compassionate, standing up for what they believe in and having the courage to do the things that scare them – rather than simply being 'A' students.
Aware that for her to be at her best at being a mother and at her business she needs a great support system around her, Wandia has deliberately surrounded herself with great friends, some of who date back to her childhood days. "I live next door to one of my closest friends and she is like a sister. So even when I am away or running late, I am at peace knowing that my friend will always look out for my kids. I have also invested in good and well-trained house assistants who really help manage my home," she says.
Wandia wanted to create the closest thing to an extended family for her children since most of her immediate family is outside of Kenya. "A friend of mine comes from a very large family and so I practically adopted myself and my daughter into her family," she says humorously, and adds that they often hang out with her family and their children.
Regarding this year's International Women's Day and the 2016 theme, Pledge For Parity, Wandia, a feminist, believes women should not be put to a different standard than men or be required to play small. As we wrap up the interview she says, "I never want my daughters to grow up thinking there is a limitation to what they can achieve. I want to empower them and other young girls to be strong women for tomorrow."
Published March 2016