5 Tips and tricks for decorating a child's room
It can be challenging to decorate your child's room. You want to make it functional and cute for your little ones to enjoy spending time in it. With kids being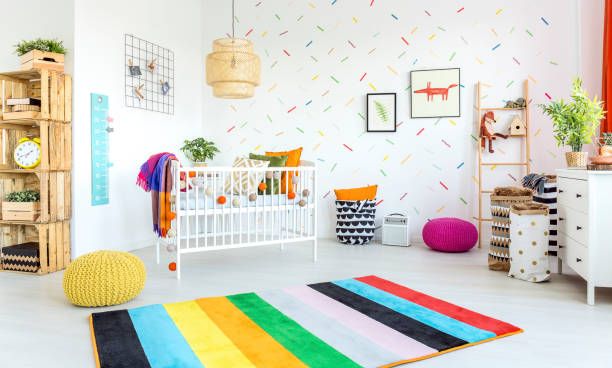 It can be challenging to decorate your child's room. You want to make it functional and cute for your little ones to enjoy spending time in it. With kids being indecisive and having different interests every other minute, you could implement the following tips and tricks to decorate a room that they would like.
Play around with colour
Choosing the right color for a child's room can be challenging. This is because kids usually change their favourite colour every so often, which could make them want to change the color of their room.
Instead, you could opt for a neutral colour for the wall paint and use the colour they pick for things such as bedsheets, rugs, pillowcases, etc. This will help brighten up the colour of your child's room without spending a lot if they decide that they don't want that colour in the future.
https://www.istockphoto.com/photo/modern-baby-room-gm649679566-118026073
Use prints and patterns
Using texture and patterns will make the room fun and exciting to be in for your little one. Prints can make a room go from plain to visually interesting even without colour, and who wouldn't want that for their child, right?
You could go the inexpensive way of using bedding that has prints or use wallpaper or decals to brighten up the child's room. You could also incorporate graphics by asking your child their favourite cartoon character or animal and not worrying about having a lot of work when they outgrow their taste.
Image: Pinterest
Arrange the furniture wisely
The room should have different and distinct areas for sleeping, playing, enjoying and learning. When you provide these systems, your child doesn't get overwhelmed. You can incorporate a lot of storage by picking multipurpose furniture that could be functional and aesthetic.
You could also install open shelves that could be out of reach for younger children but helpful in storing and decorating the room. This could also help to keep the child more organized.
Adding your child's personal touch to their bedroom
When decorating your child's bedroom, ensure that it inspires them to express themselves, develop interests and harness their talents.
Create work and play zones
Creating distinct work and play zones helps your child to stay organized. They know that the different areas are for other things and don't mix them up as if they were undefined.
Set up one side or area of the room with cabinets, a desk and a chair for homework, board games and even create art. By placing the study table near a window, you could motivate your child and make their study time better and more enjoyable. They could also have a nicely lit area for their toys or where they'd play video games for playtime.
https://www.istockphoto.com/photo/beauty-toys-in-childs-room-gm483097318-70039657
Keep the room simple and cosy
When it comes to decorating a child's room, less is more. You could minimize the amount of furniture in their room to give them plenty of floor space to move around in and play. Keeping it simple makes it easier to upgrade their décor to suit their needs and preferences as they grow up. This also helps to prevent overstimulation caused by clutter which could lead to anxiety.
Also, make the room cosy with things such as a body pillow, stuffed animals or even a soft weighted blanket.
One thing to keep in mind is to take your child's preferences and habits. You can encourage your child to get involved in the decorating process, which ends up being a fun bonding opportunity. Also, don't forget to leave room for updates!
Celebrate the month of love with the February issue of Parents Magazine!
Gracing the cover are music producer Jacky B and his wife, actor Brenda Michelle.