DCI to investigate Nyahururu teachers who tied pupils to a tree
A multi-agency task force, led by Nyahururu sub-county Deputy County Commissioner, is calling on the Department of Criminal Investigations in Laikipia West to launch investigations on an incident where senior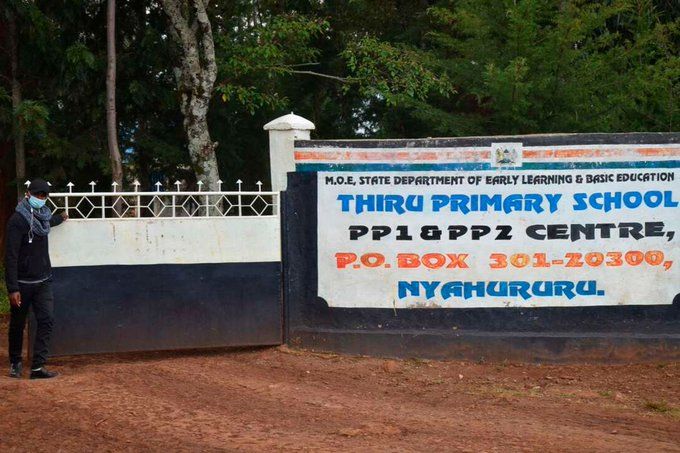 A multi-agency task force, led by Nyahururu sub-county Deputy County Commissioner, is calling on the Department of Criminal Investigations in Laikipia West to launch investigations on an incident where senior teachers at Thiru Primary School in Laikipia West reportedly tied three pupils to a tree as punishment.
Photos that have since gone viral on different social media platforms attracting public outrage show the three children tied to a tree with a rope. The DCC wants the DCI to open investigations on the school's headteacher Shelmith Thimba and her deputy David Maina who allegedly tied the children to the tree as punishment for truancy before taking the children's photos and posting them on the teacher's WhatsApp group.
Image: Kenyans.co.ke
The multi-agency task force visited the school on Wednesday and collected statements on the incident from teachers and pupils.
Education officials in the County have come out to condemn the incident with Laikipia County Director of Children Services Ezekiel Mwanza terming the incident as inhuman.
"It is unfortunate that our children can be subjected to such inhumane treatment and this is why we are here as a department to give support to our children in terms of child protection intervention."
The two senior teachers are expected to face disciplinary action once investigations are over.
Should students' crimes remain a permanent record? – children's rights with lawyer Bobby Mkangi
Children too have rights and are protected in the constitution of Kenya. In this episode, Lawyer Bobby Mkangi explains to us what the law says about the prot…
Featured Image: Nation