Deputy President Ruto is the most protected DP in Kenya's history, says Matiang'i
Deputy President William Ruto is the most protected DP in Kenya's history. This is according to Interior Cabinet Secretary Fred Matiang'i.  Speaking while appearing before parliament's committee on Administration and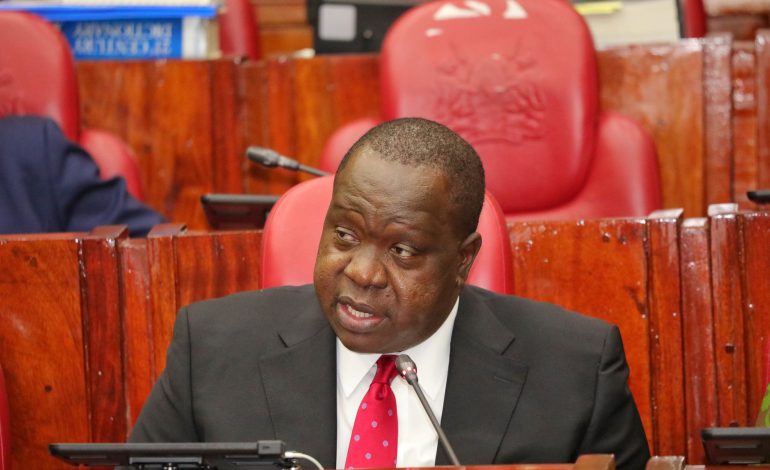 Deputy President William Ruto is the most protected DP in Kenya's history. This is according to Interior Cabinet Secretary Fred Matiang'i.  Speaking while appearing before parliament's committee on Administration and National Security on Wednesday, the CS said that Ruto has a total of 257 police officers guarding him on a daily basis.
"We were not downplaying DP Ruto's security when we made the re-arrangements. The re-arrangement was initiated by the Inspector General for the reasons I cannot explain here in public. We informed the Deputy President as it is routine to do so," Matiang'i told the committee.
Matiang'i appearing before the parliamentary committee. Image/ Twitter
The CS told the committee that there are about 4000 security personnel in the country who are supposed to protect VIP and VVIP adding that the president deputy are protected by a special unit called the Presidential Escort Unit.
However, from the batch, 257 guard the deputy president in which 51 of them guard the Deputy's ten private properties situated across the country.
KMPDC revokes Ruai Family Hospital's license over Covid-19 vaccine regulations breach
According to a statement released by KMPDC on Tuesday, the hospital which was one of the Covid-19 vaccination centers has been diverting vaccines to unauthorized premises.
Matiang'i further added that the DP's Karen residence is, by law, not a state lodge or a statehouse. "The law is very clear it is his residence… we in the security sector work to be right in terms of making decisions and not to being popular but right," he added.
How to find your purpose in pain and mistakes with Ken Kamau |Parents Magazine|
When Ken Kamau was choosing a name for his Facebook account, he settled on Sky-V-Ken, perhaps a representation of his belief that faith instead of fear can g…
Featured Image: Citizen TV