KMPDC revokes Ruai Family Hospital's license over Covid-19 vaccine regulations breach
The Kenya Medical Practitioners and Dentists Council (KMPDC) has revoked the operating license of Ruai Family Hospital and ordered that all in patients be moved to other healthcare facilities after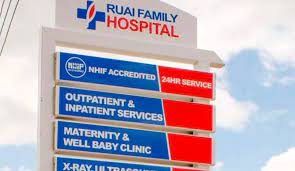 The Kenya Medical Practitioners and Dentists Council (KMPDC) has revoked the operating license of Ruai Family Hospital and ordered that all in patients be moved to other healthcare facilities after the hospital allegedly contravened Covid-19 vaccine regulations.
According to a statement released by KMPDC on Tuesday, the hospital which was one of the Covid-19 vaccination centers has been diverting vaccines to unauthorized premises. The council also accused the hospital of carried out the vaccination exercises in an uncontrolled environment, wherein the quality and efficacy of vaccines cannot be ascertained and thus endangering public safety."
The council further directed the management of the healthcare facility, together with all personnel that were involved in the vaccination exercise, to appear before the Council's Disciplinary and Ethics Committee on Wednesday, September 1, 2021.
Kenyans wait to receive the vaccine at the KICC in April 2021.Image| voanews
While responding to the allegations, the hospital's management admitted that one of the nurses had been spotted conducting vaccination in a political gathering in Murang'a county but maintained that the said nurse was not under any directive from the hospital.
Kenya launched its Covid-19 vaccination campaign in March this year. However, the campaign has been marred with difficulties including illegal sale of the vaccines in some centres as well as the laxity of Kenyans to get the vaccine.
Currently, approximately 2.75 million doses of the vaccine have been given with the government hoping to have administered 10 million doses by December, 2021.
How to find your purpose in pain and mistakes with Ken Kamau |Parents Magazine|
When Ken Kamau was choosing a name for his Facebook account, he settled on Sky-V-Ken, perhaps a representation of his belief that faith instead of fear can g…
Featured Image: Citizen Digital