Notify Logistics launches entrepreneurs' program for small businesses
Notify Logistics, a leading growth accelerator for small businesses in the Kenyan retail sector, on Monday, 30th August  launched the Notify Entrepreneurs Program in a bid to support small business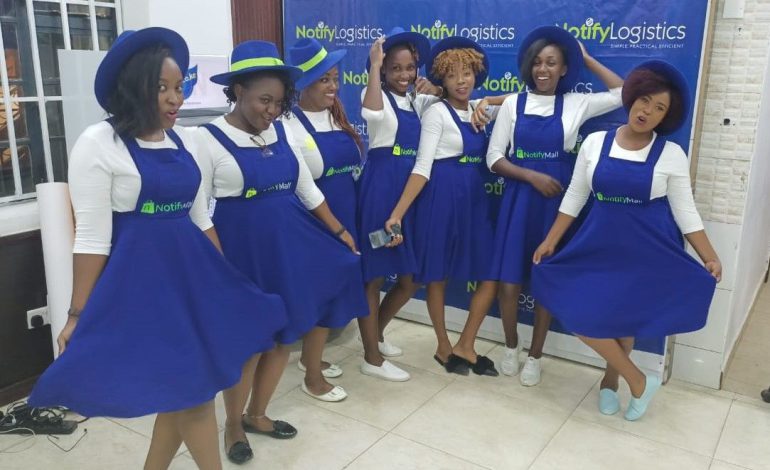 Notify Logistics, a leading growth accelerator for small businesses in the Kenyan retail sector, on Monday, 30th August  launched the Notify Entrepreneurs Program in a bid to support small business owners by reducing the cost of operations.
This comes after the firm recently raised KES45M in a seed round which is now being channelled to the Notify Entrepreneurs Program to ensure more entrepreneurial ventures come into existence and thrive in the retail sector.
Currently, Notify has availed retail spaces in the Notify Malls located in Nairobi, Eldoret, Nakuru and Mombasa and is urging more entrepreneurs to take advantage of the innovative business approach to which will provide affordable business space at an annual fee of KES20, 000 in any Notify Mall for 1 year fully serviced with shop attendants and licenses.
Notify Logistics CEO, Steve Waweru Nderitu with Notify Mall attendant
"According to Kenya Association of Manufacturers (KAMS) there are about 7.41 million MSMEs in Kenya with 5.85 million being unlicensed. This high number of unlicensed SMES indicates that this is the right time to create room for SMES to thrive and grow and Notify is ready to support these businesses" noted Notify Logistics CEO, Steve Waweru Nderitu.
According to him, the program will not only benefit new entrepreneurs but also those affected by Covid-19.
The program also offers access to products from manufacturers, access to investors, a 10-week entrepreneurship training, e-commerce support through their website, and free countrywide delivery. Additionally, retailers stand to benefit from the photography and marketing services the company has been offering its clients.
"We are thrilled to welcome entrepreneurs and small businesses from across the country to join the Notify Entrepreneurs Program as we accelerate them to the next level in their businesses "stated Hellen Nderitu, co-founder at Notify Logistics.
LSK President Nelson Havi and wife Fellicine get candid on love and life
Nelson Havi and his wife grace the August issue of Parents. For this and more, get your copy of Parents Magazine today! A digital copy is available at epaper.parentsafrica.com