How to be safe on Kenyan roads this Easter
Easter season is around the corner and there, no doubt will be lots of travel as people seek to catch a break from busy work schedules. Unfortunately, traffic accidents tend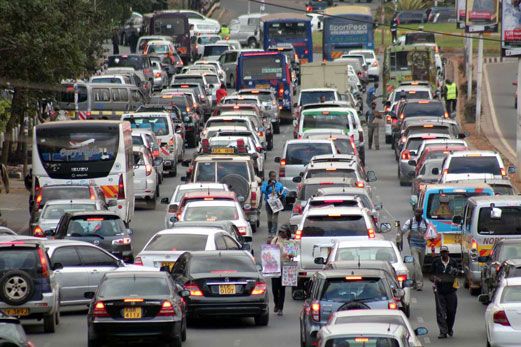 Easter season is around the corner and there, no doubt will be lots of travel as people seek to catch a break from busy work schedules. Unfortunately, traffic accidents tend to increase any time there are festivities. While accidents are sometimes inevitable, other times it's due to human error.
This Easter,  here are some of the things you can do to stay safe on the roads:
Wear reflectors when riding or jogging
Walking or cycling on the roadside is often dangerous especially at night due to poor visibility. Therefore, to avoid accidents that may occur due to invisibility, it is good practice to wear a reflector.
Do not idle by the roadside
Whenever you go out, make it your goal to be as quick as you can. If circumstances force you to be on the road longer than expected, give yourself distance from the ongoing traffic. Do not sit or sleep by the side of the road.
Use the footbridges and tunnels
Photo by drown_ in_city / Unsplash
This goes without saying; using a footbridge or tunnel is much safer than the run most road users opt to do while crossing the road. The footbridge will save you and drivers the distress of having to watch each other yet the road is specifically meant for speeding vehicles. It may be tiring to climb up and down a footbridge but it is safer than going head to head with vehicles.
ALSO READ: Baby car seat safety tips to consider when travelling with children
If you can, avoid getting stuck in traffic
Getting stuck in traffic also increases your vulnerability to road accidents and road rage. If possible leave early before the snarl-up or use alternative routes. Getting stuck in traffic makes you susceptible to fender benders which take time to resolve.
Keep your windows up
When driving in heavy traffic, keep your windows rolled up. Pickpockets and hijackers use snarl-ups to their advantage and you leaving the windows open makes it easy for them to attack you.
Never leave children unattended
Danger does not register easily in the brains of children because they are young and vulnerable to impulsiveness. Therefore, whenever you are using the Kenyan roads with a child, never allow them to walk on their own. Where possible, hold their hand as you walk and do not let them out of your sight even for a moment.
Photo by Adrien Bruneau / Unsplash
Stay off your phones while driving/using the road
Contrary to popular opinion that women can multitask, what they really do is switch from task to task. Therefore, when you use your phone while driving, your focus will shift from your driving to the content on your phone. This is likely to lead to the worst case of accidents.
For pedestrians, your phone while walking on the road is dangerous. There are many cases where pedestrians have been injured after falling into manholes or walking into oncoming traffic. In the same breath, do not use your earphones while walking on the road.
Lessons from a roadside robbery
[https://parentsafrica.com/content/images/wordpress/2014/10/201410-ithappened.jpg]Incidences of carjacking and robbery are reported to be on the increase inKenya.No place is safe and most Kenyans worry about being attacked on the roador in their homes. WANGARI MWANGI narrates a victim's first-hand experienc…
If drank or incapacitated call a taxi
Alcohol and other drugs impair your judgement. When going for a night out with friends, have one person who stays sober and who can drive you home, otherwise call a cab, instead of driving yourself.
Also never get intoxicated without company you can trust with your life. this individual should be in a better position to help you get home.
Celebrate inspiring women with the March issue of Parents Magazine
On this issue Patience Nyange, one of Taita Taveta's gubernatorial aspirants shares her quest to give a voice to the voiceless; as we celebrate Maxine Wahome
Featured Image: Traffic in Nairobi. Source| Dennis Onsongo (Nation Africa)