Kathy Kempff : Empowering children through education
In 2012, Kathy visited Kenya on a philanthropic trip to build a borehole at an orphanage. She realized that most children in the orphanage could not afford to pursue higher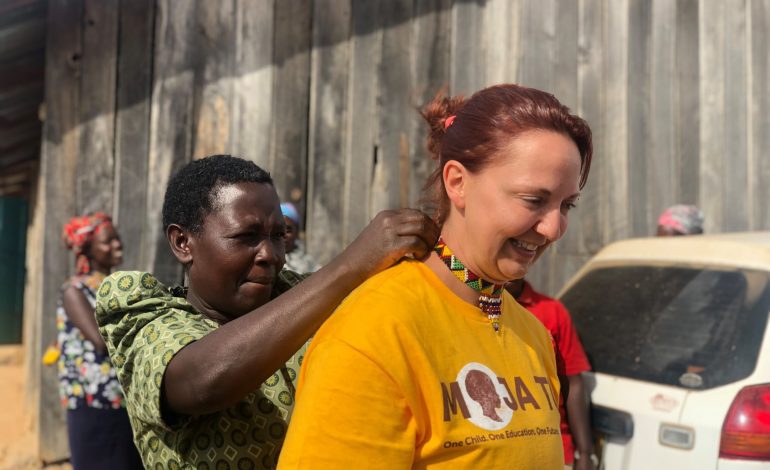 While growing up, education was central to Kathy's life. Her father was adamant about how essential it was to get an education as a woman to be competitive in the job market. She speaks to Maria Manu about Moja Tu,  which is her life's legacy and passion.
Born and raised in La Paz, Bolivia, Kathy Kempff was a bright student. She understood at a young age that to be successful in a market dominated by men, she had to work hard in her studies with her eyes set on earning a spot at the University for higher education. Her dreams came to life when she moved to Austin, Texas at 17 years to pursue a Bachelor's degree in Management Information Systems at Texas University. Moving from home to another country alone was scary, but she was determined to achieve her goals. She focused on her studies, took extra classes, and attended summer school, which allowed her to graduate within three years.
"I graduated when I was 20 and entered the job market. I have been working since I was 21. My entire career has been dedicated to working for organizations or companies that service the non-profit space in technology or fundraising. My expertise is to help non-profits be better fundraisers," she said.
Working in a non-profit space is Kathy's passion and in it she has found her life's purpose. It was this passion that led her to start Moja Tu, an organization that sponsors children in their education to help break the cycle of poverty in their families. Although Kathy and her husband don't have children, the many kids she has helped have become like her own.
The journey of Moja Tu
In 2012, Kathy visited Kenya on a philanthropic trip to build a borehole at an orphanage. While volunteering at the children's home, Kathy was touched by how happy the kids were, even though they didn't have much. She wanted to help and asked Joyce, one of the children at the home, what she needed. To her surprise, Joyce did not ask for a toy, new shoes, or clothes. She wondered if Kathy could pay for her education. This made Kathy realize that many students from impoverished areas in Kenya couldn't afford to go to secondary school, and she came up with an idea to help them.
"When I talked to Joyce, I realized that I was fortunate to have had the opportunities I had in my life. I wanted to help this young girl and many other students attend school. After returning home, I resigned from my work within 30 days and started to plan how to start Moja Tu," she says.
Moja Tu is a Swahili word that means just one a name that she coined because she only wanted just one sponsor to support a child in their education. She reached out to her friends and family, who were supportive and agreed to sponsor the students. In January 2013, Moja Tu was officially launched. While Kathy handled the logistics of the organization from Texas, a team in Kenya ensured all organization's tasks were running smoothly.
Initially, Kathy had envisioned helping 30 students go to school. However, she did not envision that this would only take six months to achieve.  This motivated her to help even more children over the years. Every year, Kathy has been raising funds to buy uniforms for all the children in Dreams and Sons of Manasseh children's homes, which are Moja Tu partner homes in Kenya. In the last 9 years, 200 students have been sponsored, from primary to secondary, with 60 being in university. Some students have also been able to finish school and get jobs, with two alumni now managing the organization.
"Moja Tu has opened up the students' minds to possibilities of what their lives would become if given a chance. The students can now dream big, be fearless in achieving their goals, and come out of their shells," she enthuses.
Through Moja Tu, Kathy has also achieved her dream of creating a one-to-one connection between students and their sponsors. This connection, she says, has helped the sponsors be more engaged as they can see the student's growth. To maintain interaction between students and their sponsors, Moja Tu uses Skype calls and organizes mentorship programs for the students. Moreover, sponsors and students exchange letters and the former make annual trips to Kenya to visit the students.
Almost a decade since Moja Tu was born, Kathy is happy that her initiative has changed the lives of hundreds of students.
"Seeing students grow from how they joined Moja Tu to achieving huge milestones in their lives motivates us to continue empowering more students. We want to create a movement of young adults who will bring change to their families and communities," she says.
While Moja Tu was Kathy's brainchild, she is extremely grateful to the sponsors who came along to support her. She is even more appreciative of her husband who has been supportive by offering his time and resources for the success of Moja Tu.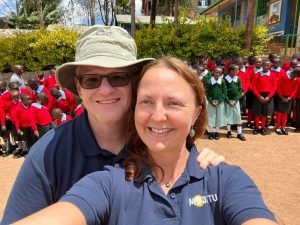 A new lease via Moja Tu
One of the beneficiaries of Moja Tu is David Kuria a student at Kenyatta University. For David, Moja Tu was nothing short of a miracle. David a second born in a family of three lost his parents at a young age. As a result, he and his two sisters went to live with their grandmother. Unfortunately, she wasn't financially stable and couldn't take care of them forcing them to move to Dreams Children's Home in Matasia, Ngong when he was 9 years old. , David Kuria and his sister went to live in . Life in the home was not easy but he was grateful that he and his sisters had a place to stay
"Life in the children's home was not easy as there were many kids. It was difficult to get that motherly love and care," he recalls.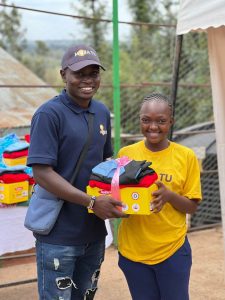 After joining the orphanage, he was enrolled in Ole-Matesani primary school. This came with its own hurdles as he had to walk 2 kilometers to school every day, sometimes without lunch. However, he was not discouraged and worked hard in school. His efforts paid off and he joined Kiru Boys in Muranga for his secondary education. He later sat for his Kenya Certificate of Secondary Examination (KCSE) in 2017 and got a B-, which secured him a spot at Kenyatta University.
"I did well in my KCSE and was called to join Kenyatta University to do a Bachelor of Science in Computer Science," he said. Unfortunately, the children's home couldn't afford to pay his fees and he risked loosing his spot. During the long period before students joined university, David kept looking for a way to join school and he applied to Moja Tu.
As he waited to hear from Moja Tu, another applicant, Franklin,  who had also applied for sponsorship from Moja Tu came to live at Dreams children's home in April 2018. Franklin had health problems and he was later diagnosed with cancer and had his leg amputated. Since David was still in the children's home, he cared for Franklin, and they became best of friends. When Kathy came to Kenya to visit Franklin, he requested that she help David attend university. Unfortunately, Franklin succumbed to cancer a few months later, but his last wish came true as David got a scholarship.
"Kathy asked Franklin what he wanted, and he suggested I be sponsored. He said it would be his joy to see me go to school. It was a miracle how I got to join Moja Tu," he narrates.
In September 2018, David joined Kenyatta University and is set to graduate in 2023. This opportunity has opened many doors for him, among them, playing softball and join the Kenyan team. He has also learned leadership skills as a team leader in Moja Tu, which have been vital in his life. This year, he travelled to South Africa to represent Kenya in the Under 25 World Cup Qualifiers for softball.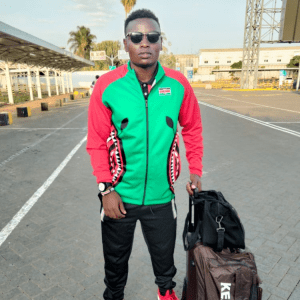 David hopes to start his own IT company and give back to the community, a virtue he learned in Moja Tu. Getting an education has opened doors of possibility in his life, and he believes the sky is the limit.
FEATURED PHOTO: Moja Tu