Meet Kamala Harris's extremely supportive husband, Douglas Emhoff
On Saturday, Kamala Harris was voted as the first woman, first black person and first person of South Asian descent to become the vice president-elect of the United States. But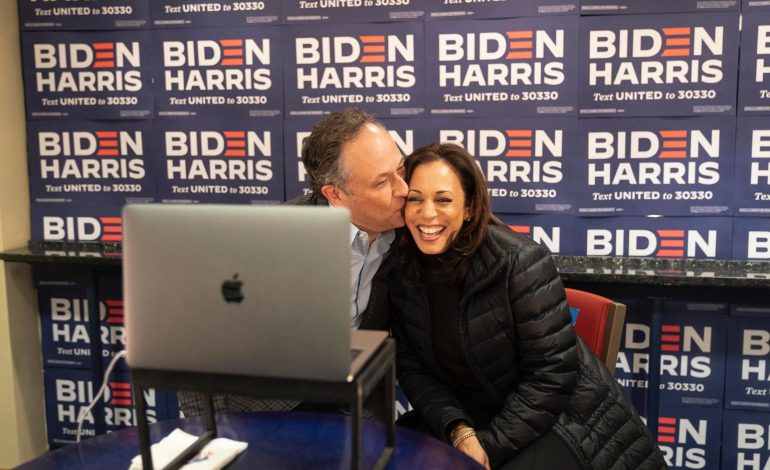 On Saturday, Kamala Harris was voted as the first woman, first black person and first person of South Asian descent to become the vice president-elect of the United States.
But the truth is, Kamala did not do it alone. Behind the ever-vibrant California Senator is a supportive husband, Douglas Emhoff, who never left her side during the many campaign trails.
Emhoff, a successful entertainment lawyer of Jewish descent, paused his 30-year old career to support his wife's political ambitions.
So proud of you. ❤️❤️🇺🇸🇺🇸 pic.twitter.com/Orb1ISe0dU
— Doug Emhoff (@DouglasEmhoff) November 7, 2020
However, Emhoff did not fancy the spotlight so he was mostly seen at the backstage or the edge of the crowd at Harris' events donned in a 'Kamala' t-shirt. Whenever his wife broke into a dance during her campaigns, Emhoff would show his support by nodding and clapping. But rarely did he go to the stage. Nonetheless, he is active on social media and often retweets Biden and Kamala's posts.
After Harris and Biden won the elections, Emhoff tweeted, "so proud of you" and attached a picture of him and Harris hugging.
Dr Amakove Wala shares 6 life lessons on career, motherhood, marriage and divorce
Get your copy! the eclectic Dr Amakove Wala shares crucial life lessons on reinventing oneself, building a successful career, integrating parenting with other aspects of life, marriage and divorce. Digital copy available.
Emhoff shot into the limelight last year when he rushed on stage to protect his wife when a protestor was just about to grab the senator's microphone.
The American lawyer also came to the defence of Harris when Donald Trump Jr retweeted an inaccurate tweet that Harris is not a Black American because her parents are Jamaican and Indian.
Harris and Emhoff met on a blind date in 2013 which was arranged by Harris's best friend when Harris was California's attorney general. At the time, Emhoff was divorced from Kerstin Emhoff with whom he sired two children with – Cole and Ella.
Parents Magazine ePaper
Read an ePaper copy of Parents Magazine. Caring for you and your family.
Emhoff proposed in 2014 and they got married later that year in a ceremony officiated by Harris' sister Maya. Shortly after the two got married, Emhoff's children named Harris 'Momala' because they felt the name suited better than 'stepmom'.
"My family means everything to me. And I've had a lot of titles over my career, and certainly, 'Vice President' will be great, but 'Momala' will always be the one that means the most," Harris said in her first speech after Biden chose her to run with him for the White House.
Featured Image: Kamala Harris and her husband Douglas Emhoff at a previous Biden and Harris campaign. [Source: Douglas Emhoff/Twitter]