President Kenyatta fires Commissioner General of Kenya Prisons Service
President Uhuru Kenyatta yesterday sacked the Commissioner-General of the Kenya Prisons Service Wycliffe Ogalo after a breach at Kamiti Maximum prison led to the escape of three terror suspects. In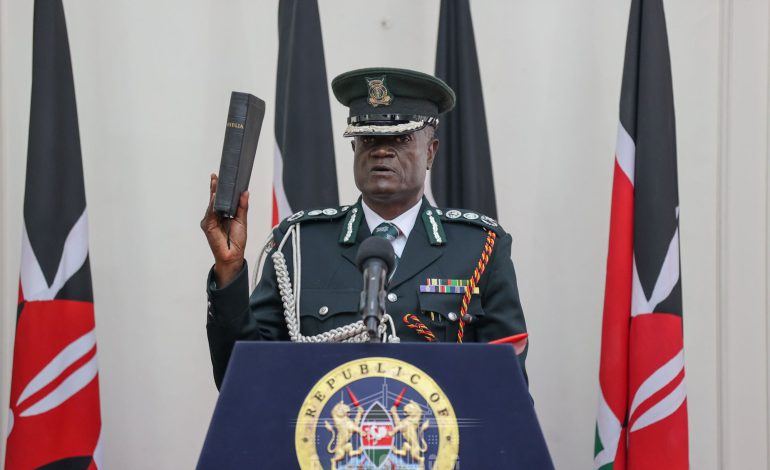 President Uhuru Kenyatta yesterday sacked the Commissioner-General of the Kenya Prisons Service Wycliffe Ogalo after a breach at Kamiti Maximum prison led to the escape of three terror suspects.
In a statement, the President appointed Brigadier (Rtd) John Kibaso Warioba and witnessed his swearing-in at Statehouse as a replacement for the position.
According to the statement, the appointment was made after a briefing from the ministry responsible for correctional services regarding the security breaches at the Kamiti Maximum Security prison.
Back to the playground
According to MOH protocols, the games to be played will have little or no instances of touching or holding each other.
"The briefing noted the compelling public interest in the matter and the need to entrench accountability in the ranks in the leadership of all security organs; in honour of the many Kenyans who have lost their lives and the enormous sacrifices made by all Kenyans and particularly the security organs to disrupt, dismantle and defeat terror networks" read part of the statement.
The head of state concluded the statement by urging Kenyans to volunteer any information that may lead to the tracing of three escapees. He further encouraged Kenyans to remain vigilant and report any suspicious activity to the security agencies as a way of defending and protecting our freedom and our way of life.
The November issue of Parents Magazine celebrates single parents
Up-close and candid with Ghetto Classics founder Elizabeth Njoroge on music, navigating motherhood, and single parenting.Maria Muinde on finding healing after being accused of her husband's death and being a voice for widows..
Featured Image : Statehouse Kenya Twitter