This could be the second wave of Covid-19 in Kenya
Kenya could be experiencing a second wave of Covid-19 as hospitals are full and getting a bed at the Intensive Care Unit has become a nightmare. Many patients have been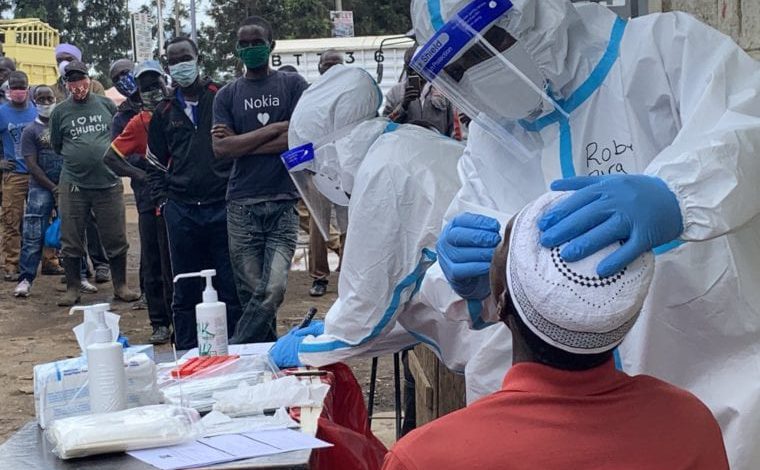 Kenya could be experiencing a second wave of Covid-19 as hospitals are full and getting a bed at the Intensive Care Unit has become a nightmare. Many patients have been turned away due to lack of space, which is an indication that we are approaching a health crisis.
In the past one week, 4,350 people have contracted Covid-19 bringing the total number of infections in the country to 49,997. The death toll has also increased with 920 people succumbing to the deadly virus.
The surge in infections has forced private hospitals such as Nairobi Hospital to set aside some wards for Covid-19 patients.
Covid-19 tests will now be cheaper and faster
It will now cost you less and take you a shorter time to get your Covid-19 results, courtesy of a new deal launched by the World Health Organization (WHO).
"This is to inform you that the hospital has been experiencing a surge in the number of Covid-19 cases requiring admission," the acting chief executive officer at Nairobi Hospital Margaret Sirima told her staff.
Covid-19 patients have not been interacting with other patients in the hospital. But with the current surge in infections, there is an urgent need for more space.
"Nairobi Hospital, in partnership with the United Nations, is finalizing the UN-Nairobi Hospital Covid-19 treatment facility that will create a 140-bed ultra-modern facility," Ms Sirima said.
List of 20 Kenyan companies that fired employees amid COVID-19 pandemic
Companies have been struggling to stay afloat amid the covid-19 pandemic. Manyhave either fired employees, sent them on unpaid leave or permanently shut downthe company. According to reports, more than one million Kenyans have lost jobs during thisperiod as well. 20 companies and industries t…
But things are not the same at Aga Khan Hospital. The hospital is not admitting any new Covid-19 patients because the hospital is full, the chief of staff, Dr Majid Twahir said.
According to a series of tweets posted by a Dr Chaudhry based at the Aga Khan Hospital in Nairobi, dozens of Covid-19 patients have been turned away due to inadequate space.
"Just finished a shift at the hospital. We are overwhelmed. Dozens of COVID patients being sent away due to lack of beds. The few who get one, are very sick. We need a circuit breaker shut down," Dr Chaudhry tweeted.
The tweets, which have now been deleted, continued to paint the dire situation at one of the biggest private hospitals in Kenya.
"Plans in place to open the field hospital. There is a large influx of patients from outside Nairobi. We need some restrictions from Govt level. Expecting social responsibility is a fools hope," the doctor added.
Parents Magazine could not verify whether these tweets are true, but Dr Majib Twahir confirmed that the Aga Khan Hospital is indeed full.
Kenya given go-ahead to start Covid-19 vaccine human trials
Kenya has been given the go-ahead to begin Covid-19 vaccine human trials on 40 volunteers by the relevant authorities.
The same case applies to Nairobi West Hospital where they are also turning away new Covid-19 patients.
"Referral framework may be a thing of the past because we are flooded. We're seeing patients with sugar problems and blood clots; we're receiving patients from the city's periphery," the Covid-19 team leader at Nairobi West Hospital, Kibet Shikuku said.
There has been an influx of critically-ill patients at the hospital from four to 26 patients.
Kenyan patients participate in Covid-19 clinical trial
Roche Kenya Ltd has enrolled Kenyan patients in a Covid-19 clinical trial called EMPACTA.The clinical trial is being conducted at the Clinical Research Unit of the Aga Khan University Hospital in Nairobi.
"… We have outgrown our critical unit space as we try the best we can to attend to them," Dr Shikuku said.
According to the Kenya Medical Practitioners and Dentists Council, there are 273 health facilities in the country with a bed capacity of 7,612. Out of those, 319 are ICU beds for critically ill Covid-19 patients.
Featured Image: Kenyans lining up to be tested for Covid-19. [Source: KBC]
Parents Magazine ePaper
Read an ePaper copy of Parents Magazine. Caring for you and your family.