PROPOSAL ON THE FIRST DATE
They say life is a leap of faith and Paul Musungu Makokha embodies the saying. Despite asking the love of his life, Lillian Esther, out several times, she repeatedly said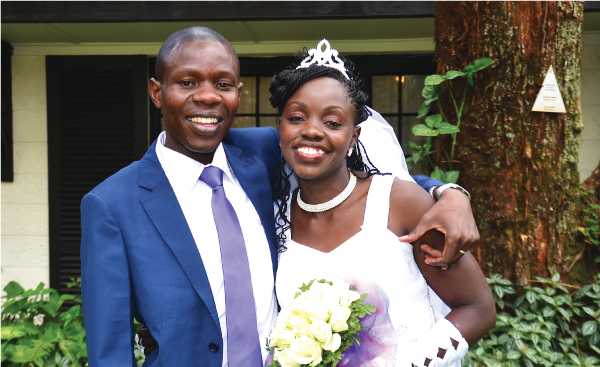 They say life is a leap of faith and Paul Musungu Makokha embodies the saying. Despite asking the love of his life, Lillian Esther, out several times, she repeatedly said no. However, the one time she said yes, he left nothing to chance and chose to propose. They share their love journey with ESTHER AKELLO.
In 2012, Lilian and Paul Musungu, both lawyers by proffession, were nothing to each other but law students who shared common lecture theatres at Mount Kenya University. It was only two years later that the two realised they had more in common than they thought.
"In 2014, after sharing a class, I got time to talk to Lillian closely and realised that she was in charge of organising the logistics around a trip for the teens in her church. Coincidentally, I was also doing the same thing in my church. The more we spoke, the more I realised we had shared interests. I started liking her more than just a fellow student," articulates Paul.
However, things were not about to be that easy. Every time Paul asked Lillian out on a date, she said no. She was, however, willing to be a good friend to him. Not one to give up easily, Paul kept at it and six months later, Lillian agreed to their first date.
"I was not expecting anything from him and accepted the date to avoid dissapointing him," says Lilian. But she was in for a big suprise . Paul Proposed!
"We were having lunch and talking about nothing in particular. It has been so difficult to secure a date with this lady that when I got the chance, I did not want to waste it," chuckles Paul.
He adds, "The irony is despite knowing what I wanted to say, I was not sure how to say it. I was so unsettled and restless and made so many trips to the washrooms before I finally gathered the courage to go for it and without any drama or fanfare, I asked her if she would marry me."
Caught unawares, Lillian declined to give an immediate answer. "I requested for time to think things through and pray over the matter. Additionally, there were times when he would say something serious as a joke so I needed to be sure he was serious," says Lillian.
The proposal set the ball rolling as four weeks later, Lillian said yes. The couple's love continued to blossom but that did not mean they were safe. Trouble blew into paradise from time to time. "There are many times when we gave each other the silent treatment due to differences in opinions or decisions. My character is such that I treasure quality time between us and would get upset whenever she seemed too busy. Eventually I learnt that she loved me even when busy," says Paul.
Lillian adds, "We have learnt to solve our differences by ensuring we both give and take. Sometimes sharp differences arise but we have learnt to discuss our issues openly and in a calmer tone. We pray as well."
As a lesson from past relationships, which had looked promising but did not work out, the couple decided to keep their wedding plans a secret.
"By the time we disclosed to our families about the wedding, we had courted for eight months and settled on everything we wanted including service providers. Our wedding committee had a pretty easy time as we had done meticulous planning, amounting to a budget of about Ksh 500,000," says Paul.
On August 29, 2015 the couple became husband and wife in a colourful wedding boldly themed in purple, black and white. The ceremony was held at A.C.K St Stephen's Church, Waithaka and a reception followed at the Kabete Technical Training Institute. The couple had invited 400 guests comprising of friends and family and capped their wedding with a honeymoon in Mombasa County.
Published in January 2015