5 killed, 12 injured after train rams into a lorry in Ruiru
On Monday, five people died on the spot, and several others were left injured after a train rammed into a lorry in Ruiru, Kiambu county. The driver of the lorry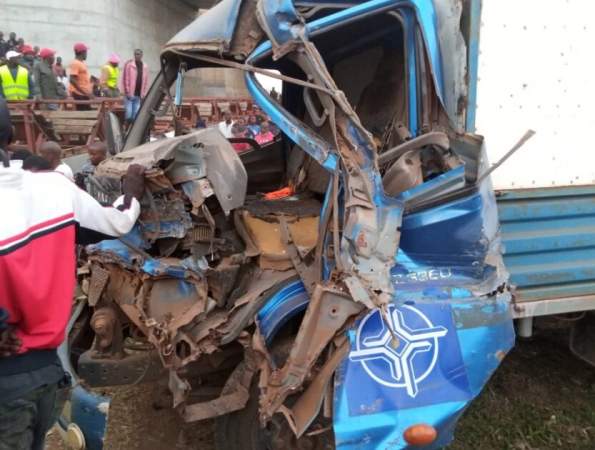 On Monday, five people died on the spot, and several others were left injured after a train rammed into a lorry in Ruiru, Kiambu county.
The driver of the lorry which was ferrying construction workers underestimated the speed of the oncoming train leading to a horrible crash. Some of the lorry's passengers attempted to avoid the impending collision by jumping from the vehicle but were knocked down by the train.
According to Kiambu County Police Commander Muchangi Kioi, five died on the spot while 12 others are receiving medical attention after sustaining serious injuries. Police had a difficult time controlling the crowd, which claimed that more people were trapped beneath the train after it collided with the lorry.
At least 50 feared dead in Nigeria church attack
The attackers struck the St. Francis Catholic Church in Ondo state just as worshippers were gathering on Pentecost Sunday.
"We will continue to monitor the situation of those still receiving treatment at various hospitals but we want to warn the public to approach railways crossing areas with caution. It's better to stop and wait for the train to pass instead of having such incidents," Muchangi said.
The aftermath of the deadly crash was captured in photographs and showed the wreckage of the lorry which was ruined beyond repair. The ill-fated lorry is owned by a Chinese Manufacturing company.
ALSO READ: Pilot who performed in KDF airshow dies in similar show in Zimbabwe
A statement from the Kenya Railways confirmed the accident saying those who sustained injuries were rushed to the hospital. They also urged members of the public to always use designated Railway Level Crossings to avoid collisions and accidents on the train tracks. As a result, the accident affected passenger train operations between Kahawa and the CBD.
Owing to line blockage passengers on the Ruiru train disembarked at Kahawa and used alternative means to their destinations.
We wish the injured quick recovery and sincerely apologize for the inconvenience caused. We urge the public toys use designated railway level crossing.
— Kenya Railways (@KenyaRailways_) June 6, 2022
The tragedy comes a day after 12 people perished in a road accident in a Kitui while on their way to the dowry negotiation ceremony. The 14-seater matatu is said to have carried beyond the required capacity with survivors blaming the driver for the accident.
The edition that celebrates mothers!
Radio Citizen presenter Jeridah Andayi graces our May cover with her three children as we celebrate mothers all month long! Even with her busy schedule and the many hats that she wears, her role as a mother is the one she cherishes most.
Featured image: twitter