Anerlisa Muigai pays tribute to late sister
Nero Limited CEO and the daughter of Keroche Breweries owners, Anerlisa Muigai has penned a tribute to her late sister Tecra Muigai. Anerlisa termed her only sister as a blessing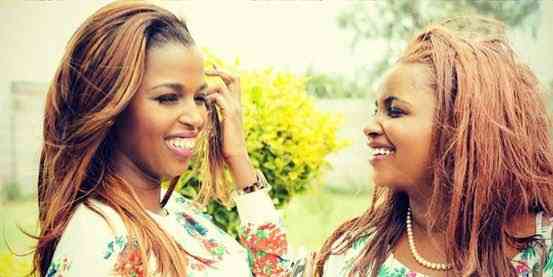 Nero Limited CEO and the daughter of Keroche Breweries owners, Anerlisa Muigai has penned a tribute to her late sister Tecra Muigai.
Anerlisa termed her only sister as a blessing and shared a couple of photos with some of the moments they shared.
READ ALSO: Who is Omar Lali, the man who lived with Keroche heiress?
"I celebrate you today and not mourn you. You were a blessing into our lives and nobody will ever replace you nor will you ever be forgotten. God rest you in peace," Anerlisa, wrote on her Instagram stories.
The 32-year-old went ahead to point out that she admired her sister's lean body.
"I remember I kept telling you, you were my body goals and always you will be," Anerlisa wrote.
The Tecra most didn't know
Unlike Anerlisa, Tecra hated being on the limelight.
"When we walk together then she sees a lot of people, she always leaves me like somebody she doesn't know. She just hates the spotlight and that is why I don't post her on my page even if it's a family photo," Anerlisa revealed.
Before her demise, Tecra was the Strategy and Innovation Director at Keroche Breweries. In a statement released by her family, Tecra was described as the brain behind big innovations at Keroche Breweries. She is also behind the development of new brands which are scheduled to be launched this year.
"While we mourn the loss of a remarkable young lady, we also celebrate her life and hope it serves as an example to young people around the world to work hard to make their dreams come true and to be willing to explore and push their limits," read the statement.
Before her passing, Tecra was studying in the UK and Italy. She came back to the country as a result of the Covid-19 outbreak.
She was the second last born in a family of four. Her other siblings are Anerlisa, James and Edward Muigai.
Tecra met her death on Saturday, March 2, 2020, after succumbing to cerebral-oedema as a result of a staircase fall. She was airlifted to Nairobi but died as she was receiving treatment.
The deceased's boyfriend Omar Lali was on Sunday arrested and will remain in custody for the next 21 days to pave way for investigations.
Before her demise, Tecra and Omar had been living together for about a month in Shela, Lamu.