CC LAMONDT South African singer FINDING HER SPACE IN KENYA
Three years ago, South African country singer-songwriter CC Lamondt made the bold move to leave South Africa and settle in Kenya. But her rise to success has not been without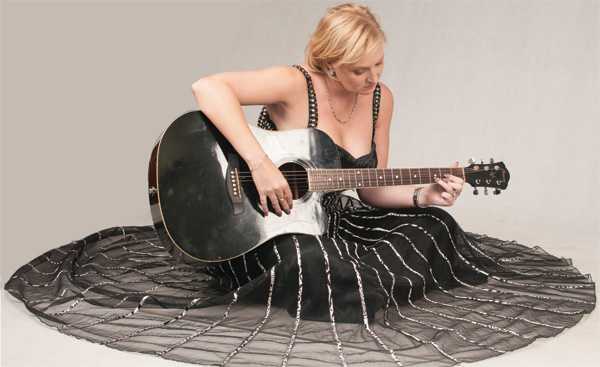 Three years ago, South African country singer-songwriter CC Lamondt made the bold move to leave South Africa and settle in Kenya. But her rise to success has not been without its struggles. From battling cancer to juggling multiple careers and family, the AI records (Sony representatives, East Africa) artist speaks to ESTHER AKELLO on rising above the odds, growing into her own and establishing new roots.
C C Lamondt is assertive. You can count on her to give her honest opinion any day. Fiercely driven and tenaciously dedicated, the South African born singer describes herself as an overachiever. The 43-year-old mother of two has worked as a singer, model, studied medicine, forensic psychiatry, business, and catering and hotel management. A feat she achieved while running family businesses, raising children and juggling studies. The word 'superwoman' comes to mind.
Born Catharina (Cat to most of her friends) in Mpumalanga Province in South Africa, CC has always believed in reaching for her dreams. "I cannot stand not knowing something. Every time I get frustrated with something, I have to learn more about it," she says. Growing up, her biggest influence was her family especially her late father – a farmer, businessman and singer for the South African men's choir, with a knack for playing musical instruments including the piano, guitar, harmonica and the accordion. "I had lots of ideas growing up. People thought I was ridiculous but my father, with whom I enjoyed a special bond, encouraged me to dream my fairy castles and he would paint them for me," explains CC.
It was also her father who taught her that to be successful one had to work hard, sometimes starting from the ground up. Coming from a strong musical background, CC ventured into music at a young age even winning several competitions. At 14 years, her mum sent her to Paris to work as a model. However, CC returned home after six months and signed with a modeling agency in South Africa. But it was Sol Kerzner, CEO of Sun International, who discovered her after hearing her singing at one of the concession stands at the Sun City Resort.
While CC considered music as a career, her parents did not and after much pleading from them, she enrolled to study drama. She dropped out after realising she had no passion for it and started her own business selling foil balloons.
Tragedy strikes…
At 25, CC, already married and with a son, enrolled to study forensic psychiatry. She was also working for a local company, and her work involved traveling back and forth between South Africa and the US. It was only a matter of time before she burnt out. Soon she started complaining of fatigue and abdominal pain and on checking with her gynaecologist, it was revealed she had ovarian cancer. Doctors said she would never have children again. She was devastated.
However, shortly after the diagnosis, CC got pregnant with her daughter Ayla. To add the icing on the cake, the cancer went into remission. "This is the most amazing thing about the human body. When you become pregnant, your body wants to protect that baby with everything in it," she remarks. Her joy knew no bounds.
Unfortunately, what followed thereafter reads like a Greek tragedy. CC found herself fighting for her life once more, and in more ways than one. Shortly after Ayla was born  her father and idol got a heart attack and passed on. Her marriage, following years of a busy work schedule, had taken a beating and was falling apart. As if this was not enough, a year and a half after Ayla's birth, the cancer resurfaced and CC was forced to go into chemotherapy and had to drop her singing engagements.
"It was a vanity thing for me. My hair fell out. It was terrible looking at myself in the mirror to see my body and image disintegrating and knowing I could not
do anything about it," says CC who also loathed pity. But even with all the misfortunes in her life, CC chose not to tell her mother that she had cancer as she feared the blow would be too devastating for her. She finally told her the truth nine months later during family vacation. As expected, her mother did not take kindly to being kept in the dark. Thereafter, CC also quit treatment. "I honestly believe part of the reason the cancer came back was because I had lots of issues subconsciously that I had not dealt with. So I quit treatment, made lifestyle changes, ate better, joined support groups, and found solace in God. This was one battle I was not ready to lose," intones CC.
And while she eventually beat the cancer to claim her survivor title, her marriage unfortunately did not. She and her husband divorced. Still, CC immersed herself in her newfound revelation, taking freelance jobs, writing articles, short stories, and poetry for magazines to sustain her and the kids. She also started singing and writing songs again. She credits the strength to push on to her family and especially her elder sister Anna.
Resuming normalcy…
With her life, passion and health seemingly in sync, CC bounced back, graduating as a forensic psychiatrist and raising her children. Her music also took off. Offers for performances and original songs for ads, and jingles poured in.
"My kids are absolute gypsies," chuckles CC. "I took them for performances with me and sat them at the front row where I could see them," she says. In 2005, she met Wolfgang Barnard, a policeman, during one of her field rounds as a consultant for the South African Police. The rest, as they say, is history. The two tied the knot in 2008 and Ayla and Dyllan proudly call him dad.
The beat goes on…
CC made the decision to go into music full time nine years ago. Her decision has gone full circle. In her capacity as a singer-songwriter, she has collaborated with powerhouse brands including M-Net, SABC, Country Music Association of USA, Victoria Secret, SA Breweries, and Southern Sun. Her songs, which she describes as a blend of country, jazz, blues and pop, have also been picked up by other artistes and featured in TV shows in South Africa and internationally.
She also started a mentorship programme in South Africa for upcoming musicians, capitalising on audio media platforms such as radio to create recognition and exposure for them and audiences alike to what she calls authentic African music. "There's a natural harmonisation and story telling to African music that cuts and lives through generations. It's timeless. Somebody needs to stand up and say let us go back to our roots," says CC. "A lot of music now sounds the same, with sub-standard lyrics and computerised melodies that fizzle out quickly," she adds. Since moving to Kenya in 2012 following her husband's appointment as country manager for a multi-national oil and gas industry solutions provider, Global Geophysical, the artist has worked fast to find her footing. She has registered her own events and entertainment company, Lamondt International. She is also in collaboration talks with local producers and bands and has also started her own band, Cat and the Knights. She has also taken popular local country crooner, Elvis 'Sir Elvis' Otieno, under her wing. She was highly involved in composing and producing his debut album along with South African Producer Tony Ridgeway.
She has also worked with vocalist Victor Muli and Andrew Stanley from the band Mojo. Country music is the heart of CC's musical career and she hopes her latest project, Kenya's inaugural Boots and Hats Country Festival slated for this month, will be an annual event. "I wanted to start a tradition where Kenya can host the best country musicians in the world," concludes the multi-faceted country singer and songwriter.
Published in March 2015