Commitment at last!
Every little girl's dream is to walk down the aisle in a white dress and say, "I do" to the man of her dreams. For some, this dream comes easy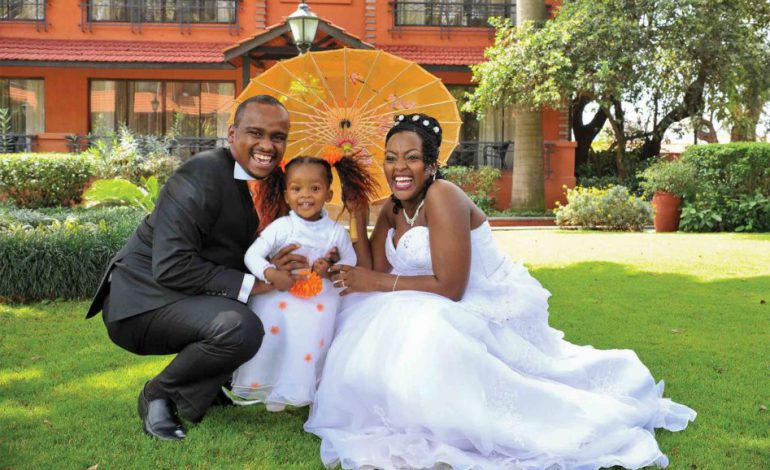 Every little girl's dream is to walk down the aisle in a white dress and say, "I do" to the man of her dreams. For some, this dream comes easy but for others it takes a long wait and sometimes a little push and shove for it to finally happen. WANGARI MWANGI talks to a couple that had a three-year wait before finally tying the knot.
I met with Oscar Waweru, 29, and Esther Wanjiku, 26, for this interview a week after their colourful wedding. From the wedding photos I had sampled prior to this interview, it was obvious that the couple's wedding ceremony, themed lime green and orange, was a very joyous occasion.
Oscar and Esther met in 2009 during dinner at a mutual friend's house. "She offered to serve me, a gesture that impressed me and left me intrigued. After dinner I asked the host for her contact and not too long afterwards I called her to invite her for dinner," explains Oscar.
For some reasons, Esther wasn't convinced Oscar was the right partner for her and so the relationship didn't kick off immediately. Esther, an introvert, thought Oscar was a party animal out for adventure and was hesitant to get involved in a relationship with him. Oscar was determined to win Esther and so he purposed to prove to her that he was worthy of her love.
His work as a network engineer involved a lot of travel out of town and each time he travelled, he invited Esther to come along. "We ended up having a great time together out of town and with time we grew very close," recalls Oscar.
Moving in together
Within 15 months after their meeting, they were already into a serious relationship and had introduced each other to their respective parents.
They started living together in 2011 and by the time Oscar proposed to Esther in June of the same year, she was already pregnant with their first child. As a sign of commitment, he went on to pay dowry in 2012 and planned to have the wedding after the baby was born.
By the time their daughter was one- year-old, there was still no wedding date on the table and Oscar now wanted a second child. Esther would hear none of it.
"I wanted to be officially married but Oscar was not committing to a date and this was breaking my heart and frustrating me. Nobody in the family or his close friends could understand why," says Esther.
By the time she found out that she was pregnant with their second child in March 2014, she had mixed feelings.
"Although I was thrilled at the pregnancy, I knew this also meant that I would have to wait longer for a wedding," she explains.
A wedding at last
Excited about the coming baby, Oscar finally committed to walk his bride down the isle. He set the wedding date for July 5, 2014. The couple had three months to finalise their wedding plans. They worked with close friends and family members to plan the wedding and also raise funds.
"We had only four committee sittings and everything turned out perfect because of the commitment of the members," says a grateful Esther.
A heavily pregnant Esther walked down the isle of the Holy Family Basilica to song and dance by happy family and friends. Oscar says finally saying those magical words "I do" to the woman he loves with all his heart was most fulfilling.
The couple held a colourful reception at the grounds of Nairobi Loreto Convent. They were happy that none of the service providers let them down. We wish the couple God's blessings in their marriage.