Disability is no barrier to love
When Anthony and Jacinta exchanged their vows in July 2015, their theme was: "A celebration of love." The intent? To prove that indeed disability is not inability in every sense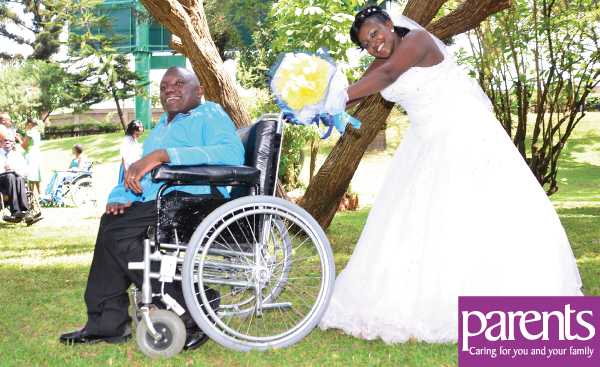 When Anthony and Jacinta exchanged their vows in July 2015, their theme was: "A celebration of love." The intent? To prove that indeed disability is not inability in every sense of the word. Anthony articulates, "While I am blessed enough to be able to do most things by myself, for instance cook and drive, I wanted to shake the stereotype that a person living with disability cannot lead a normal life, especially when it comes to love."
The meet-up
The couple met in 2011 during a network-marketing business forum. "I was the group's team leader and was thus obligated to give updates regularly. Jacinta was among the few, or sometimes the only one, who would respond without fail and that piqued my interest," says Anthony, a quality analyst with a telecommunications company.
For Jacinta it wasn't that obvious. "If there was any interest, I was clueless about it. My motivation was purely based on the fact that we were in business together," she explains adding that even after a new job forced her to relocate from Nairobi to Kitengela, she remained committed to keeping abreast with the business updates.
Meanwhile, an intrigued Anthony decided to push the boundaries and reached out to Jacinta via Facebook. He says the move was unlike him. "I once overheard some ladies bemoan a friend of theirs dating a person living with disability and that discouraged me for a long time.
I finally got over it and even engaged in a long-term relationship that lasted four years. However, it did not work out because as soon as we got into the marriage negotiations stage, her parents declined to give their blessings on account of my disability and this prompted her to end the relationship," he recounts.
Taking a risk with Jacinta on Facebook paid off because she accepted his friend request and after many months of online conversations and text messages, the couple linked up in person in January 2012. "I couldn't clearly figure out what Anthony was after but I knew that what was going on between us was more than a mere friendship. So the meeting presented a good forum to read his intentions," says Jacinta who is a business lady.
She remained aloof while Anthony was adamant on making his intentions known. "I decided to 'fake it till I made it', and would speak about how I desired a family of my own and how beautiful my children would be especially if she were their mother.
By the end of 2012, I was upfront that I was interested in pursuing a serious relationship with her. Jacinta, pressed for a decision, did not out rightly refuse but requested time to think about it. A few months later she said yes.
The proposal

The relationship grew in leaps and bounds prompting Antony to propose to Jacinta towards the end of 2013. Was she ready? "I told him to wait," she says adding, "This was a lifelong commitment and given that Anthony is abled differently, I needed to be sure that I was in for the long haul, challenges notwithstanding."
Anthony chimes in, "I agreed with her decision because people tend to harbour stereotypes about people living with disability. So we openly discussed what marriage meant to us, the dynamics of raising a family in our context, to what extent Jacinta needed to help me, and I even encouraged her to ask many questions so that she could make an informed decision. Of course, I continued to woo her as well," Anthony finishes with a chuckle.
In May 2014, Jacinta said yes to Anthony's proposal and they started marriage negotiations. With their parents' blessings, the couple exchanged their marriage vows on July 18, 2015, in front of 800 guests at the St Paul's Catholic University Chapel and capped off the celebration with a reception at Consolata school grounds in Westlands.